The Japanese brand's mid-size SUV is soon due a replacement – and these leaked images show us how it will look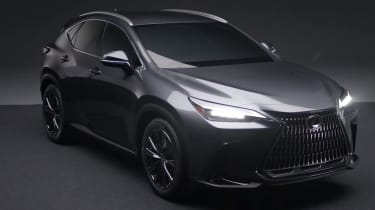 The second-generation Lexus NX has been leaked. The brand's latest rival for the BMW X3 and Audi Q5 wasn't set to be unveiled until later this year, but its official launch video was mistakenly posted online earlier this week.
These screengrabs show that Lexus won't mess with the SUV's styling too much. The new NX will very much be an evolution of the outgoing car, sharing a similar silhouette and front end, albeit with slightly softer lines and more rounded headlamps.
Best electric SUVs to buy now
Lexus's changes are a little more pronounced at the rear, with the brand introducing a new tail light design and full-width rear light bar. There's a slightly more aggressive rear bumper, too, with larger faux exhaust outlets and air channels behind the rear wheels.
Inside, Lexus's updates are even more noticeable. There's a less cluttered centre console, a fresh gear selector and a brand-new infotainment system, which has the car's climate controls built into its surround rather than fitted to a separate unit in the dash.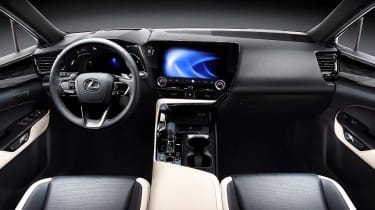 The SUV's digital dashboard and steering wheel are also unlike anything fitted to any of Lexus's current cars. The screen looks to be a full-width unit rather than a digital pod, while the wheel is a completely new design, featuring some fresh touch-sensitive controls. Hiding at the back of the gauge cowl, there's also a cutout for a head-up display.
We're yet to hear anything official about the new NX's powertrain. But, like the old model, we expect this NX will share the same platform as the Toyota RAV4 – meaning there's a high chance the SUV will be available with Toyota's 302bhp 2.5-litre four-cylinder PHEV powertrain.
In the RAV4, the system delivers a 0–62mph time of six seconds flat and a best in-class electric range of 46 miles. Even more impressively, Toyota says the PHEV setup will return 282.5mpg on the WLTP combined cycle, while emitting only 22g/km of CO2.
What does the new Lexus NX have to beat? Check out our list of the best SUVs on sale now… 
Source: Read Full Article