The new Lexus LBX baby SUV borrows the platform from the Toyota Yaris Cross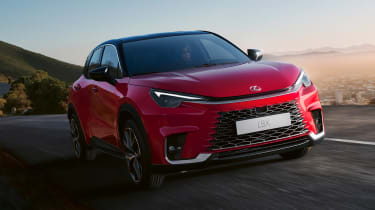 Despite some brands moving away from smaller models in search of greater profits, Lexus is jumping into the upmarket compact SUV sector with its new LBX.
Designed for European customers, the Lexus LBX sits on parent firm Toyota's GA-B platform, which underpins the Yaris Cross. However, Lexus says the LBX has been re-engineered to deliver the refinement and the driving experience necessary for one of its cars. There's also a big focus on design, quality and personalisation, with a new Lexus Bespoke Build programme.
Lexus RZ vs Tesla Model Y: 2023 twin test review
The LBX's design reinterprets the firm's 'Spindle grille', with a new mesh section. Above this is a narrow strip, which features a trim piece linking the headlights. At the rear, the full-width LED light bar includes a raised centre section across the boot lid to help visually give the car a lower centre of gravity, according to the brand's design team.
Underneath the skin is a 1.5-litre three-cylinder petrol engine with a CVT automatic gearbox. They're supported by a new bi-polar Nickel Metal Hydride battery, which chief engineer Kunihiko Endoh says is lighter and more compact than a regular NiMH battery and allows faster charging and discharging.
Speaking to Auto Express, Endoh-san said that this means the battery output can be greater to capitalise on a larger e-motor than in the Yaris Cross. In the LBX that should translate into sharp acceleration from a standstill (it's clear the car is designed for urban use) and give a greater connection to the powertrain, reducing the rubber-band feel you can get with a CVT. "It's about delivering linear acceleration," he told us. "The faster response of the e-motor means the ICE and electric are working in balance. It should run more than 50 per cent of the time in electric mode in city driving."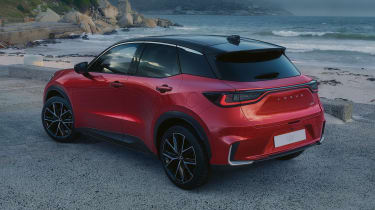 The engine also features a balancer shaft for greater refinement, while the powertrain develops a total of 134bhp and 185Nm of torque to deliver a 0-62mph time of 9.2 seconds in the front-wheel-drive car. Lexus will also offer an E-Four all-wheel-drive car with a motor on the rear axle.
Tweaks to the suspension have resulted in an agile, stable drive, Lexus says. The car uses MacPherson struts at the front and a torsion beam at the rear on two-wheel-drive cars, with a double wishbone back axle for all-wheel-drive models. To help body control and stability, Lexus has also fitted Vehicle Braking Posture Control, which automatically uses the brakes to reduce pitching. The car's wheelbase is 20mm longer and its track is wider than the Yaris Cross's, too.
Inside, the LBX boasts a 12.3-inch digital dash and a nine-inch touchscreen, while a head-up display will be one of few options. The focus on premium design is reinforced through plenty of leather and super-soft plastics on the dash top. However, we sat inside the car at the launch and material quality was more of an issue lower down. On initial impressions, though, rivals such as Audi's Q2 still don't match up to the LBX.
The tech is a known quantity, with the basic infotainment system similar to that in the brand's NX, which has been a huge step forward for Lexus in recent years.
However, the LBX's packaging could be better. The rear seats are cramped and small rear doors mean getting in and out isn't the easiest. At 332 litres in the front-wheel-drive car, boot space is fair, but this drops to 255 litres in the E-Four model due to its extra motor under the floor. Storage inside is okay, with one cup-holder in front of the clever gear selector that's shared with the NX, and one behind, under an armrest that slides and tilts to also reveal another storage area. However, there are no seat pockets or cup-holders in the rear.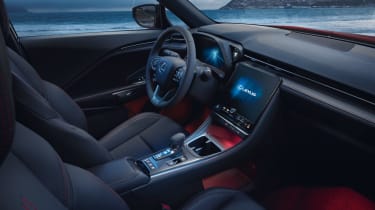 The LBX will come in four 'atmospheres'. In effect, these are trim packs that change the look and feel of the car, but don't differentiate so much in terms of kit.
Elegant offers a leather-free interior and comes with 18-inch alloy wheels, while Relax focuses on "luxurious elements and premium style". Emotion is the sportiest option in the line-up, featuring a bi-tone roof, while Cool balances Emotion's urban, sporty appeal with a little more luxury.
However, the precise details are still to be defined for the UK market and although Lexus is using the LBX to launch the firm's Bespoke Build option – which allows customers to personalise their cars through customisation of the seatbelts, stitching colour and pattern, and different colours and textures of materials – it's thought that the UK won't offer the full service. Buyers can also opt for an upgraded Mark Levinson stereo, remote parking, Lexus's digital key, a head-up display and air-purification tech.
One feature that comes fitted as standard to all LBX models, however, is Lexus's Safety System+. This includes adaptive cruise, lane assist, collision warning with autonomous braking, blind-spot monitoring and cross-traffic alert, plus Lexus's e-latch door release and Safe Exit Assist tech that will stop occupants opening the door into the path of an approaching car or cyclist.
However, all of this big-car tech means this small, premium SUV could command a serious price tag (see Q&A, below) when it goes on sale later this year, ahead of deliveries starting from March next year.
Q&A with Dimitris Tripospitis
Head of Lexus Europe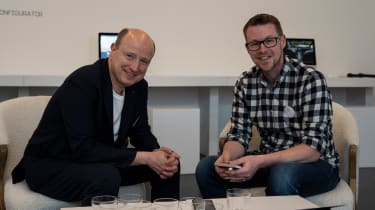 Lexus's European boss outlines how important the new small, luxury SUV is for the brand.
Q: What does the LBX mean for Lexus?
A: "It's for the city and usage here. It's relevant. It opens up Lexus to a new segment."
Q: Is one of the goals for this car to lower the average age of Lexus's European buyers?
A: "There is no age category. We are targeting three categories: Lexus Loyals, Aware of Lexus, and New to Lexus. It's more about conquesting non-Lexus drivers rather than saying we are going for younger, because the LBX is also for existing Lexus owners who want a smaller car for the city. It's about utilisation, not age."
Q: Are you looking to mop up some sales that were taken by the old CT? What does LBX mean for UX?
A: "Hopefully we will retake some of those sales. LBX is smaller than UX, even though the feeling of the interior space is a sector up. UX serves a different purpose."
Q: There's a lot of big-car tech on the LBX – what does this mean for price? The sector is so competitive.
A: "You're telling me! It's work in progress, but it's not an entry car; it's a full premium car that's four metres long. It's an expensive car to build, but it can't have an expensive price. We're working on a competitive price."
Now read our top 10 best small SUVs and crossover cars to buy in 2023…
Source: Read Full Article