The new Kia Ceed Sportswagon PHEV gets the Niro's plug-in hybrid running gear, but does it improve the compact estate's appeal?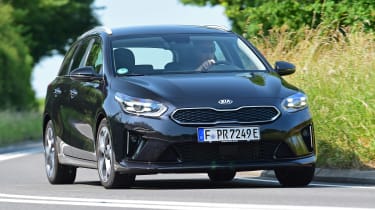 3.0 out of 5
Verdict
Compared with the rest of the Ceed Sportswagon family, this plug-in hybrid powertrain is expensive, to the point where private buyers will be hard-pushed to ever recoup the extra cost. Practicality – such an important consideration for estate cars – is compromised too, which means that only company car users taking advantage of big Benefit-in-Kind savings will find this model worthy of consideration.
Kia's push to electrify the Ceed family is gathering pace. Following the mild- hybrid, clutch-by-wire manual version we tried in August, the Korean brand is adding a brace of plug-in hybrid models to the line-up, too.
The Ceed Sportswagon PHEV driven here joins a new XCeed PHEV crossover and the existing Niro in the line-up, giving Kia good coverage of the plug-in hybrid market.
Best plug-in hybrids 2020

In the estate-bodied layout, Kia's closest rival is the Renault Mégane Sports Tourer E-Tech, a car which is more powerful, but also £1,990 more expensive.

Regardless of whether it drives the Niro, XCeed or Ceed Sportswagon, the plug-in powertrain remains the same. There's a 1.6-litre four-cylinder petrol engine backed up by an electric motor and an 8.9kWh battery. Both motive forces are sent to the front wheels via a six-speed dual-clutch automatic gearbox.

Typical of pretty much any plug-in hybrid, the Ceed starts up silently as it defaults to electric drive. The motor provides 60bhp on its own, which is plenty for general urban driving. Officially the car will cover 29 miles without any combustion intervention, and we found that figure completely achievable in real-world driving. Plugged into a modest 3.3kW home wallbox, it'll take two hours to completely charge the battery.

More reviews for Ceed Sportswagon

Car group tests

Kia Ceed SW vs Renault Megane Sport Tourer vs Skoda Octavia Estate
Skoda Scala vs Volkswagen Golf vs Kia Ceed

In-depth reviews

Kia Ceed review
Kia Ceed Sportswagon review

Long-term tests

Kia Ceed GT-Line S: long-term test review

Road tests

New Kia Ceed iMT 48V mild hybrid review
New Kia Ceed GT 2019 review

Once the battery has depleted (or a little more power is needed), the petrol engine kicks in. And kick it most certainly does, because it engages in a much more conspicuous manner than the Mégane's engine.

Indeed, it's not as slick as the Renault in most situations; Kia's dual-clutch gearbox shifts abruptly compared with the Mégane's transmission, or similar hybrid systems from Toyota and Peugeot. On the plus side, the Ceed sounds more natural than the CVT of Toyota's set-ups, and while it's not as nippy as the Renault around town, it feels at least as lively at the national speed limit.

With plenty of mass to haul around, the Ceed Sportswagon PHEV isn't particularly fun to drive. But that battery shoves the weight distribution further back than in the normal car, so even if the tyres give up grip earlier on, it does feel balanced and predictable. The steering is well weighted and precise, too. The suspension gets caught out by larger bumps to a greater degree than other Ceed models, although overall it's still a comfortable place to while away big mileages.

In the Sportswagon, Kia's plug-in hybrid powertrain is only available in 3 trim – the highest spec on offer in the estate. Standard equipment is generous, with 17-inch alloy wheels, LED headlamps and daytime running lights, rain-sensing wipers, rear privacy glass and silver roof rails all fitted as standard. It also benefits from Kia's latest infotainment system, a 10.25-inch system with excellent full-screen integration of Apple CarPlay and Android Auto.

Unfortunately, the battery brings a notable compromise in boot space. By estate standards, the Ceed's 437 litres with the seats in place and 1,506 litres when the back row is folded flat look pretty meagre. By way of comparison, combustion-powered Ceed Sportswagons offer 625 litres and 1,694 litres.

Another possible stumbling point is the PHEV's list price of £29,995. While that's usefully cheaper than the Mégane Sport Tourer E-Tech, it becomes harder to justify against the rest of the Ceed range. Take the diesel automatic in 3 trim, the next most expensive model; at £25,180, it would take a huge amount of EV running to recoup that initial extra outlay. If you're not bothered about that trim level's kit, the entry-level 2 diesel with a manual gearbox starts from £21,145. Look at the PHEV on finance, and on a typical four-year deal with a 10 per cent deposit, it'll cost a hefty £471 per month – roughly £100 more than the Ceed Sportswagon 3 diesel auto.

The big benefit comes for company car users. With CO2 emissions standing at just 33g/km, the PHEV falls into the 12 per cent Benefit in Kind bracket. By contrast, CO2 emissions of 131g/km for the diesel Ceed SW mean it slots into the 33 per cent bracket. In other words, those choosing their car through work stand to benefit so much from monthly deductions that the initial cost of the PHEV will be easily cancelled out.

| | |
| --- | --- |
| Model: | Kia Ceed Sportswagon PHEV |
| Price: | £29,995 |
| Engine: | 1.6-litre 4cyl petrol and electric motor |
| Power/torque: | 139bhp/265Nm |
| Transmission: | Six-speed automatic, front-wheel drive |
| 0-62mph: | 10.5 seconds |
| Top speed: | 105 mph |
| Economy/CO2: | 188.3mpg/33g/km |
| On sale | Now |

Source: Read Full Article