The new all-electric BMW i4 M50 boasts 537bhp and 318 miles of range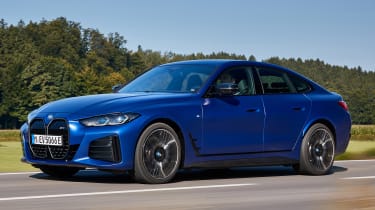 4.5 out of 5
Verdict
The i4 M50 wraps up traditional BMW qualities in an accomplished EV package. It may lack the absolute engagement of its petrol-powered M car descendants, but the i4 has explosive performance, an athletic chassis and exceptional refinement in its favour. Tied with strong range and superb build quality, plus excellent infotainment tech and competitive charging, the i4 is an impressive feat.
The i4 is BMW's first electric car to receive the M Division treatment, so if there'll be an EV that delivers thrills for enthusiasts, it will be this one. Things look promising on paper; the i4 is based on the 4 Series Gran Coupe, only it uses BMW's fifth-generation eDrive electric motors, producing a thumping 537bhp, 795Nm of torque and driving all four wheels in this i4 M50. 
Under the skin, the i4 is equipped to impress, and the styling doesn't fail to turn heads either – although not necessarily for the right reasons. The stretched proportions of the Gran Coupe body style give the i4 real presence, but the pair of enormous kidney grilles are undoubtedly a big, bold statement on what is otherwise a pleasingly understated design. Whether you like the looks we'll leave for you to decide.
Top 10 longest range electric cars 2021

The cabin will be familiar to current 3 Series and 4 Series owners, with exceptional build quality and a neat, modern dash design. Alongside satin metal finishes and leather, our test car featured plenty of carbon fibre trim to reinforce the M Performance themes, but maybe somewhat out of line with a car that weighs 2.3 tonnes.

Taking centre stage inside is BMW's new iDrive 8 infotainment system, which is operated through a large, seamless display that combines a 12.3 inch digital instrument panel and a 14.9 inch centre screen. 

BMW's cutting-edge tech includes augmented reality sat-nav, 5G connectivity and an Intelligent Personal Assistant. The graphics are very crisp and the interface responsive, although it can be difficult to navigate the array of icons and sub-menus while driving. 

At 470 litres, the i4's boot capacity gives up just 10 litres to the 4 Series Gran Coupe, despite the rear-mounted electric motor. A low driving position gives the car a hunkered-down feel from behind the wheel, although rear-seat passengers won't be quite as comfortable; the i4's floor-mounted battery eats into footwell space, so while knee room is adequate for taller passengers, the ergonomics aren't ideal. 

However, the benefits of the under-floor battery arrangement are evident on the move. Thanks to a low centre of gravity, the i4 immediately feels athletic and precise for a heavy EV, as though it's shed a significant chunk of its kerbweight. The M50 changes direction well and seems to resist leaning on its outside tyres, instead giving a feeling that it's loading all four wheels evenly, scything through corners with little drama. 

The steering is key in the i4's dynamic arsenal. It's precise and gives confidence to accurately place the car, and cornering speeds naturally creep up as a result. You need to concentrate to detect any meaningful messages from the front axle, however, with a detached, synthetic feel in either Comfort or Sport mode.

Under full throttle the i4 M50 sits down on its rear wheels and catapults forwards at an alarming rate. In the dry, it doesn't hesitate for traction and easily deploys its power with gut-wrenching acceleration. Call upon all 537bhp at low speed and a firm grip on the steering wheel is required as it writhes in your hands – a gentle reminder that 430Nm of torque is being deployed through the front wheels alone. 

In the wet, the powertrain's potency does expose some shortfalls. The i4 M50 isn't fitted with a mechanical limited-slip differential, and instead uses the brakes to control wheelspin. Out of tight corners on a damp surface, things can get a little scrappy as the car searches for traction, but some patience with the throttle allows for neater progress. 

The i4 is happiest when you back off a few notches as the M50 lacks the absolute focus of a fully-fledged M car, and adopts a slightly more relaxed demeanour. 

With air suspension at the rear the ride is compliant and the i4 is unruffled over tricky surfaces. This is especially noticeable in Comfort, although the car's mass is less tightly controlled.

Refinement is excellent, too, with wind and tyre noise well suppressed. Couple this with the near-silent electric motors and the i4 is a very pleasant motorway companion. The straight-line punch isn't quite as eye-widening at higher speeds, but performance remains very strong and the car makes light work of overtaking. 

The i4 M50's GT credentials are further bolstered by a claimed range of 318 miles. We began our test with 90 per cent charge and an indicated range of 232 miles; after a 91-mile drive over a mix of roads, the battery had depleted to 44 per cent, with 112 miles of range remaining. Using a 210kW rapid charger, a 10 to 80 per cent battery top-up takes 31 minutes.

At £63,905, the i4 M50 is around £4,000 more expensive than the Tesla Model 3 Performance, which delivers 34 miles more claimed range and slashes 0.8 seconds from the BMW's 0-62mph time. Putting aside the numbers, the i4 remains a strong package with a well-made cabin, blistering pace and real dynamic quality. 

But perhaps the cheaper eDrive40 model will be the pick of the range. For £12,000 less than the M50, the entry-level i4 ditches the front electric electric motor and loses 165kg in the process. With 335bhp driving the rear wheels alone, the eDrive40 won't provide the devastating performance of its more powerful sibling, although it does offer an extra 47 miles of range.

| | |
| --- | --- |
| Model: | BMW i4 M50 |
| Price: | £63,905 |
| Battery/motor:  | 80.7kWh/2x e-motor |
| Power:  | 537bhp/795Nm |
| Transmission:  | Single-speed automatic, four-wheel drive |
| 0-62mph:  | 3.9 seconds |
| Top speed:  | 139mph |
| Range:  | 318 miles |
| Charging:  | 210kW (10-80% in 31mins) |
| On sale:  | November |

Source: Read Full Article