Lopping four cylinders from the Bentley Flying Spur does nothing to spoil the luxury limo's comfort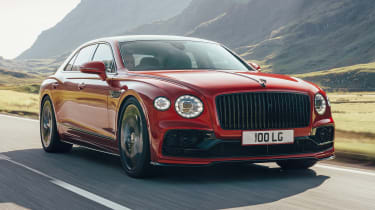 5.0 out of 5
Buy used for less at Buyacar
Verdict
The Bentley Flying Spur was already a five-star car and our 2020 Luxury Car of the Year. The fact that this new V8 edition isn't as expensive as the W12 and offers a more engaging drive without making a compromise in any single area means it's the pick of the line-up. Not only is this a supremely well engineered car, with a huge breadth of ability, it's also one that drips with desirability.
When it comes to luxury and opulence, few cars do it better than the Bentley Flying Spur. So how do you broaden its appeal and improve it? Well, how about a less expensive version?
This is the Flying Spur V8. It's still 5.3 metres long, laden with kit and trimmed in the finest Bavarian cowhide you can lay your hands on. But in place of the flagship model's 6.0-litre W12, you'll find a smaller, but still staggeringly powerful, 4.0-litre V8.
Best luxury cars 2021

So let's talk numbers. The V8 develops 542bhp and 770Nm of torque, which is 84bhp and 130Nm less than you get with the W12. However, because there's less engine, there's also less weight, to the tune of 100kg. So while the V8 is down on power, the performance figures, and especially the way the V8 feels on the road, mean there's very little between them. Bentley says 0-62mph takes 4.1 seconds in the V8 – that's only 0.2 seconds behind the W12.

More reviews

In-depth reviews

Bentley Flying Spur review
Bentley Flying Spur (2013-2019) review

Road tests

New Bentley Flying Spur 2020 review
Bentley Flying Spur V8 S review
Bentley Flying Spur review
Bentley Continental Flying Spur
Bentley Flying Spur on the road
New Bentley Continental GT

The number that really matters, however, is the price. While £153,900 isn't exactly a figure you'd call affordable, the V8 is a tasty £14,400 less than the W12 – a saving that even the most well-heeled customers would be unlikely to turn up their nose at. And because the V8 comes without any compromise – in fact it feels a fraction sharper to drive because of that weight loss – it becomes the Flying Spur to go for.

The 4.0-litre engine is a familiar one from within the VW Group, because it's found in everything from the Lamborghini Urus to the Audi RS 6 Avant. So while it doesn't have the same exclusivity as the 6.0-litre W12 – that's a Bentley-only engine – it's certainly not short of pedigree.

Despite the engine capacity and cylinder deficit, the V8 is the more vocal unit when fired up. Where the W12 is eerily quiet and smooth, the V8 has a more aggressive exhaust note at idle. Bentley says that this is intentional, because the V8 has been tuned to be the more engaging of the two to drive.

At lower speeds, and in everyday driving, the V8 retains the Flying Spur's trademark character, and feels completely effortless and relaxing to drive. You feel totally cocooned inside; there's no wind noise or tyre roar, just a gentle burble from the exhausts.

Small bumps and ripples in the road surface are merely heard rather than felt as you glide along, although the arch-filling 22-inch alloy wheels do thud into bigger potholes. Body control remains pretty faultless throughout, but we'd suggest wheels an inch smaller should help soften the impact of bigger bumps.

The V8 is also able to shut down half of its cylinders when only a fraction of the engine's power is being used, further increasing refinement on the move, but don't expect that to slash your fuel bills; official combined fuel consumption is only 22.2mpg.

So the V8 gives nothing away to the W12 when it comes to refinement – as you would expect of a saloon costing six figures – but where the V8 gets ahead is its slightly more eager nature in corners.

Let's make one thing clear, this is no Porsche 911; despite the lighter engine, the Flying Spur V8 weighs more than 2,300kg – this is still an extremely heavy car. But less weight over the nose and better weight distribution, along with retuned suspension and steering set-ups, do combine to create a slightly more agile car. You wouldn't call it light-footed, but the front end feels more eager to turn in, helped by the four-wheel steering, adding a degree of sharpness over the W12.

Dynamically, the rest of the package is truly impressive. Three-chamber air suspension keeps the ride smooth and controlled at all speeds, the 48-volt active anti-roll system holds the big saloon flat and level during quick changes of direction, while four-wheel drive means enormous traction to deploy all 542bhp.

Inside, buyers can really make the Flying Spur their own with endless upholstery and trim configurations, plus Bentley's lengthy options list. The £14,000 saving the V8 offers over the W12 can instantly be added back on; the Mulliner Driving Specification, for example, is a £14,545 option that includes diamond quilted leather, 22-inch wheels, a leather headliner and sports pedals.

The Blackline specification, which replaces all of the chrome exterior detailing with a more sporting black look, is a £3,585 option, while the three-sided rotating central display costs £4,820. In total our test car had over £51,000 worth of options fitted to it. But when you consider a Rolls-Royce Ghost, the Flying Spur's closest rival, starts from £233,000, the Bentley suddenly looks like good value.

| | |
| --- | --- |
| Model: | Bentley Flying Spur V8 |
| Price: | £153,900 |
| Engine: | 4.0-litre twin-turbo V8 |
| Power/torque: | 542bhp/770Nm |
| Transmission: | Eight-speed automatic, four-wheel drive  |
| 0-62mph: | 4.1 seconds |
| Top speed: | 198mph |
| Economy: | 22.2mpg |
| CO2: | 288g/km |
| On sale: | Now |

Next Steps

Source: Read Full Article