The all-electric Audi e-tron S is certainly fast, but is let down by its range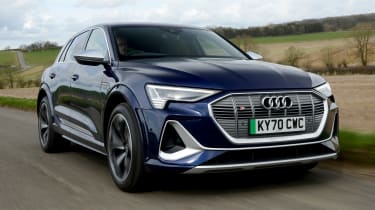 4.0 out of 5
Buy used for less at Buyacar
Verdict
The e-tron S is fast but flawed, and not least because of its limited range. But it is still a solid piece of engineering that delivers in many areas, offering an appealing mix of massive performance with security, quality, refinement, technology and practicality, albeit at a hefty price. But then, as the brand's first electric S model it serves up the exclusivity the line-up is known for, too.
Just because the car industry is going electric, it doesn't mean that the power battle between German manufacturers is dead, despite EVs' focus on sustainability. If anything, electric power unlocks a new dimension for manufacturers like Audi, which is why it now offers this: the e-tron S.
It's a big, all-electric SUV that delivers a colossal 496bhp and 973Nm of torque from its 95kWh battery and three-motor set-up. However, this hardware comes at a price: £87,675, plus the e-tron S weighs 2,620kg.
New Audi e-tron S Sportback 2020 review

Despite this, the huge output and strong traction from its all-wheel-drive system means it'll go from 0-62mph in 4.5 seconds.

Getting that weight moving off the line means that, unlike with some other EVs, the launch isn't the most impressive element. Instead, it's the e-tron S's acceleration out of a 30mph limit that grabs you. It will leave sports cars in its wake, because the instant twist from the electric motors propels this superbly refined and smooth SUV forward at a simply incredible rate.

More reviews

Car group tests

Mercedes EQC vs Audi e-tron
Audi e-tron vs Jaguar I-Pace
Audi e-tron vs Tesla Model X – SUVs face-off in electric car showdown

In-depth reviews

Long-term tests

Audi e-tron 55 quattro: long-term test review

Road tests

New Audi e-tron Sportback 2020 review
New Audi e-tron S Sportback 2020 review
New Audi e-tron 55 quattro 2019 review

But the Audi isn't a one-trick pony, because despite its 21-inch alloy wheels, and carrying a whopping 700kg battery, the ride is surprisingly good on air suspension. You'll occasionally get a lumpy reaction as the dampers struggle to control the big wheels' reaction to a pothole, but mostly it's comfortable – and quiet.

Audi is known for its refinement, and that feature is carried through to its EVs. Without an engine to drown out wind and tyre roar, there's nowhere to hide, and it's well suppressed here. However, although there is some noticeable motor whine at low speeds, this actually serves to add a bit of character and remind you of the technology that powers the car.

The e-tron and its derivatives are not actually based on a bespoke EV platform. Instead, this car uses a heavily adapted version of Audi's MLB evo architecture, which also underpins its Q7 and Q8 SUVs.

It means that, inside, you don't quite get the same clever use of space as in some EVs, but there's still plenty of storage, and good passenger room in the rear. The sporty roofline doesn't have an impact on the car's practicality, and there's a powered tailgate that reveals a 660-litre boot.

The more impressive element inside is the tech and quality. It's executed with the usual understated level of panache Audi is known for. All of the three digital screens work well; the 12.3-inch Virtual Cockpit's graphics are sharp and the display offers good configurability. The main 10.2-inch HD screen is for the infotainment, while the 8.6-inch touch-sensitive panel below is for the standard dual-zone climate control.

Sat-nav, Apple CarPlay and Android Auto, wireless charging, a 10-speaker stereo, heated leather sports seats, matrix LED lights, all-round parking sensors and a camera are all standard, along with a sound level of safety tech. But then you'd expect that for the price. Still, this is an Audi S model, so it's exclusive, and combined with the chunky bodykit and matt silver detailing, it's nicely executed. In this respect it feels fit to wear the badge, and even when it comes to handling, despite the huge kerbweight it's still impressive in some ways.

Impressive, yet not all that involving. Grip is good enough, but you feel the weight ultimately winning the battle as you raise cornering speeds. But the car is stable, and its steering is precise, if not communicative. 

The biggest drawback is a key element of any EV: range. Audi claims 222 miles on a full charge, while we saw an indicated 157 miles on 7/8ths of a full charge. This should be better and means you'll need to make use of the car's 150kW rapid-charge capability.

This will boost the battery from empty to 80 per cent in 50 minutes, while the Audi also has an 11kW on-board charger, so you can top up on a feed with the same 11kW supply in nine hours; this rises to 14 hours with a more common 7kW feed. It's a shame that even from a 95kWh battery, Audi can't squeeze a little more cruising range, because otherwise the e-tron S is a likeable car.

Yet for many prospective buyers who likely don't drive an equivalent combustion-engined SUV beyond the e-tron S's potential range capability on a daily basis, for the majority of the time the Audi should offer buyers (just) enough usability.

| | |
| --- | --- |
| Model: | Audi e-tron S quattro |
| Price: | £87,675 |
| Batt./engine: | 95kWh/3x electric motors |
| Power/torque: | 496bhp/973Nm |
| Transmission: | Single-speed automatic, four-wheel drive  |
| 0-62mph: | 4.5 seconds |
| Top speed: | 130mph |
| Range: | 222 miles |
| Charging: | 150kW (0-80 per cent in 50mins) |
| On sale: | Now |

Next Steps

Source: Read Full Article