The Activesphere is Audi's final electric concept car in its 'sphere' series and previews a rugged production SUV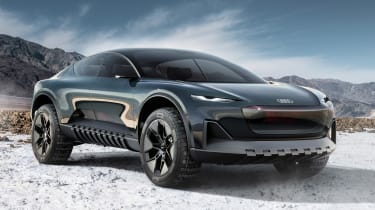 Audi is gearing up for the most significant product launch in its history, with more than 20 new models set to arrive within the next three years. A new wave of cutting edge electric cars will revamp its range, and to tease one of these next-generation EVs, the firm has unveiled the Activesphere concept. 
As the last in Audi's run of 'sphere' concepts – which includes the Grandsphere luxury saloon, Skysphere roadster and the Urbansphere electric MPV for megacities – the Activesphere is a rugged, high-riding coupe-SUV, and it could land in showrooms in 2027. 
New Audi Urbansphere concept revealed as an MPV for megacities
The brand is plotting a brawny Mercedes G-Glass and Land Rover Defender rival (in concept, at least) within the next few years, and according to Audi's Head of Design Marc Lichte, this could take the form of the Activesphere. "We have a history of rallying success in the eighties and nineties, we have the Quattro brand, we have to make a rugged SUV. I can tell you that this car will not look like a copy of the Defender or the G-Class," he said.
Visually, the Activesphere is certainly a departure from these models thanks to its slender four-door bodyshell, rakish roofline and tear-drop shaped rear. The flowing, wide-set bodywork is a hint at what's to come from the firm, with clean surfacing and muscular haunches forming the basis of its design language.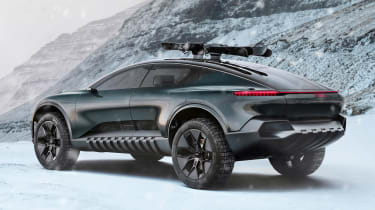 In its default state, the 4.98 metre-long concept sits relatively low to the ground, with all-terrain tyres and blocky plastic body protection hinting at its off-road intentions. However, at the touch of a button, the Activesphere's air suspension system can be lifted by up to 80mm to tackle off-road driving, with approach and departure angles of 18.9 and 28.1 degrees respectively. 
To fend off knocks and scratches, extra body cladding emerges from the bumpers and sills while the car is being raised, although these motorised elements are unlikely to reach production. The Activephere's micro-LED lighting system, which offers two daytime running light signatures and a dynamic star-like effect, could reach showrooms, however. 
The Activesphere's party trick is a deployable pick-up-style rear deck, which again uses motorised bodywork. To carry large items, the rear window pops out and slides over the car's roof, and a hidden tailgate drops down to reveal a large flat load space. A glass bulkhead rises behind the rear seats to separate passengers from the cargo, and for further carrying capacity, a roof rack can be extended to hold a set of skis, for example. 
Despite the space-age design, Audi has used its forthcoming PPE platform for electric cars as a basis for the Activesphere, hinting at its production relevance. With an electric motor mounted on each axle, the concept has a combined output of 436bhp and 720Nm of torque, hauling the car to 62mph from rest in 4.9 seconds. 
The bespoke EV platform offers 270kW rapid charging capability thanks to its 800-volt electrical system, and the Activesphere's 100 kWh battery pack provides more than 373 miles of range from a single charge. Replenishing the cells from five to 80 per cent takes less than 25 minutes, while a 10-minute top-up can extend the range by more than 186 miles, it's claimed.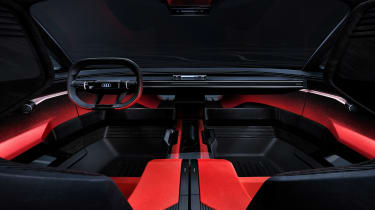 The battery is integrated into the base of the PPE platform, which enables a flat floor and a more open cabin layout. Still, most of the Activesphere's interior – with its cocooned seating and glass frontal area – is unlikely to be carried forward for the eventual production version.
Nevertheless, it does hint at a potential path for the next generation of Audi's in-car technology. The Activephere is free of physical displays and switchgear inside, and relies on mixed-reality glasses to access vehicle functions instead. 
By using external cameras, the glasses display a pass-through feed to allow the wearer to view the outside world, and this is augmented by virtual controls appearing as holograms around the cabin. The user can operate these by physically interacting with the projections that appear through the glasses, whether this be a floating climate control dial or a large 3D navigation map. 
According to Audi's designers, the benefits of this system over physical screens and controls lie in separating in-car technology from the vehicle itself. For instance, today's models have permanently integrated displays and computing units which lose touch with contemporary technology over time, but to entirely revamp the Activesphere's interior tech, buyers can simply purchase a new headset. 
Automotive mixed-reality hasn't reached consumers yet, but Audi hopes that the headsets will become mainstay for drivers – especially once level 4 autonomous driving becomes commonplace. To that end, the Activesphere's steering wheel retracts into the dashboard for when such automated driving systems are activated.
Click here for all the latest on the next-generation Audi TT…
Source: Read Full Article