The drop-top Volante variant will return on new Aston Martin DB12 model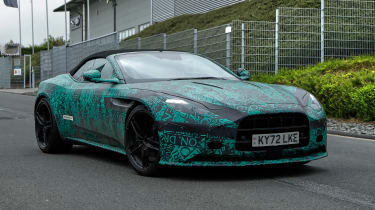 Few car companies make convertible V12-engined grand tourers these days so Aston Martin's upcoming DB12 Volante should cause a stir. 
We've caught it undergoing testing, wearing the same camouflage as the DB12 coupe – which is due to be unveiled imminently. As with previous Aston Martin Volante models, changes to the body work compared to the coupe will be minimal, with the only visible alteration being the fabric roof. 
New Aston Martin DB12 officially teased ahead of reveal
It's worth noting that this prototype test car wears the body of the outgoing DB11. However, Aston Martin has already given us an official teaser of the coupe so we know what to expect from the lower areas of the convertible version. It will feature the traditional proportions of the Gaydon firm's flagship car, with a long, loping bonnet, aggressive rear haunches and, of course, the iconic grille shape. 
Several design characteristics of the DB11 will be carried over, such as the air vents flowing out of the front wheel arch. Flushing-fitting door handles will also be used and we can expect a twin-exit exhaust system to the rear. 
An interior shot of the DB12 has been released by Aston Martin so we've seen a multi- screen setup mixed with a few physical controls for the more frequently used functions. 
Aston Martin claims in 2022 that it will continue with V12 engines until 2026, so we expect the DB12 and the Volante to come with a choice of powertrains – a 5.2-litre twin-turbocharged V12 or a 4.0-litre twin-turbocharged V8 from Mercedes. 
Now read about the Aston Martin DBS 770 Ultimate..
Source: Read Full Article