The premium Italian EV will offer 497 miles of range and a retractable ultrawide display inside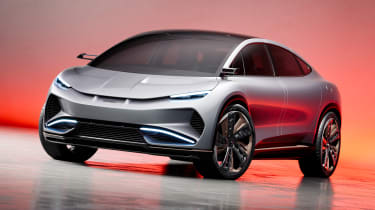 Luxury electric SUVs are in vogue with the world's premium and performance car makers, and now, there's a new kid on the block: Aehra, which is aiming to disrupt the sector with its all-new SUV. Aehra's challenger will be priced at around £157,000 when it goes on sale in 2025 and the firm has now revealed its space-age interior. 
With four top hinged doors, an oblong steering wheel and a full-width dashboard display, the Aera's cabin is steeped in sci-fi style technology. The major touch points are trimmed in hand-stitched leather, aluminium and carbon fibre, with swathes of configurable ambient lighting on the dashboard, door panels and footwells. 
Top 10 best luxury SUVs 2022
With a three-metre long wheelbase and a flat floor, the Aehra offers enough space for five tall adults, with both four and five seat layouts available. The front and rear seats can recline and passengers are greeted by an enormous screen that spans the base of the windscreen, which includes speed, navigation and climate information during normal driving.
However, when parked, the display screen can extend upwards to form an enormous monitor to watch content or make conference calls. The Aera's main infotainment functions are operated through a smaller central touchscreen, and there are digital mirror displays at the extremes of the dashboard.
The Aehra marque (pronounced 'era') was only launched earlier this year, so its first vehicle has been turned around impressively quickly. Based in Milan, the firm says its SUV (which won't be given a specific name) "rewrites the automotive design rulebook" and it takes design inspiration from motorbikes and supercars. By the time it goes on sale in 2025, a saloon follow-up model will also have been revealed.
Exterior design
For an SUV, the Aehra is remarkably sleek in its proportions, featuring ultra-slim overhangs and a windscreen that extends over the front axle. The surfacing is smooth and there are no protruding door handles that,along with the tiny virtual door mirrors, could aid the SUV's drag coefficient.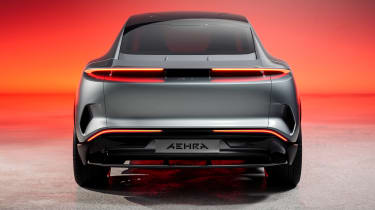 The front-end is distinguished by the use of thin lighting strips for the headlights and fog lights. Behind the front wheels are some huge air vents, which will help channel air away from the wheel arch and there are similar elements on the bonnet. The Aehra has also been designed to incorporate active aerodynamic elements. 
The sloping roofline means Aehra's creation is very much a coupe-SUV, and at the rear we see another thin LED lighting arrangement. The firm claims its SUV will use "leading-edge battery platform technology, targeting a range of at least 800km (497 miles) and awe-inspiring performance".
Powertrain, battery and range
Aehra is looking for a battery capacity of 120kWh in the SUV – which would make the unit the largest available in a production electric car today. It will power three electric motors – one on the front axle and two on the rear – providing up to 805bhp. The battery itself will be sourced from an Asian company – says Aehra. Charging should be up with the fastest in the EV world with plans for market-leading 850V architecture. 
The same platform and battery will also feature on an upcoming saloon model, which will also offer the same lengthy three-metre wheelbase. The SUV sits on a monocoque body with carbon-fibre used in its construction and Aehra says this will offer "exceptional agility and driving pleasure". A kerbweight of under two tonnes is being targeted for the SUV. Despite the size of the vehicle, its drag coefficient is just 0.21. To put that into perspective, the longest range EV on sale is the Mercedes EQS saloon which has a drag coefficient of 0.20.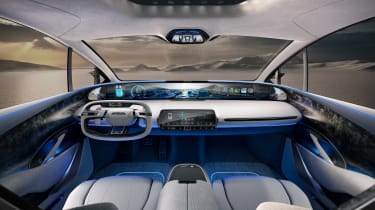 Sustainability is a key driver, says Aehra, and the structural components of the SUV and upcoming sedan will be able to be recycled up to 5 times, with non structural elements potentially being used further. Both cars share 70 per cent of components as well, keeping costs down. 
Aehra is looking to produce 20,000 to 25,000 units of each car once production is underway. The sedan is scheduled to be revealed in early 2023 and will sit as a cheaper alternative, although it should provide even greater range due to it sitting lower than the SUV. Customers will be able to purchase them online or through the 'salons' from which Aehras will be distributed. 
Following on from the saloon model, a 2+2 sports car is even being planned – utilising the shortened version of Aehra's modular platform. 
Q&A: Hazim Nada CEO/founder Aehra
What are the main challenges you've overcome so far and what do you expect to face before production in 2025?
"The first phase was translating an idea into something that was concrete. The second was getting accepted by the various counterparts because obviously, there are many startups that have come across in the EV sector.  Now we're facing the different phase where basically we've been accepted by the big engineering firm, we need to manage fundraisings with supply.  There's the other element of building our own team and the engineering side that we're working on at the moment."
Why have you chosen to launch with an SUV?
"This shape has a greater impact on the SUV segment. When you look at a typical SUV, you see a much more boxy shape and you see big vehicles that are very far from efficient aerodynamically. It's easy to build a very aerodynamic sedan, it's not so easy with an SUV." 
How much of this test car will make production?
"At least 95 per cent. Some small elements are questions of homologation, we will need to test the waters once we're ready to run crash tests. Especially things like the angles of the rear view cameras. We've done a lot of simulations already."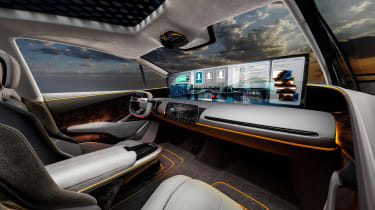 How will the saloon and SUV line up together, given the SUV is already quite sleek? 
"For a pure spacious supercar, you're probably more into the sedan. If you want a mix of both – you want the supercar but you want more space, you're probably going to be more in towards the SUV. There will be substantial modularity between them, the sedan will feature similar design and active aero like the SUV." 
Are you still planning on a 2+2 sports car after the sedan?
"The 2+2 concepts that we've done so far express a pure supercar exterior with a cabin space larger than a BMW 3 Series. The wheelbase will be shorter than the SUV but it will have a displaced battery, so we don't intend to change batteries (for the 2+2)."
Check out the best electric cars to buy here…
Source: Read Full Article