The popular supermini gets a new design identity, while the Corsa Electric now boasts up to 255 miles of range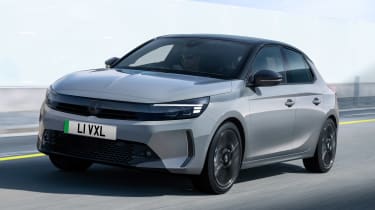 Britain's favourite supermini has been updated for 2023, with Vauxhall upgrading its Corsa with new styling, more tech, mild-hybrid petrol engines for its ICE models and greater range for the Corsa Electric.
The biggest change is to the car's looks, with Vauxhall tweaking the Corsa's front-end styling to add its now trademark Vizor grille. The compact five-door model is the last car in Vauxhall's line-up to receive this styling feature, as seen on the British brand's Mokka, Astra and Grandland models.
New 2023 Vauxhall Astra Electric arrives with 258-mile range
There's a flush black panel between the headlights, creating a solid look, with the new, slightly more squared-off headlights units (upgraded IntelliLux matrix pixel LED units are available for this new car) flanking the infill panel, which features a new Griffin logo. The rest of the Corsa's body is broadly carried over from its predecessor, with new 'CORSA' badging on the car's tailgate..
The brand has made more changes inside however, with Vauxhall upgrading the infotainment system to a 10-inch screen that runs a new user interface powered by Qualcomm's Snapdragon Cockpit Platform. The Corsa's seven-inch digital dash has also been upgraded with new graphics, while wireless smartphone charging is available for the first time; wireless compatibility for Android Auto and Apple CarPlay is also included.
Connected 3D sat-nav is also available on the new Corsa, while over-the-air software update capability features. Vauxhall has also fitted its "Hey Vauxhall" voice control system.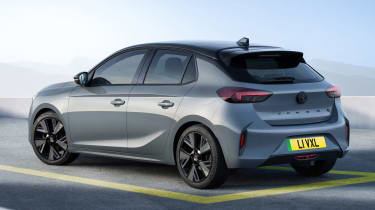 A new steering wheel design arrives alongside fresh upholstery choices and a new design for the gear selector, while the Corsa also benefits from a new high-resolution, wide-view rear camera to boost safety when manoeuvring. This is on top of the kind of safety and driver assistance systems you'd expect, with adaptive cruise control and autonomous emergency braking with pedestrian detection also on offer.
The Corsa Electric receives a new, upgraded powertrain, with a larger 51kWh (usable) battery and a more powerful 154bhp motor mounted on the car's front axle. Vauxhall claims the upgrades boost range by up to 15 per cent compared with the older 50kWh powertrain, with the Corsa Electric offering up to 255 miles on a full charge.
Some models based on the same CMP/e-CMP platform from sister firms within Stellantis ditched the older 134bhp motor as part of their upgrade cycle (the new DS 3 E-Tense and Peugeot e-2008, for example), but Vauxhall has chosen to retain this option. Offering up to 222 miles of range, according to Vauxhall, the brand will continue to offer this option to "give customers a wider choice when considering their electric mobility needs."
The Coras Electric's 100kW rapid charge capability remains unchanged, so a 10-80 per cent top-up will still take around half an hour. Hooked up to a 7kW home wallbox a full charge should take around seven hours and 30 minutes, but with all new-for-2023 Corsa Electric models featuring an 11kW on-board charger as standard, with a suitable feed this time can be cut to five hours and 15 minutes.
Expect the 134bhp Corsa Electric to match the outgoing model's 7.6-second 0-60mph time given the shared powertrain hardware. However, the brand has not yet outlined performance figures for the newer battery and motor set-up.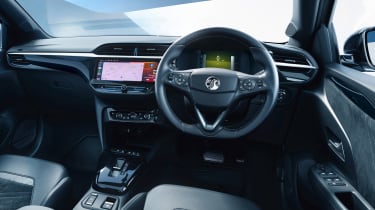 Other Stellantis models using this tech – including the DS 3 E-Tense – accelerate from 0-60mph in less than nine seconds, so expect the most powerful Corsa Electric to offer a similar level of performance; the potentially slightly slower 0-60mph time for the more powerful model is likely as a result of the larger, heavier battery.
As per the recently announced round of updates for the Peugeot 2008, Vauxhall has also added a range of 48-volt mild-hybrid powertrains to the new Corsa line-up. We expect these to draw from the same tech as the French compact crossover, which uses "a new-generation 136bhp 1.2-litre PureTech petrol engine, coupled with a new six-speed dual-clutch electrified gearbox that includes an electric motor", according to Peugeot.
Vauxhall will retain the Corsa's non-mild-hybrid 1.2-litre turbocharged three-cylinder petrol powertrains; too; 98 and 128bhp options are currently offered, plus a naturally aspirated 74bhp version of the engine. The brand says that pure-petrol power will remain to "ensure the new Corsa remains accessible to all with a powertrain choice to suit a variety of needs."
Vauxhall says full UK pricing and specification for the new Corsa Electric will be announced this summer, but it's likely that the line-up will reflect the rest of Vauxhall's range when it comes to trim levels so could be offered in Design, GS and Ultimate specs.
Assuming the 74bhp petrol engine remains, expect a small increase over the outgoing car's £19,085 starting price given the boost in tech, while the lower-powered Corsa Electric is likely to increase slightly over the current model's regular trim levels, which start from £33,930 for the GS model. Deliveries will begin in Q4.
Click here for our list of the best superminis on sale right now…
Source: Read Full Article