Ford is launching its second electric SUV with a little help from Volkswagen, but it's more than a simple copy and paste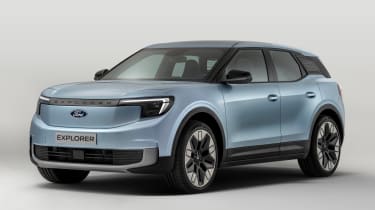 Ford is reinventing the Explorer nameplate for a new mid-size electric SUV. Following in the footsteps of the sleek Mustang Mach-E, the new 2023 Explorer has been revealed with a choice of two trims, two battery options and up to 335bhp from a dual-motor configuration that brings all-wheel drive.
Built on the same MEB platform as the Volkswagen ID.4, the Ford Explorer is the result of an ongoing partnership between the two brands. The companies have already shared their commercial vehicle expertise on vans and pick-ups, and now the attention turns to passenger EVs.
New Ford Puma EV on the way for 2024
Except Volkswagen has had something of a head start: the ID.3 and ID.4 have been on sale for a few years now, and the former was even given its mid-life nip-and-tuck earlier this month. But good things come to those who wait; Ford has listened implicitly to detailed customer feedback, with its mission being to fix some of VW's failings.
From the front, the Explorer takes on a stockier, more aggressive stance than the friendly-faced ID. models. The Ford's blade-like LED headlights are connected by a piece of trim that lead designer Jordan Demkiw calls the car's "coast-to-coast" panel. There's a silver scuff plate and body cladding that runs the length of the car, which Ford says has allowed them to reinterpret the "assertive and rugged appeal of Ford's iconic [Explorer] SUV – specifically for customers in Europe."
Demkiw and his team have incorporated a floating roof design thanks to black A, B, and C-pillars, with a semi-transparent graphic on the last of those that mimics the gas-guzzling US-spec Explorer's design without affecting rearward visibility, according to Ford. Buyers will get a choice of wheels ranging from 19-21 inches, as well as a range of exterior paint options.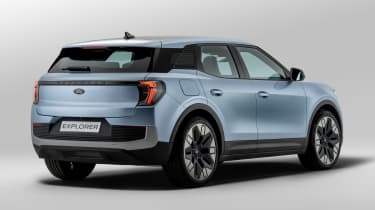 The rear end has a similarly squared-off shape to the front, again with LED lights connected by black trim. Behind the Explorer's tailgate there's a 450-litre boot – bigger than the Mach-E's, but around 100 litres down on the ID.4's, probably due to the shorter rear overhangs. There's a moveable boot floor, and folding the rear seats flat reveals a total of 1,400 litres.
Inside is where the Ford makes the biggest strides compared with its VW sister car. The Explorer features an adjustable 15-inch portrait screen, which is unique in running Ford's SYNCMove software that allows for full-screen mapping, plus access to all the usual smartphone connectivity options.
Its position is adjustable in 20 stages, changing the angle of the display by up to 30 degrees and offering an upright view for complex tasks such as turn-by-turn mapping, to a more relaxed orientation better suited to cruising on the motorway. Hidden behind the screen is what Ford calls 'My Private Locker' – a storage space for phones, wallets and other items. There's another area underneath the centre console for odds and ends, and a 17-litre cubby between the front seats that's big enough for a 15-inch laptop or three bottles of water.
There's a standard-fit soundbar on top of the dashboard, incorporating optional 10-colour ambient lighting that reacts to the various drive modes. There's also a five-inch digital instrument cluster showing speed, range and nav instructions.
While we've only sat in a one-off prototype, Ford is putting strong emphasis on quality and claims that "every touch point features soft-touch materials" – including the tops of the doors, which have a "consistent 3mm of give" for a "supple feel".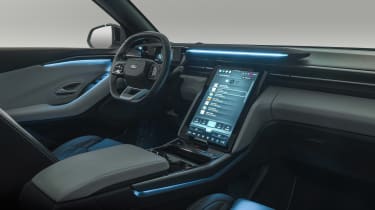 You'll have to look long and hard to find many carry over pieces of trim from Volkswagen inside the new Explorer, but there are some. Namely the rotating gear selector and the window switches. The latter still uses two buttons instead of four, requiring an extra press to operate the rear windows from the front.
The Explorer range will kick off with the 168bhp rear-wheel-drive model, which uses a 55kWh (52kWh usable) battery for a predicted range of up to 218 miles. Moving up through the range, Ford is also offering a more powerful 282bhp single-motor car, utilising a larger 82kWh (77kWh usable) battery. Ford says this version will do up to 335 miles, while it also boosts the maximum charging speed from 130kW to 170kW, matching the fastest VW tech.
The range-topping Explorer gets the same battery and charging capabilities as the mid-range car, but with dual motors producing a combined 335bhp – 40bhp more than the hot VW ID.4 GTX. The flagship Ford will do 305 miles on a charge and is rated to tow up to 1,400kg. All Explorers are able to charge from 10-80 per cent in around 25 minutes.
Two trims will be available from launch: Explorer and Explorer Premium. Exact specifications haven't been revealed but Ford has confirmed that all cars will come with heated massage seats and a heated steering wheel, dual-zone climate control and keyless entry, plus the dash-mounted soundbar and that 15-inch screen with Apple CarPlay and Android Auto. Premium brings Sensico artificial leather and ambient lighting, while options include an automatic tailgate and a full-length panoramic roof.
Prices will be determined closer to launch, but we expect the Explorer to be priced on par with the Volkswagen ID.4, while undercutting the more premium Mustang Mach-E in Ford's model range. That should mean a starting figure of around £40,000, with top-spec Explorers boasting the big battery and all-wheel drive going toe-to-toe with the ID.4 GTX from just over £50k. Customer deliveries should start towards the end of the year.
Q&A panel: Jordan Demkiw, Lead Designer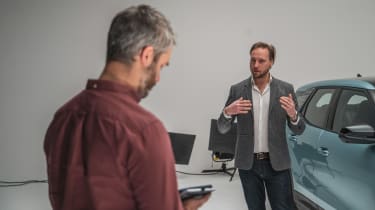 Q: What inspired the design of the new Ford Explorer?
A: Our new Explorer is unique for Europe. It's a bit different to our current offerings; the design draws inspiration from the [US-spec] Explorer, but in a much more compact and nimble way. The mantra was to embody a very bold, dynamic design that uses a simplified, pure, very aero-driven aesthetic.
Q: Were there any restrictions or complications from inheriting the platform from VW?
A: There were obviously some platform components we couldn't move as much as we ordinarily would. But we were able to get the shorter rear, the A-pillars further rearward, a wider track. All of those things have a big impact in the end.
Q: An impact in terms of design, as well as dynamics?
A: The dynamics are all specific to Ford; the dampers, the tyres, the suspension tuning. We wanted to make sure this car very much drives like a Ford. There weren't a whole lot of restrictions; we were able to achieve what we wanted to achieve.
Q: Was it always the plan to make this new compact EV part of the Explorer family, rather than an extension of the Mach-E range?
A: This was always going to be a Ford product. The Mach-E is a successful product, and this is going to compliment that by expanding on other iconic names; Explorer was a really good brand to build upon.
Q: Even in Europe? Explorer doesn't have much history in the UK or Europe.
A: It'll be interesting for all of us. It all fits with that 'adventurous spirit' mantra – if you want to blaze a trail and go on the open road. You can just go exploring, as the name suggests.
Click here for our list of the best electric SUVs on sale right now…
Source: Read Full Article