New range-topping Citroen to arrive with strong influence from 2016 Cxperience concept and new C4 hatchback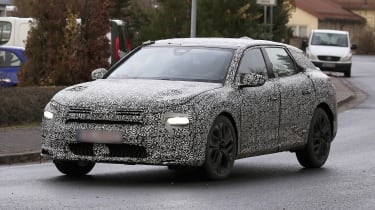 These are the first spy shots of a new flagship Citroen saloon due for reveal later in 2021. The car will be a unique D-segment entry intended to rival saloons, estates and SUVs all in one go. 
Potentially reviving the C5 or C6 nameplate, the car will become the second mainstream Citroen to be given a new lease of life in unconventional form, following the heavily SUV-inspired C4 hatchback into showrooms.
New Citroen Ami 2020 review
Last year, newly appointed Citroen product and strategy director Laurence Hansen told Auto Express that the new flagship model will be "very different" from the current competition, and these spy shots back that claim. 
"It is just wow," Hansen said. "It will be very different. Very comfortable. It's a great car."
This ties in with previous comments made by former CEO Linda Jackson at the 2019 Shanghai Motor Show, who told Auto Express: "Citroen has as much credibility as any other manufacturer to have a large car. It's just that we won't do it in a very traditional way."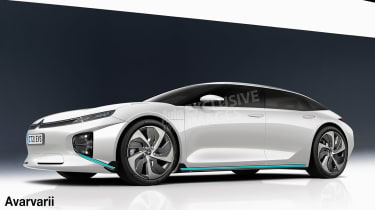 The spy shots reveal that the new range-topping model and spiritual successor to icons such as the DS, CX, XM and the previous C6, will embrace a peculiar look. It'll be sleek as a saloon from the nose to the C-pillar, whereas the rear end takes on a rakish estate like profile. However, the whole car will ride taller than a conventional saloon with SUV inspiration and large wheels, as is the case on the new C4.
Citroen had previously confirmed that the flagship model would take inspiration from the Cxperience concept car from the 2016 Paris Motor Show, and the spy shots confirm this – it's a very similar, smooth shape – the ducktail spoiler at the back is probably a red herring – while the split headlights and new taillights that can be seen beneath the disguise are clearly inspired by the show car. Our exclusive images preview how the car could look once the disguise comes off later this year. 
It's very likely that a fully electric powertrain will be available. The D-segment model will sit on the EMP2 platform for larger vehicles, which is already used by the C5 Aircross SUV and other models like the Vauxhall Grandland X SUV and Peugeot 508 saloon. 
So far, production passenger cars using this platform have only been capable of supporting plug-in hybrid technology alongside petrol and diesel engines, but fully electric commercial vehicles using the architecture are on sale, and it's likely that a further development of the platform will see passenger vehicles such as the next-generation Peugeot 308 hatchback and 3008 SUV offered with pure-electric power.
Do you think a new flagship Citroen saloon will be a success? Let us know your thoughts in the comments section below…
Source: Read Full Article