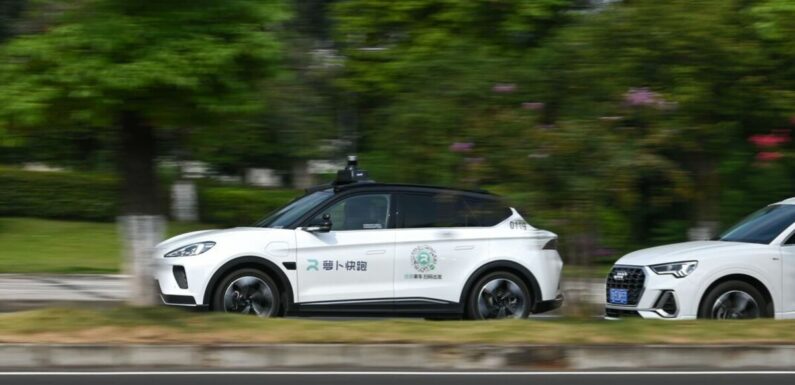 Volkswagen Financial Services has revealed motorists have mixed feelings towards the rollout of driverless vehicles.
According to the controversial poll, conducted by Moneybarn, 51 percent of drivers do not want to see autonomous vehicles on the road, with the other 49 percent supporting the idea.
Mike Todd, CEO of Volkswagen Financial Services UK, advised motorists whilst developments are constantly being made, fully driverless vehicles will not be a common sight on the roads for many years to come.
He explained: "Automated cars are an exciting future area for the industry, but there's a way to go.
"While new technology is constantly developing and autonomous driving will inevitably become smarter and safer, people are currently still expecting to stick with vehicles they can drive themselves."
READ MORE: Volvo's 'unusual' new electric car is more than £10,000 cheaper than Tesla's SUV
The study also found that 60 percent of UK drivers believe they are better behind the wheel than an autonomous car.
Around 39 percent of motorists also voiced their concerns occupants could be harmed if the technology used in the vehicles fails.
Nevertheless, according to the work safety organisation ORSA, 94 percent of all accidents on the road are caused by human error.
Don't miss…
EV myths debunked as electric cars are '20 times less likely to result in fire'[INSIGHT]
Asian EV battery makers move into the UK in 'shift towards electrification'[DEVELOPING]
Jaw-dropping cost of UK's parking ranked and where drivers get the best deals[ANALYSIS]
Mike added as the development of driverless vehicles progresses, they will get safer and more convenient for motorists.
He continued: "The UK's love of driving isn't going anywhere, but automation, to some degree, can make life on the roads easier and safer.
"We're very much at the start of our journey on the adoption curve for automated driving, and it will be interesting to see how opinions change as we continue down this road."
We use your sign-up to provide content in ways you've consented to and to improve our understanding of you. This may include adverts from us and 3rd parties based on our understanding. You can unsubscribe at any time. More info
The first vehicle which could supposedly drive itself was announced in the 1920s, however, had no artificial intelligence, requiring another driver to control the car remotely.
Truly autonomous vehicles first arrived in the 1980s and 90s, with the first to carry members of the public being the ParkShuttle, used at Schiphol Airport in the Netherlands.
Whilst no manufacturers currently sell a completely autonomous vehicle to the public, many new models feature some driverless features which can take over certain controls, requiring the owner to pay attention to the road at all times.
Source: Read Full Article