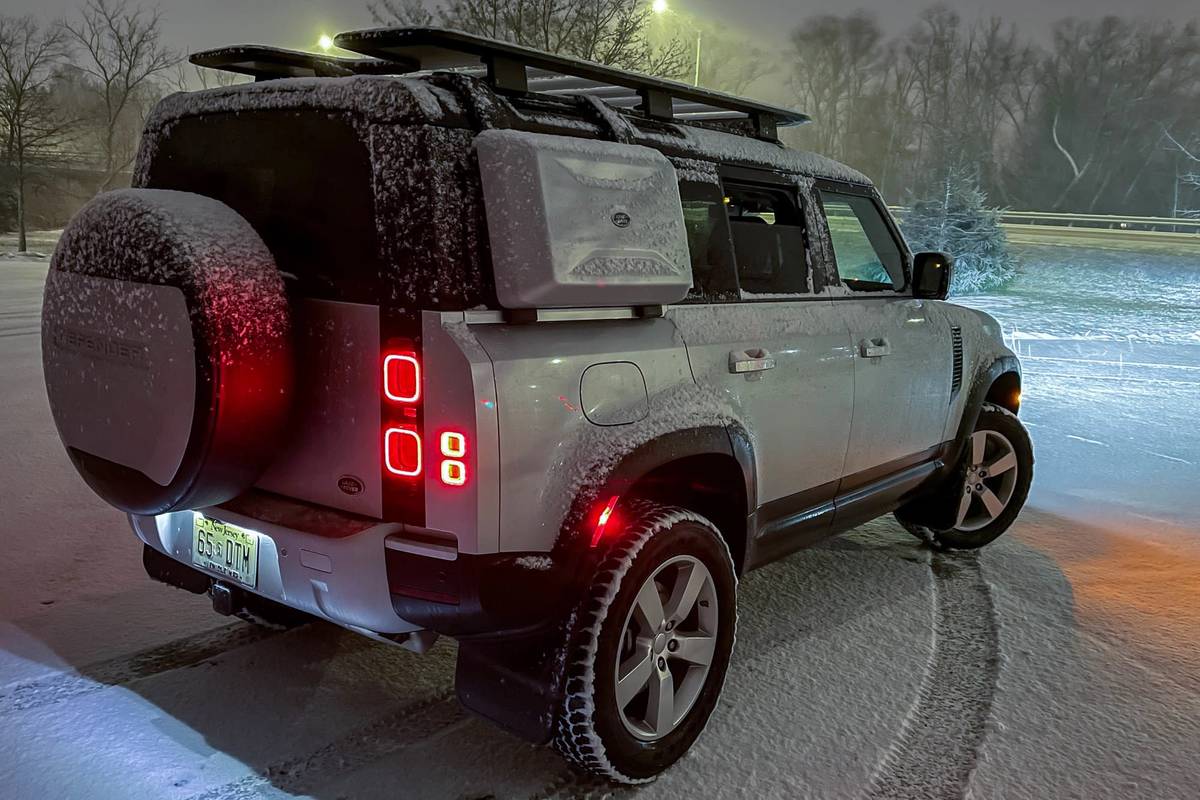 On paper, the reimagined Land Rover Defender looks appealing to families as it offers seating for up to seven when equipped with the optional third row. Outside Land Rover itself, not many other SUVs pair rugged off-road capability with people moving — the larger Toyota Sequoia TRD Pro, perhaps, or off-road packages of the mammoth Chevrolet Tahoe, GMC Yukon and Ford Expedition. But water fording of 35.4 inches, max approach and departure angles of 38 and 40 degrees, respectively, and up to 11.5 inches of ground clearance? Nope, that's closer to Jeep Wrangler territory, and despite shoppers' rationales for buying a four-door Wrangler, its merits as a family car are questionable. Can the Defender do better? I recently drove a 2020 Defender 110 First Edition with the optional third row to see how well it handles family duty with two young kids.  
Related: Your Move, Jeep: 2022 Land Rover Defender Gets Supercharged V-8 to Take on Wrangler Rubicon 392
The Good
Great With Kid (Seats)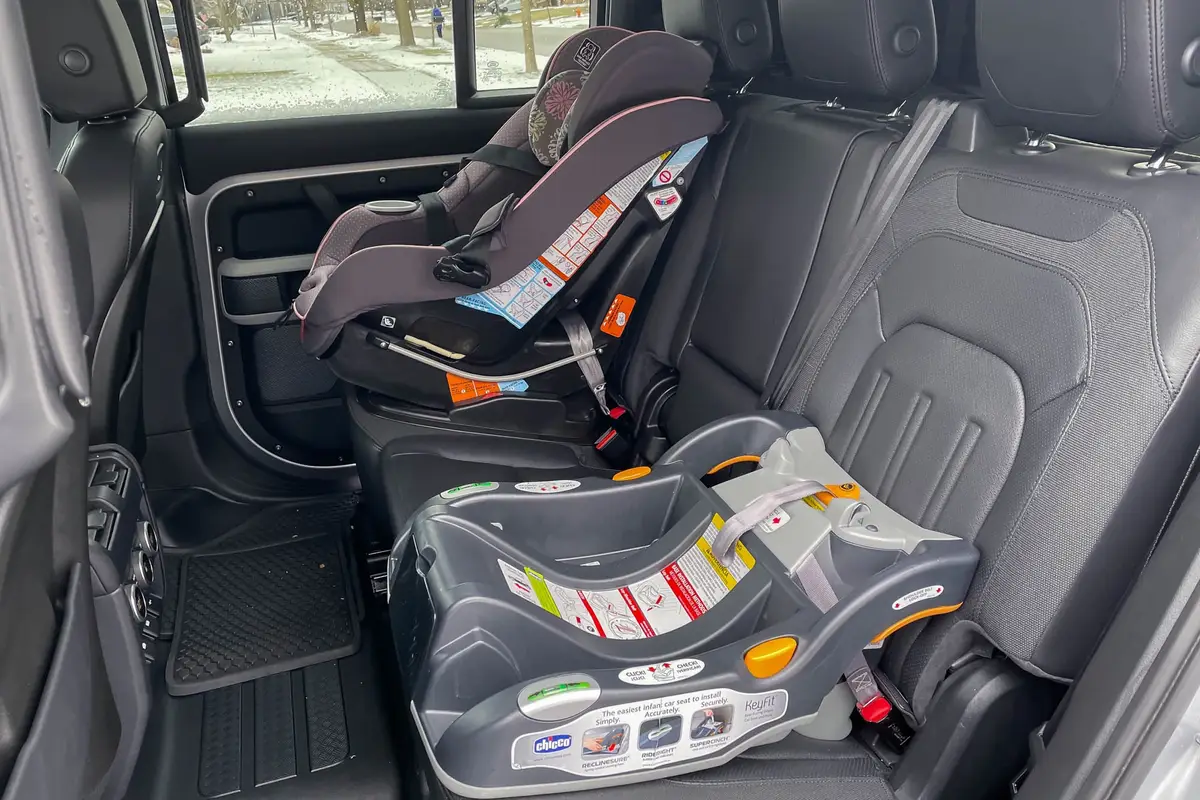 Cars.com's certified child passenger safety technicians installed three types of car seats and gave the five-seat Defender the highest grade in Latch accessibility as well as for rear-facing convertible and infant seat fitment. Forward-facing convertible fitment suffered slightly because of a thick rear anchor bar, which made it difficult to easily attach or detach the tether hook, and the booster seat score fell because the seat belt buckles sit low in the seat cushion, which makes it hard for younger kids to reach independently. Either way, the Defender fared better overall than the last Wrangler four-door we tested. 
In my own testing, there wasn't much room to spare between the second row and front seat with a car seat installed, even with the second-row seat slid all the way rearward. My gangly-legged 3-year-old unleashed a storm of kicks on the front passenger seat, but its width was manageable and we were able to cram a parent between two car seats, though with little room to spare.
Standard Adjustable Height Suspension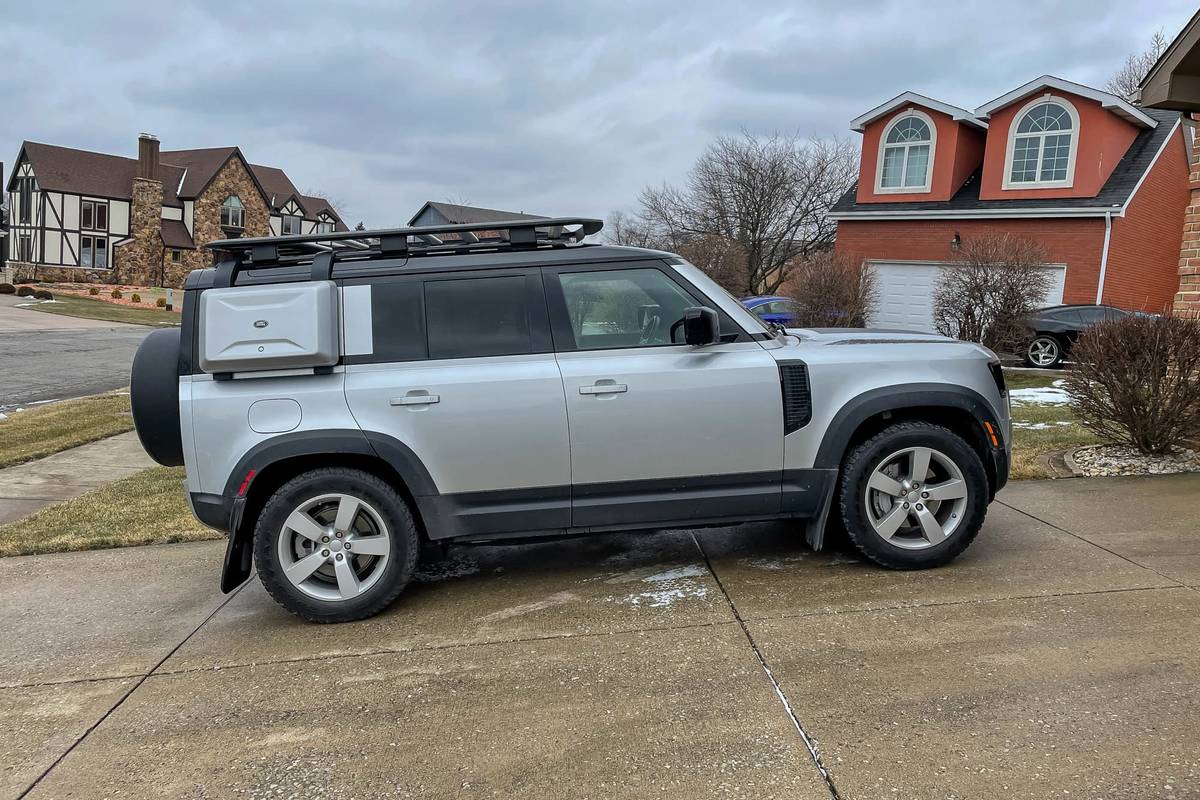 The Defender's top-spec off-road capabilities come with its adjustable height air suspension jacked all the way up, but it also offers an advantage going the other way, with an access-height setting that lowers the suspension for getting people and cargo in and out more easily. It's a big step up to get in with the suspension at standard ride height (8.6 inches of ground clearance), and it's a downright leap when it's in Off-Road mode (11.5 inches); a Wrangler Rubicon, by contrast, has a fixed 10.8 inches of clearance. More important than simply having the adjustable-height suspension, though, is just how quickly the Defender's air suspension slams to the ground once you select access height. Kids and passengers won't jump out before the suspension has settled to a friendlier egress height, as the case often becomes in many trucks and SUVs with air suspensions. You can also remotely lower the rear ride height from the key fob for easy cargo access by simultaneously pressing the headlights and rear hatch buttons.
Livable Ride Quality
The air suspension combined with my test car's chunky Goodyear Wrangler off-road tires to provide good ride quality for long hauls, free of nap-ruining impacts, car-sickness-inducing jouncing or noisy tire droning that typically comes with extreme off-road capabilities. There's still a good amount of road feel because this is such a dedicated off-roader, but it's more polished than you'd expect — or maybe you should, considering our vehicle's $79,190 as-tested price (a Wrangler Rubicon can be well-equipped in the $55,000 range). Even with the optional Expedition roof rack, which introduced some wind noise, overall cabin isolation was quite good — so much that colleagues on the other end of an audio conference call thought I was at my desk until I said I was driving on the highway at 65 mph.
The Bad
Third-Row Limitations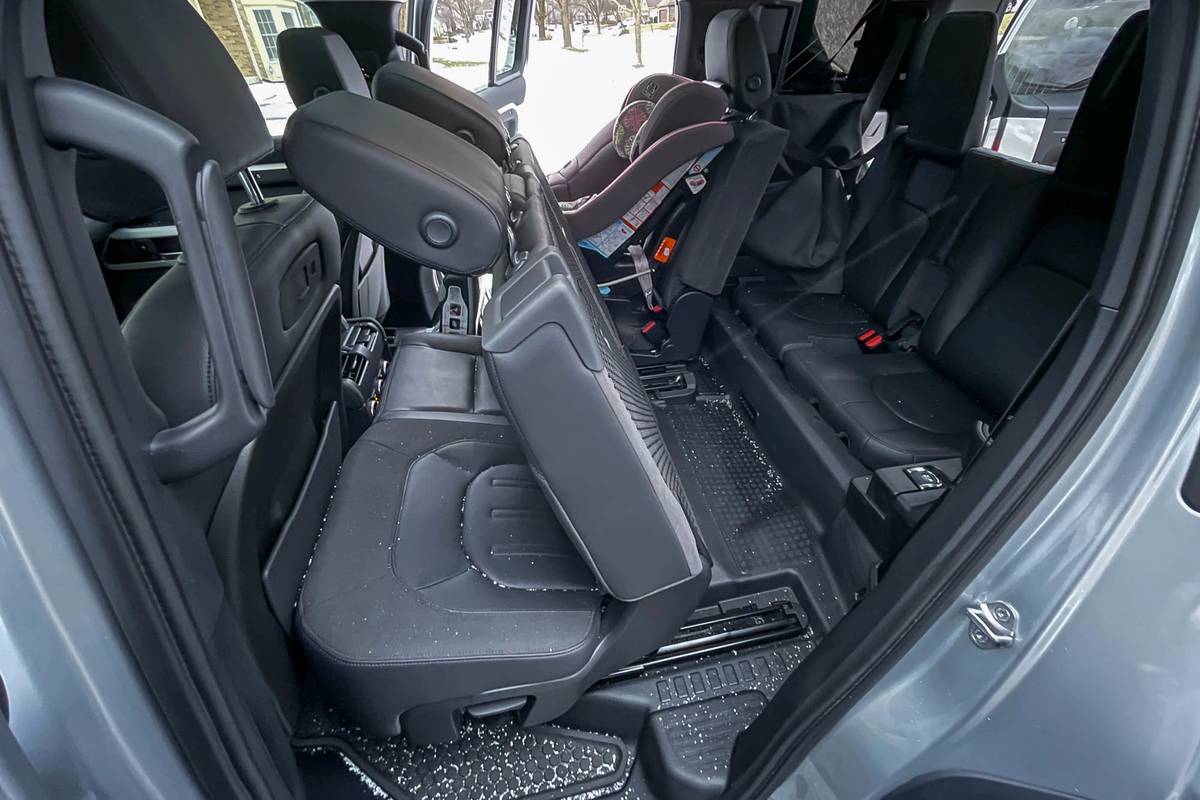 The manual-folding third row is $1,200, and it adds seating for another two passengers (small ones) to the Defender 110. But there's not a whole lot you should expect from the third-row option for an SUV with a footprint more similar to a Kia Sorento than a Chevrolet Tahoe. Without the spare tire, the Defender is 187.3 inches long; a Sorento, which also offers a small third row, is 188.9 inches.
Headroom is in good supply back there, even at my 6-foot height, thanks to the Defender's upright shape and squared-off rear roof. It's at least tolerable for a short stint, but by every other measure it's a cramped space, as my knees were high off the floor and my thighs barely touched the cushion. It's a space best left for infrequent use — and even then, among individuals of smaller proportions. Installation of car seats in the third row is limited, too, as it lacks Latch connectors and tether anchors on the backside.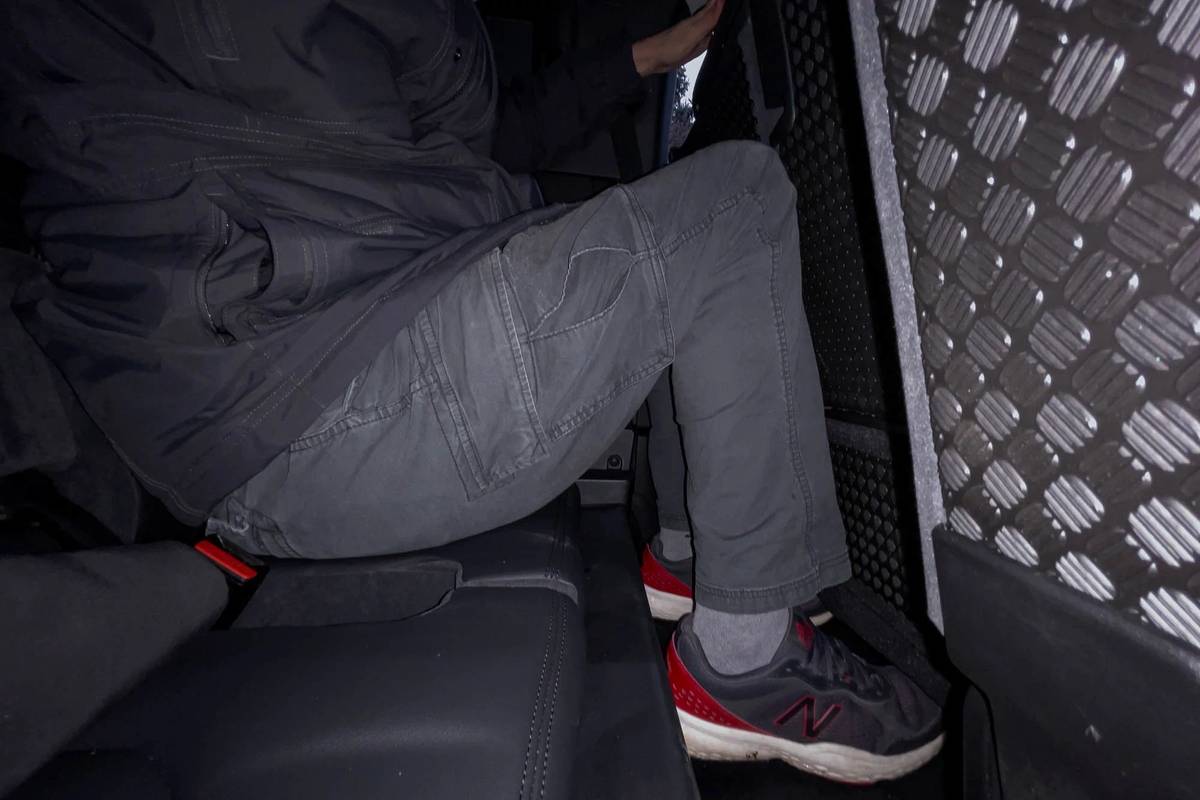 Getting into the third row isn't bad when the air suspension is dumped, but third-row access is stunted when there's a car seat installed. A car seat or car seat base prevents the second row from moving into its forward-tilting access position, leaving minimal room to sneak into the third row. Some SUVs with more dedication to three rows (but less dedication to off-roading) offer a function where the whole seat tilts forward with car seats installed for third-row access.
Minimal Cargo Room Behind Third Row 
As you'd expect with a third row shoehorned into the Defender, there's very little cargo space left once it's in use. My single-seat stroller wouldn't fit with the third row raised, and a week's worth of groceries is also in question. But I suspect this won't be a daily hindrance, as the third row isn't for everyday use and there's a generous amount of cargo room once it's folded, again thanks to the tall cabin and squared-off shape.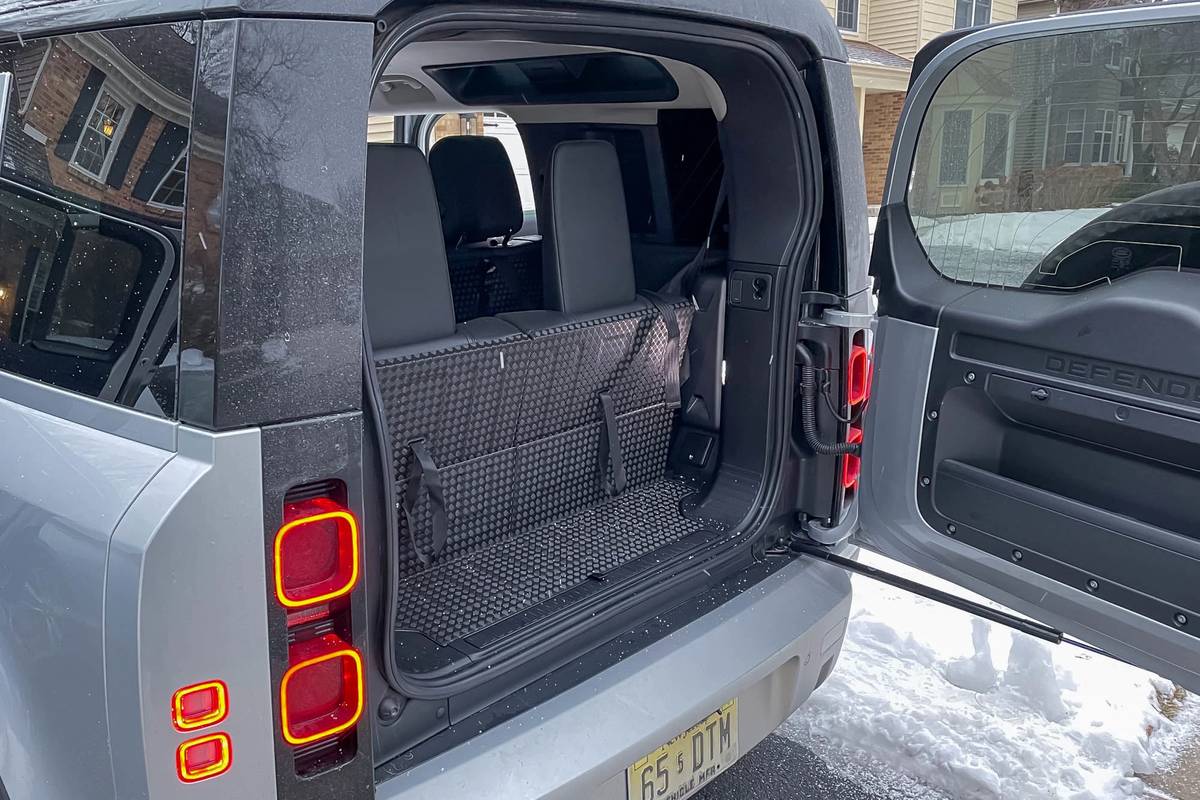 For those who want more cargo options, here's where the Defender gets fun. You can choose  trick accessories like that massive roof rack and a cargo box that affixes to the outside of the car (more for a first-aid kit or recovery gear than anything else). One more differentiation between the two- and three-row models is the flatness of the cargo area. In the two-row Defender, the second row flips out the bottom cushion so the backrest can fold flat, making a flat cargo floor when the seats are down. The second row in the three-row Defender, by contrast, leaves an incline to the load floor when it's folded.
Rear Swing Gate
The Defender's spare tire, mounted iconically on the rear swing gate, is a must for off-roading as it enables less bulk around the rear axle for better departure angles, easy access while off-roading and a full-size replacement to maintain those off-roading capabilities if you damage a primary tire. However, that heavy spare and large swing-gate sure is a beast to open and close. On a mildly steep driveway, it took me a good heave-ho to close. There's no power function, so no easy-open or kick-to-open options — both useful provisions when you're carrying cargo up to the swing gate. It does, however, have an automatic soft-close function that draws the gate in when it's closed, so there's no slamming required.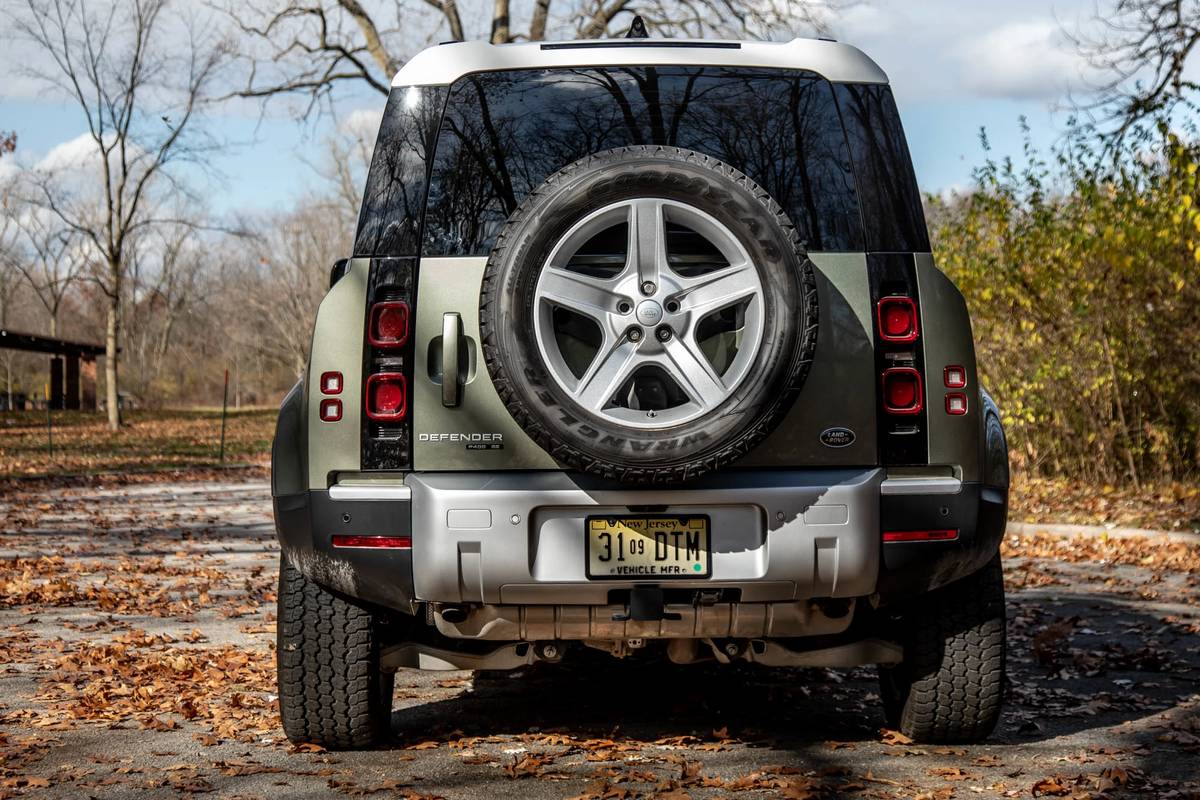 Should You Buy a Three-Row Defender? 
The Land Rover Defender's optional third row doesn't transform the SUV into a jack-of-all-trades off-road hauler for large families — that's a lot to ask, isn't it? Overall, this seems an odd choice for a third row, especially considering the more on-road focused Land Rover Discovery comes with a standard third row and costs similar money (though it carries an equally skimpy third row and cargo room behind that). Still, who doesn't like options: sleek and modern, or rugged and nostalgic? 
Land Rover says 1 in 3 new Defenders sell with the optional third row. If you must have one, its usefulness will depend on how old your kids are. Maybe pass on one if you have young children who require car seats that can block third-row entry. For those with older kids who no longer need such equipment, go for it. Either way, one thing's clear: Among lifestyle vehicles that trade on nostalgic capability more than dollars and cents, the Defender has a clear edge for families over something like the Wrangler.
Related Video:
More From Cars.com:
2020 Land Rover Defender: Born Again in the USA

How Do Car Seats Fit in a 2020 Land Rover Defender?

These 10 SUVs Have the Highest Towing Capacity

Find Your Next Car

2020 Land Rover Defender Review: Tough Luxe
Cars.com's Editorial department is your source for automotive news and reviews. In line with Cars.com's long-standing ethics policy, editors and reviewers don't accept gifts or free trips from automakers. The Editorial department is independent of Cars.com's advertising, sales and sponsored content departments.
Source: Read Full Article