The Kia Stinger has been taken off sale in the UK, although existing orders will still be fulfilled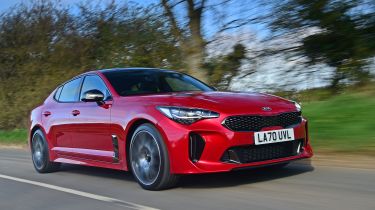 The Kia Stinger has been taken off sale in the UK, with the Korean brand signalling the all-electric EV6 GT as its replacement. The Stinger still remains in production so current orders of the flagship grand tourer will still be delivered. 
We first saw the Stinger in 2017, posing as a new rival to the likes of the BMW 4 Series Gran Coupe and Audi A5 Sportback. The range-topping GT S actually prevailed against the S5 Sportback in its first Auto Express road test. 
Top 10 best sports cars 2022
Featuring rear-wheel drive and a 365bhp 3.3-litre, twin-turbocharged V6 in GT S guise, the Stinger could go from 0-62mph in 4.7 seconds. Kia's proposed EV6 GT replacement signifies the firm's switch to electric power, and it'll provide even greater straight-line performance with a 577bhp dual-motor powertrain propelling the EV from 0-62mph in 3.5 seconds. 
Paul Philpott, President and CEO for Kia UK, commented on the Stinger's demise, "The launch of the Stinger will go down as a transformative moment for Kia. Its driver-focused 'grand tourer' credentials, paired with Kia's reputation for vehicle quality and design, made it an incredibly compelling car for drivers. At the same time, it also had a transformative effect on how people saw Kia."
The EV6 GT will be the flagship performance model for Kia when customer deliveries start later this year. Philpott added "Kia plans to offer a line-up of 14 EVs by 2027. Combining high-performance capabilities with an incredible design and a long-range electric powertrain, the EV6 GT is an important part of this plan, and a true new flagship for the Kia brand."
Now check out the latest on the upcoming Kia EV9 here…
Source: Read Full Article