Kia has sparked its aspirational brand restructure, which will see the firm focus more heavily on electric cars and sustainable motoring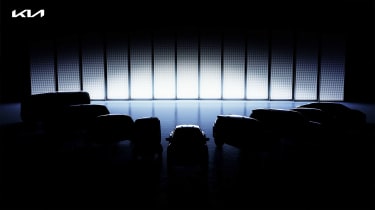 Kia has released more details on the next phase of its "Plan S" business strategy. The brand will launch seven new EVs by 2027 and switch to more sustainable manufacturing methods, placing a greater reliance on recycled materials and renewable energy.
The biggest news is that Kia will launch the first of its next-generation electric vehicles during Spring this year. It'll be based on the company's all-new E-GMP electric underpinnings, which will provide a maximum claimed range of more than 300 miles and charge times of "less than 20 minutes."
New flagship Kia electric coupe-SUV spotted ahead of 2021 launch
Internally known as the Kia CV, the brand hasn't yet confirmed what the mystery EV will be called when it lands in showrooms, but the firm has said it'll be the first model to bear the revised company logo. We also know that the very fastest version of this new halo car will have a 0–62mph time of less than three seconds.
This new EV will also usher in the company's new design language. We've already seen prototype versions of the new car undergoing testing – and it looks set to adopt a new coupe-SUV silhouette, which is unlike anything else currently in the firm's line-up.
The Korean firm recently released its new logo, which was designed to work alongside its aspirational new business model. The company's old oval logo has been ditched in favour of a stylised version of the word "Kia," which is supposed to conjure up thoughts of "symmetry and rhythm."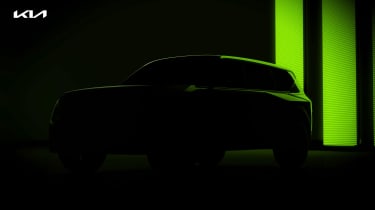 Kia also removed the "Motors" suffix from its nameplate, which it says is a way of signalling how the brand is "breaking away from traditional manufacturing-driven business model." Finally, the company's slogan has changed from "the power to surprise" to the more modest motto of "movement that inspires."
As part of the restructure, Kia plans to expand its business into the eco-friendly mobility sector, providing electric vehicles and autonomous technology for use in the world's largest cities. The firm is also ramping up collaboration with the world's ride-hailing and food delivery services such as Grab (Southeast Asia) and Ola (India).
Closer to home, Kia also established a partnership with the Spanish car-sharing service, WiBLE. Currently, the company has a fleet of 500 Kia Niro PHEVs operating in the city Madrid – and it inspired Kia to launch its own version of the service in Russia, called KiaMobility. Kia says that actions such as these will help the company achieve its ultimate goal of becoming a mobility provider.
Kia's Senior Vice President, Artur Martins, said: "Movement has always been at the heart of our brand – and moving people at the core of our business. Movement helps humankind to constantly progress, improve and evolve. That is why at Kia we believe that movement inspires ideas."
Kia will soon develop a range of purpose-built vehicles (PBVs) for corporate customers in an effort to meet the forecasted five-fold increase in demand by 2030. These will be built on flexible skateboard platforms and feature modular bodies, which can be easily swapped out to meet the needs of each business. Options could include low-level logistics vehicles, car-sharing vehicles and delivery vehicles.
Despite this new-found focus on ride-hailing, PBVs and short-term rented urban mobility, Kia still wants to drive up its sales figures. The company plans to control 6.6 percent of the global EV market by 2025 and achieve annual sales figures of 500,000 units by 2026.
What do you make of Kia's latest business model? Let us know in the comments section below… 
Source: Read Full Article