New Range Rover Chieftain features a completely re-engineered chassis and a Corvette V8 engine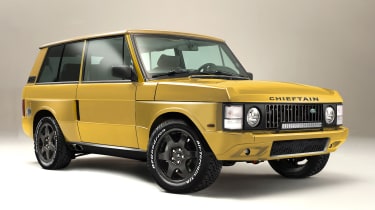 Restomods are all the rage, and this Range Rover Chieftain by Jensen International Automotive (JIA) is the latest to join a growing pack. 
Most famous for its resto modded version of the Jensen Interceptor, JIA has fitted a host of mechanical and cosmetic improvements to the Chieftain, which it says have made the car better to drive and easier to live with. 
Classic Range Rovers get electric car conversion from Lunaz
JIA started with the Range Rover's chassis, ditching the 4×4's live axles in favour of fully independent double-wishbone suspension. However, to retain the car's famed off-road ability, the company also engineered a pair of unique mounts which allowed it to use the Range Rover's original differentials.
The Mk1 Range Rover's 40-year-old brakes and hubs have also been replaced with components from the Discovery 3 and Range Rover Sport. JIA sourced a new power steering rack and anti-roll bars fitted to the updated version of the Range Rover Classic, to try and cure the poor handling and body roll that plagued early cars.
The 4×4's original 3.5-litre Rover V8 has been upgraded, with a more powerful 6.2-litre LS3 V8 from the Chevrolet Corvette taking its place. It's mated to a new six-speed automatic gearbox, which has been modified to work with the Range Rover's original transfer case.
In its standard tune, the engine produces 430bhp, which JIA says is enough to propel the Chieftain from 0-60mph in 5.2 seconds and reach a top speed of 130mph. However, the company also offers a supercharger package on its range-topping model, which bumps power up to 700bhp.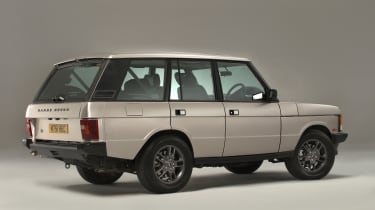 Visually, there's not too much that sets the cheapest Chieftain apart from the original Range Rover Classic. Cosmetic tweaks are only noticeable on the firm's bespoke creations, where JIA has fitted items such as flared wheel arches, a subtly reprofiled front bumper and a radiator grille with vertical slats.
The restomod 4×4 also comes as standard with a set of 17-inch Land Rover alloy wheels, although buyers can opt for a unique set of three-spoke 18-inch wheels, which are styled to look like the 16-inch alloys fitted to the original car. The upgrade costs an extra £3,475.
Prices for the Chieftain start from £147,500 plus VAT, although that can quickly rise with a few optional extras.
JIA provides plenty of upgrades for buyers to personalise their cars. These include privacy glass (£563), LED headlamps (£1,037), extra driving lamps (£1,257), a freer flowing exhaust system (£3,137), chromed bumpers (£1,112), mudflaps (£397), a tow bar (£923) and larger front brakes (£5,203), although this latter option can only be specified with the company's 18-inch alloy wheels.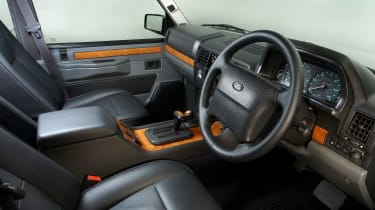 Inside, JIA says it designed some "sympathetic" updates, including a subtle retrim and some fresh wood veneer for the dashboard. However, buyers can specify more detailed upgrades, such as diamond-quilted upholstery, piano black dashboard trim and an upgraded stereo, the prices of which are all available on request.
JIA also offers a few off-the-shelf interior upgrades, such as colour coded seat belts (£445) and some new floor mats (£453). There's some modern conveniences on offer too, including cruise control (£1,450) and a parking pack (£710), which features parking sensors and a rear-view camera.
The company even has plans to produce a pure-electric version of the Range Rover Chieftain in the near future, with an electric motor on each wheel and the potential to produce 1,000bhp.
Now check out Volvo's resto modded version of the P1800. Let us know in the comments section below…
Source: Read Full Article