Toyota reveals how car makers are getting writers behind the wheel during lockdown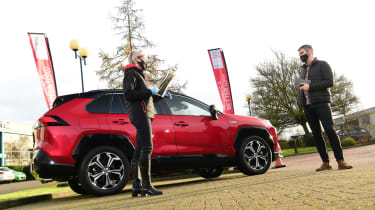 We've all had to adapt the way we go about our business since March 2020 – either by turning the kitchen table into a makeshift office, or leaving for work in a mask and gloves. Like it or not, it'll remain this way for some time, too.
The automotive industry is no different, and Auto Express' content has evolved, with the team having to tweak some of your favourite editorial to make it fit in our new, Covid-confined world. 
Can I drive my car during the Covid-19 lockdown?
No other area is this more evident than when it comes to driving and writing about new cars. When the UK first went into lockdown last March, car launches halted; media drives were cancelled, press bookings ceased and long-term test cars were left collecting dust on driveways.
However, as things returned to normal through the summer and into the autumn, the loans picked up, and invites for small, controlled press launches landed in our inboxes.
Toyota was one of the first to roll out these new-format test drives, running events from its press garage in West Sussex. The firm has hosted six such events since coronavirus took hold – and most recently we joined the
team for a run in its brand-new RAV4 Plug-in Hybrid.
The event actually started the week before, with an online presentation hosted by Toyota GB's senior press relations manager, James Clark. "You'll have to imagine you've got a coffee and a croissant in your hand," he said, "but at least you get to do it in the comfort of your own home." 
Here, we were given a rundown on the car's market positioning, details of its powertrain, as well as specification and pricing information. It's something we'd usually do on-site, but with current restrictions, cramming 20 journalists in a room clearly wouldn't be the smartest move.
On arrival at Toyota HQ, we're greeted by the firm's ever-present head of press and PR, Scott Brownlee. He's worked for Toyota for nearly a quarter of a century – following stints at Rover, Peugeot and BMW; few people know the industry quite like he does. As we grab a socially distanced cuppa from a gazebo in the corner of the car park, we catch up with the team and find out what's gone into the organisation of this new-style launch, and whether they think the brand has suffered by not flying journalists overseas to try its cars.
Erica Haddon, Toyota GB's PR operations manager, talks us through things. "Everything has been sanitised," she tells us. "Inside [the car] you've got gloves and a mask; there's a seat cover and we've fogged everything using a special machine."
There's lots to be said for avoiding having to take two days out of the office to fly to the continent for a three-hour drive on smooth Spanish tarmac, but what about the manufacturers? Surely Toyota GB can save cash hosting journalists on home turf? "It's not a cost saving," Erica
tells us. "Normally, Toyota Motor Europe would organise everything; all we'd pay for is flights."
"The trick is not to get complacent," she says. "Even when you've been running things like this for six months, you need to act like it's each journalist's first day. You can't use the same routes every time, for example. There's a solid framework, but tweaks are needed for each event," Erica explains in no uncertain terms.
After we watch our car get 'fogged', we're given the keys in a plastic bag. On a normal launch, it'd be one car shared by two journalists, with changeover spots loaded into the sat-nav route. But today, we're on our own.
One final thing we're keen to discuss is whether
or not Toyota thinks this set-up has harmed their coverage – either of the RAV4, or the five models that were launched before it. The answer is an unequivocal no. "There are many variables," Scott tells us. "But we feel the amount of coverage has been much the same.
"Tonality has been good or better, largely because the media tell us they prefer driving UK-spec cars on UK roads. We've also had a lot of praise for the local format; once travel restrictions lift, we're not planning a return to the old format in most cases," he said.
Find out more about rules when it comes to buying a car during lockdown…
Source: Read Full Article