Car number plates are a subject to a series of regulations to ensure they can be read. Here's how to avoid driving with illegal plates and getting a fine…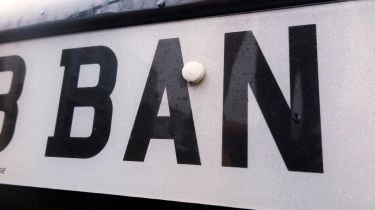 Car number plates; we see them every day and rarely give them a second thought but there's a lot more to the humble number plate than you might think. Not least, the rules that stop motorists displaying illegal number plates on their cars.
A thriving industry has grown up around the number plate in the UK with businesses offering car owners the chance to express themselves with personalised registrations or by messing with the collection of letters and numbers on the front (and back) of their motor in all kinds of ways. But the number plate also serves a vital purpose and there are rules governing exactly how it must be displayed. Step over the line and a fine of up to £1,000 could be in store for displaying an illegal number plate on your car.
In this guide we'll look at the rules around number plates in the UK and cover what you can and can't do to inject some individuality into your car's alphanumeric code. 
What are the basic rules for UK car number plates? 
The basic UK car number plate rules are fairly straightforward.
The number plate must be made from a reflective material.
The front number plate must display black characters on a white background.
The back number plate must display black characters on a yellow background. 
There must not be a background pattern.
There must be a mark to show who supplied the number plate.
The British Standard number must be displayed – 'BS AU 145e' for plates fitted after 1 September 2021.
The characters must not be removable or reflective.
The characters must be a single shade of black on plates fitted after September 1 2021.
The number plate can display additional 'flags, symbols and identifiers' from the approved list. These are comprised of national flags for England, Scotland and Wales as well as the union flag, plus national identifier letters such as GB, UK, CYM, ENG, SCO or Wales.
Zero-emissions vehicles can display the 'green flash' on the left-hand side of the plate. This was introduced in 2020 as a way of identifying EVs on the road and encouraging uptake. These green plates should only be available to owners of electric cars but there are reports of sellers supplying the plates for petrol or diesel models.
UK plates can also have 3D raised letters so while many people believe that the trend for 3D and '4D' plates is illegal, these plates are allowed if they conform to the other rules.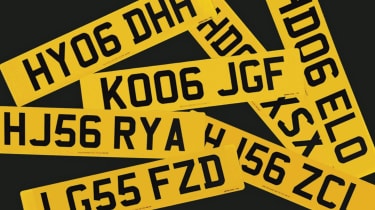 What are the rules about number plate spacing?
Things get a bit more complicated when we start to get into number plate letter and number spacing, size and font and this is an area where many illegal number plates fall foul of the regulations by pushing the boundaries too far. The government leaflet INF104 includes full details of the rules about spacing but we've included a summary below.
Since September 1 2001, all UK number plates have had to use the same UK number plate font. Italics or other styles of letters are not allowed. The letters and numbers must also be spaced as follows…
Characters must be 79mm tall.
Characters (except the number 1 or letter I) must be 50mm wide.
Character stroke (the thickness of the black lines) must be 14mm.
The space between characters must be 11mm.
The space between the age identifier and the random letters must be 33mm.
The margins at the top, bottom and side of the plate must be 11mm.
The vertical space between the age identifier and the random letters must be 19mm.
The number plates can't be displayed over three lines unless the car was first registered before January 1 1973 or was built before January 1 1980, is registered in the historic tax class and exempt from VED tax. Motorcycle number plates must be displayed over two lines and are only required at the rear of the vehicle, if the bike was first registered since September 1 2001. Motorcycle plates can also have smaller characters, as detailed in the full table below.  
UK Number plates spacing measurements in full
Date of first registration

After Sept 1 2001 

Before Sept 1 2001(Group 1)

Before Jan 1 1973 (Group 2)

 

All motorcycles and tricycles

Character height

79mm

89mm

79mm

64mm

Character width (excluding '1' and 'I') 

50mm

64mm

57mm

44mm

Character stroke

14mm

16mm

14mm

10mm

Space between characters

11mm

13mm

11mm

30mm

Space between age identifier & random numbers

33mm

38mm

33mm

30mm

Vertical space between age identifier & random numbers (if across 2 lines)

19mm

19mm

19mm

13mm

Minimum top and bottom margins

11mm

13mm

11mm

11mm
What makes a number plate illegal?
In simple terms, illegal number plates are ones that do not conform to the guidelines above but in practice, there are all kinds of number plate modifications that car owners employ for cosmetic purposes or to make their number plate characters read differently.
Drivers have been known to place coloured screw caps in plates or reduce spacing so characters read differently; they may also buy plates with illegal fonts, coloured characters or shaded backgrounds. The reasons for these offences vary, but often it's drivers with personalised plates trying to make the characters more closely resemble a word; others may mis-display a plate after unwittingly buying a used car with an incorrect plate fitted; and criminals can deliberately obscure number plates in the hope of avoiding detection by ANPR cameras.
Green number plates for electric cars arrive
Whatever the reasons, however, number plates are supposed to be purchased only from approved, Driver and Vehicle Licensing Agency (DVLA) registered vendors, who should refuse to issue plates that do not meet the regulations and check documentation including the V5C logbook to make sure the buyer has the right to buy that registration.
Problems tend to start when plates are purchased from offshore, unregistered sellers. As exposed in our 2019 investigation, companies get around the law by marketing their plates as 'show plates', which are not meant to be used on the road.
Any quick search of the internet will reveal various types of number plate available that are obviously illegal to anyone with a passing knowledge of the font and spacing rules but it's also possible to buy legal-looking plates that might be used for more nefarious purposes. 
Unregistered sellers will often issue plates to buyers with none of the documentation checks required by the DVLA. Banned number plates and cloned plates are freely available as a result but using them on your car could have serious repercussions.
Are dirty number plates illegal? 
If it's difficult to read your car number plate for any reason, including a build-up of grime on its surface, you run the risk of getting fined. It's important to keep your number plate clean for that reason.
It's a similar story with faulty numberplate lights, you're required to make your plate visible at night so you could be in trouble if the bulb fails and you don't get it fixed. 
What are the penalties for illegal number plates? 
Motorists who display an illegal number plate or an obscured plate can be issued with a  Traffic Offence Report (TOR) or a Vehicle Defect Rectification Scheme (VDRS) notice, which means they escape a penalty if the fault is fixed within 14 days. Ultimately they could be liable for fines ranging from a £100 fixed penalty notice up to £1,000 for more serious or persistent offending. Cars can even be seized as evidence in extreme cases.
In addition to this police action, the DVLA's policy is that if a vehicle is stopped more than once with a number plate failing to meet regulations, the registration could be rescinded and the car would be issued with a new random number plate. Drivers who are stopped once and then fail to provide evidence that they have fixed the issue with their number plate could also have their registration number rescinded.
Are police failing to act on Illegal number plates?
An Auto Express investigation from December 2020 looked that the problem of penalties for illegal number plates not being enforced…
The rules around vehicle number plates in the UK are intended to ensure that all number plates can be read by police,  automatic number plate recognition (ANPR) cameras and other safety cameras. 
Between 2015 and 22 May 2020, the DVLA only rescinded 109 number plates. Yet over the same period, the 13 police forces (out of 45) answering our freedom of information requests issued 625 traffic offence reports to the same vehicles more than once. At least five of these forces told us they do not liaise with the DVLA over such offences.
Crackdown coming on illegal number plate trade
Some forces, including the Metropolitan Police, could confirm when a ticket had been issued to the same vehicle for a mis-displayed plate more than once, but could not determine if the two offences were committed by the same person. 
A total of 22 forces were unable to tell us how many times a ticket had been issued to the same vehicle and keeper for an incorrectly displayed plate, often because their systems weren't set up to easily find this information, or because they did not log such details. 
This means that we can only say for certain that the 625 double offences were for the same incorrectly displayed registration, not that the same person committed the offence. So while it's not possible to say for sure whether these plates should have been rescinded, the fact that many police forces are unable to determine this has prompted concern from motoring experts.
We contacted the DVLA to ask if it considered the current legislation and working practices around double number-plate offences to be fit for purpose, and the organisation informed us: "In cases where a fixed penalty has been issued it is a matter for individual police forces or officers to decide whether to notify the DVLA."
UK car number plates explained: rules, history and what they mean
The National Police Chiefs' Council said: "Effective information sharing is an integral part of our roads policing strategy." It added: "We regularly review our information-sharing processes, and are committed to doing everything we can to make these processes as efficient as possible."
Jack Cousens, head of roads policy from the AA said: "Enforcing the proper display of number plates only works when the DVLA and police forces complete the correct paperwork and tell each other what's happening. Clearly some forces have stopped doing so.
"Effective roads policing can help tackle wider crimes such as drug trafficking and robbery. This is yet another example of traffic offences falling down the pecking order when it comes to police priorities."
More on car number plates…
UK car number plates explained
How easy is it to buy an illegal number plate?
Banned car number plates: too rude for the road
Personalised number plates: how to cash-in
Green car number plates
3D and 4D number plates: are they legal?
UK's most expensive number plates
The world's most expensive number plate
Source: Read Full Article