Hyundai's first attempt at a hot hatchback is close to being a class-leading one, despite well-established competition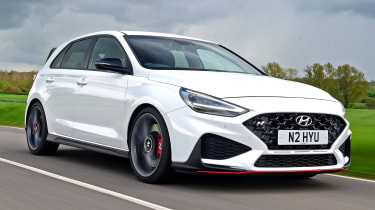 4.5 out of 5
Huge fun to drive
Spacious and usable every day
Competitive price

Plain interior design
Not the fastest hot hatch around
Quite thirsty


Top 10 best hot hatchbacks to buy 2023
Rather than simply take a standard i30 and chuck a bigger engine in it, the development team spent a long time overhauling the chassis to ensure it can handle the power on offer. Previously offered in two states of tune, in the UK the five-door hot hatch is now only offered in top-of-the-range i30 N Performance form. Under the bonnet lies a 2.0-litre turbocharged four-cylinder petrol engine pumping out 276bhp and 392Nm of torque. As standard it's mated to a six-speed manual gearbox, but an eight-speed dual clutch automatic is available as an optional extra. 
More reviews
Car group tests
Ford Focus ST Track Pack vs Hyundai i30 N: 2023 twin test review
Hyundai i30 vs Volkswagen Golf
In-depth reviews
Road tests
New Hyundai i30 N Performance DCT 2021 review
New Hyundai i30 N Fastback DCT 2020 review
New Hyundai i30 Fastback N Line 2020 review
Used car tests
Used Hyundai i30 (Mk3, 2017-date) review
For comparison, the i30 N's closest rival, the Mk8 Volkswagen Golf GTI, puts out 242bhp, while the Ford Focus ST we recently pitted against the Hyundai produces 276bhp. However, the i30 N is a lot less powerful than the latest Honda Civic Type R which has 324bhp on tap.
Prices currently start from just over £35,000, with standard kit including, LED headlights, 19-inch forged alloy wheels, rear privacy glass, electric front seats, heated front seats, keyless entry, front and rear parking sensors, cruise control, rear-view camera, wireless smartphone charging, lane-keep assist and a 10.25-inch central touchscreen with Apple CarPlay and Android Auto.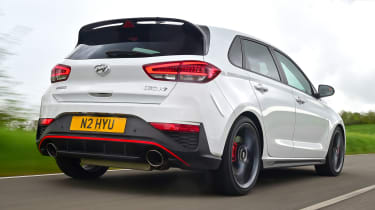 Engines, performance and drive
The i30 N is an exceptional hot hatch that offers an agile, involving driving experience mated to a composed ride

Most Hyundais offer acceptable driving dynamics, but they don't stand out when compared to class leaders. The i30 N is different. The brand's chassis engineers have done an excellent job in transforming an unengaging family hatchback into a sharp and enjoyable small performance car.

From the off, you can tell that the i30 N is a proper hot hatch, with a rasping exhaust note and a tied-down feel. The driving experience itself is adjustable with adaptive dampers, individual drive modes and a custom function, allowing you to select different parameters for the engine mapping, suspension, exhaust note, differential modes, rev matching and more. The i30 N is at its best on UK roads in a less aggressive suspension setting, but with everything else in a sportier mode.
Ford Focus ST Track Pack vs Hyundai i30 N: 2023 twin test review

Once set up, the Hyundai feels really alert and gives plenty of feedback, both through the precise steering and the involving chassis. It allows you to build confidence with it, trusting the clever diff to deliver huge levels of front-end traction and the well-judged suspension to keep body roll in check while not being fazed by large bumps. It might not be as fast point-to-point as the best four-wheel drive hot hatches, but it's just as much fun as many of them, if not more so. 

The i30 N has three damper settings, but during our time with the Korean hot hatch we found that we left it in its most forgiving mode because it's capable of excellent body control and minimal roll. The next step up in response is too firm on all but the smoothest A-roads, while the final setting is simply too stiff for UK roads and is best reserved for the track.

We've driven the i30 N equipped with both the manual and dual-clutch automatic, with the latter undoubtedly broadening the car's appeal. However, we feel the manual makes for a more involving and rewarding car, which is key to a hot hatch.

0-62mph acceleration and top speed

In some markets, Hyundai sells a less potent version of the i30 N, but in the UK we only get the top-spec Performance model – not that we're complaining. The turbocharged four-cylinder under the bonnet produces 276bhp and 392Nm of torque.

Hyundai says the manual i30 N needs just 5.9 seconds to go from 0-62mph, while the DCT automatic version with launch control will do the same benchmark sprint in 5.4 seconds. Both versions have a 155mph top speed. The power delivery is strong throughout the rev range, but the i30 N doesn't quite offer the same incentive to venture towards the redline as a Focus ST does. 

The four-pot motor's exhaust note has three levels of volume based on the driving mode. These are all fairly loud, but the more aggressive settings introduce lots of crackles between upshifts and off the throttle. The theatricals are needed, though, because the engine's tone itself sounds flat.

MPG, CO2 and running costs

For a hot hatch, not only is the i30 N more affordable than most rivals, it also won't break the bank when it comes to insurance

While the i30 N is considerably more expensive to buy than the regular i30, it undercuts its key rivals like the Volkswagen Golf GTI and Ford Focus ST by a few thousand pounds, and it's nearly £14,000 less expensive than the Honda Civic Type R.

Fuel economy isn't usually a priority for those in the hot hatch market, but even so Hyundai claims the i30 N will return up to 35.3mpg when equipped with the six-speed manual, or 33.6mpg if you get the optional automatic gearbox. However, during our twin test between the manual i30 N and a Ford Focus ST Track Pack, the Hyundai could only muster 28.8mpg while the Ford returned 32.1mpg. We've seen the latest Civic Type R and VW Golf R return high fuel economy as well, but not significantly so.

CO2 figures for the i30 N depend on which gearbox you get, with the manual version emitting 182g/km and the automatic producing 191g/km. As a result, the i30 N attracts a Benefit-in-Kind (BiK) rating of 37 per cent, so it probably isn't the ideal choice for company car drivers. 

Insurance groups

Hot hatches were a nightmare to insure only a few years ago, but a great advance in safety and security features means that it's a lot less difficult to get cover now.

The i30 N sits in group 26 whether you get the six-speed manual or eight-speed dual clutch automatic gearbox. In comparison, the more powerful Ford Focus ST sits in group 34, while the bonkers-looking Civic Type R is in group 43 (out of 50).

You can get personalised car insurance quotes fast with our comparison tool powered by Quotezone…

Depreciation

Our latest expert data estimates that the i30 N will retain between 50 and 53 of its original value after three years and 36,000 miles of ownership, with six-speed manual models performing the best. It can't quite match the 53 to 56 per cent the Mk8 Golf GTI is expected to hold onto, nor the 61 per cent of the latest Civic Type R.

To get an accurate valuation on a specific model check out our valuation tool…

28

Interior, design and technology

The i30 N's equipment list is strong and material quality is decent, while fit and finish is hard to fault. It just lacks the special feel of some hot hatches

On a scale of outlandish styling, the i30 N sits somewhere between the understated and subtle Golf GTI and more boy racer-like Civic Type R with its enormous rear wing. As is customary for a hot hatch, the i30 N adds a more aggressive front bumper, 19-inch alloy wheels (now forged so 14.4kg lighter than the cast wheels used by earlier i30 N models) and a bigger roof spoiler. You also get red brake calipers and plenty of other red accents.

Inside, a mix of leather and Alcantara upholstery lifts the i30's simple and well-laid-out interior. Hyundai's signature pale Performance Blue colour features in a few key areas inside the i30 N, including the stitching on the seats, gearlever and drive mode buttons on the three-spoke steering wheel that's fantastic to hold.

Hyundai i20 N vs Hyundai i30 N: Track Battle

The i30 N we tested came with the standard sports seats – which we found were more comfortable than those in the Focus ST and had electric adjustment – but Hyundai also offers a set of N Light Sports Bucket Seats. They're a £600 option that saves 2.2kg each on the standard seats, and they look great, too.

The overall dash design is a little plain, and there are a few more hard plastics to be found than in some rivals, especially around the centre console. Despite the dark and occasionally scratchy plastics, fit and finish is excellent, while the ordered layout rivals the Golf GTI for ease of use. However, we must say that the carbon-fibre effect on the back of the i30 N's analogue dials gives the set-up a very fussy appearance.

Sat-nav, stereo and infotainment

At first glance, the i30 N's 10.25-inch touchscreen doesn't look as fresh as the set-up in a Focus ST. We think some people won't mind that, because it means you get a big, physical volume dial and actual buttons for the climate control. Delve deeper into the system, and you discover that there's more for the keen driver to play with, too. 

The N Mode page offers a selection of performance parameters; among them are real-time gauges for turbo boost, torque demand and power output, plus extra features such as a G-meter and lap timer. Beyond that, it's possible to explore in great detail how each of the drive-mode parameters is set up for the individual modes. On models equipped with launch control, it's even possible to set the RPM the car will hold for optimum traction.

On the whole, the Hyundai's infotainment system is very slick, and with sat-nav, Android Auto and Apple CarPlay connectivity also coming as standard, there's little to criticise in this particular department.

Practicality, comfort and boot space

There's no space sacrifice for buyers choosing the i30 N over a regular i30, but some rivals are roomier overall

Hot hatchbacks aren't just about offering an entertaining drive; they also have to offer the space and usability that sports cars cannot. On that basis, the i30 N meets the brief, as there are barely any sacrifices to make over the standard car. 

Like the standard i30, it's five-door only, while the seats are easier to get in and out of than more hardcore hot hatches. However, storage is a hit and miss, we've found. For instance, the front bin is a little tight for a modern smartphone, but there is a reasonably deep cubby under the central armrest. The door bins front and rear securely hold drinks bottles, and there's two cup-holders in the centre console, the i30 N's large glovebox is taken up by the enormous owner's manual.

Top 10 best fast family cars 2023

Size

The i30 N is 4,340mm long, 1,795 mm wide and stands at 1,445 mm tall. It sits in the middle ground of the hot hatchback class, being around 53mm longer than an Mk8 Golf GTI but a full 254mm shorter than a Civic Type R. It's narrower than the latter, too, and is easier to place on Britain's tight country lanes as a result.

Leg room, head room and passenger space

Space up front is fine with lots of movement in the seating position and a steering wheel with reach and rake adjustment standard on all models. Meanwhile, space in the back is fine for most adults, with only those over six-foot finding their heads rubbing on the roof. Knee room is also adequate, with no significant impact from the sports seats. But if outright space is a priority, then a Skoda Octavia vRS or Honda Civic Type R will better fit the bill. The i30 N isn't the most capacious hot hatchback on sale, but it's by no means the most cramped. 

Boot

The Hyundai i30 N offers a usable 381-litre boot, though it is 15 litres down on the standard hatch on account of the rear strut brace that sits across the edge of the seatbacks. Nevertheless, it's almost identical in capacity to a Golf GTI's boot, and just shy of the plentiful 410 litres you get in the Civic Type R.

The seats fold easily but don't leave a flat floor, which, combined with the strut brace, makes loading long objects a bit trickier than in rivals, but the 1,287-litre luggage capacity is still very good.

Reliability and Safety

Hyundai is one of the brands more highly rated by owners for reliability, while a five-year warranty brings peace of mind. The i30 is near the top of the class for safety, too

The Hyundai i30 and its hot hatch variant might not have made an appearance in our latest Driver Power owner satisfaction survey, but that's not to say Hyundai drivers haven't got plenty of praise for their cars. Three of its models appeared in the best cars to own rankings, including the Kona crossover which came fourth, and the brand itself finished a solid 11th on the list of best car manufacturers in 2022 – ahead of rivals like Ford, Vauxhall and Volkswagen.

Main dealer car servicing – a complete guide

Safety-wise, the i30 N is one of the best in its class. The standard i30 received a five-star Euro NCAP crash test rating and an 88 per cent score for adult occupant protection – the same as the latest VW Golf. Autonomous emergency braking, front collision warning, driver attention warning, high beam assist and lane keep assist are all standard on the i30N, while rear cross-traffic alert is available as an optional extra.

Warranty

It's relatively unusual for a performance car to offer a warranty longer than three years, so the i30 N's five-year cover is one of the best out there. It means piece-of-mind for the owner, and even if issues do arise you can make use of the 12 months of free roadside assistance provided too. 

Servicing

Hyundai offers owners fixed-price service plans over two, three or five years. You can pay for it monthly, and all the work is carried out using genuine parts and by trained technicians. The i30 N will need servicing once a year or every 10,000 miles, whichever comes first.

For an alternative review of the Hyundai i30 N, visit our sister site carbuyer.co.uk…

Source: Read Full Article