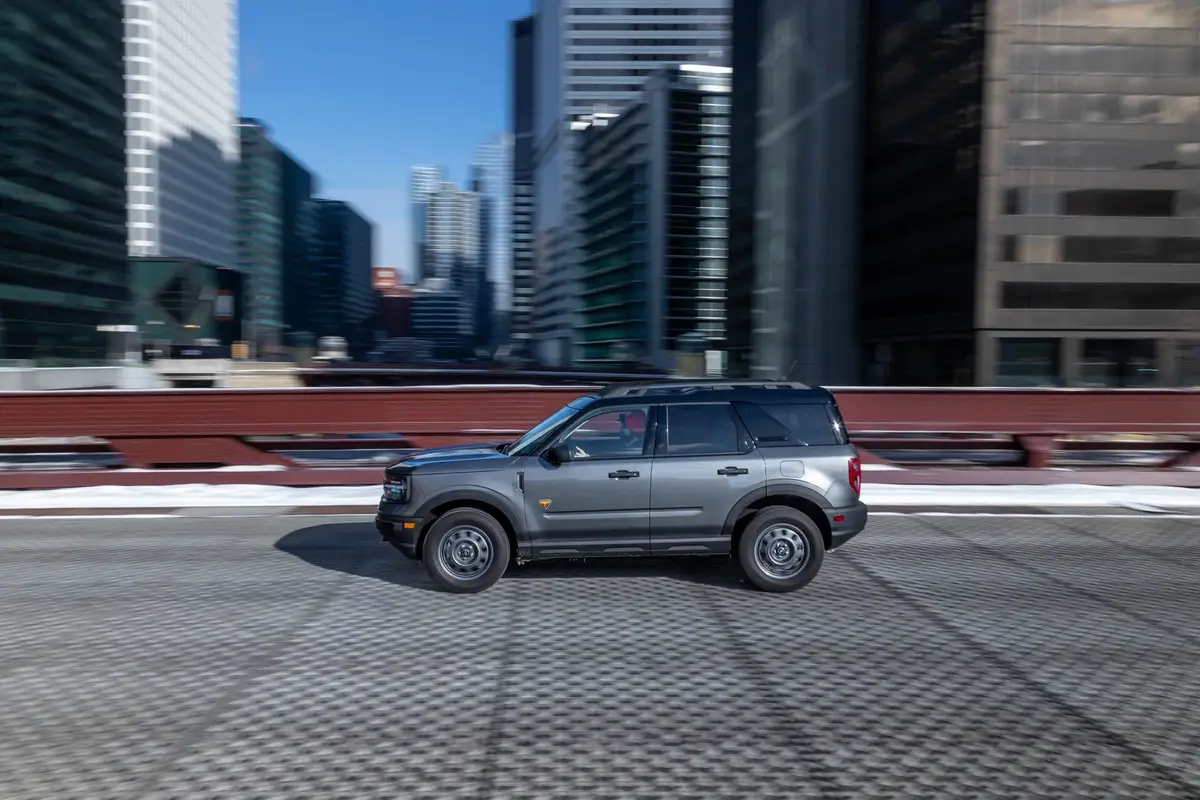 Ford's new Bronco Sport compact SUV has already seriously impressed us with its off-road chops, but what if you're like me and live in a major city like Chicago? How does it handle the Windy City's stop-and-go, pothole-ridden driving nightmares?
Related: 2021 Ford Bronco Sport Review: Who Ordered the Budget Land Rover?
I spent a few days with the 2021 Bronco Sport Badlands model, the most off-road-oriented version of the Bronco Sport, pretending it was my daily driver — and also pretending that I still had places to drive, daily — to see how it performed. 
The Good
It's Got Pep
In Badlands guise, the Bronco Sport is powered by a turbocharged 2.0-liter four-cylinder engine that makes 250 horsepower and 277 pounds-feet of torque. It's really quite quick for a compact SUV — Managing Editor Joe Bruzek used the terms "riot" and "hot rod" to describe it — with brisk acceleration from a stop and the kind of responsiveness that can help you safely find a gap to switch lanes in busy traffic. The eight-speed automatic transmission is fairly good at its job, though occasionally there's lag if you hit the gas right after an upshift.
From our collective experience with the base engine — a turbocharged 1.5-liter three-cylinder — the Bronco Sport Badlands is perhaps overpowered, but it's nice to have that extra oomph when you need it.
Small Footprint
Having driven a Ram 3500 dually in Los Angeles and (unhappily) parked a number of other heavy-duty pickup trucks in Chicago parking garages, it's clear pretty much any vehicle can fit on city streets. Where the Bronco shines in the city is its roughly Escape-sized footprint that makes finding parking — parallel or otherwise — fairly easy. It's no Smart ForTwo, but the Bronco Sport isn't a pain to street-park or park with multiple cars on a driveway.
That small footprint doesn't translate into a cramped feel inside, either. Rear legroom is lacking, but the cabin as a whole feels airy and roomy thanks to its excellent visibility, tall roof and touches like a very low center tunnel and rotary gear selector that make the front seats feel closer to a bench seat than divided buckets.
Off-Road Prowess Is Handy On-Road, Too
While driving on certain streets in Chicago can feel like going over some whoops in the Baja, Chicago's streets are mostly (allegedly) paved. Still, the Bronco Sport Badlands and its beefier suspension, off-road tires and extra inch of lift compared to most Bronco Sport models proved handy. The suspension and tires handle consecutive bumps and imperfections without upsetting the SUV. The Bronco Sport also made short work of piles of snow and ice after a recent snowstorm. The various off-road settings available via the G.O.A.T. mode drive mode selector also helped Assistant Managing Editor Kelsey Mays navigate an icy, snow-covered incline with minimal fuss:
"With the right wheels in deep snow and the left ones on ice, all on a slight incline, it clawed its way out in the Mud/Ruts setting with little drama. Set in the same area under Normal mode, traction control cut in pretty fast to bog everything down." 
I did manage to get it stuck in some deeper snow, but I'm not willing to say that wasn't driving mode-related user error combined with wet, heavy snow that quickly compacted under the tires. After a quick clearing of the heavy, compacted snow from in front of the front wheels, the Ford extricated itself.
Another off-road feature that came in handy was the forward camera washer, particularly once the weather turned bad. When road grime made it difficult to see the image from the forward-facing camera, a quick rinse cleared it right up.
The Bad
A Bronco Should Have a Rough Ride, Right?
For all of the Bronco Sport Badlands' ability to handle bumps and road imperfections with aplomb, it can leave its occupants out to dry. Riding over sections of broken pavement left me bouncing around like a body-on-frame pickup truck. There are certainly times when I enjoy a bouncy ride, but going from stoplight to stoplight like that is tiring, even if you're a Sugarcult fan.
Fuel Economy
Throughout my time in the Bronco Sport, the in-car fuel economy gauge showed readings in the range of 15-16 mpg. That's not great for a city vehicle and well below the 2.0-liter's EPA-estimated 21 mpg city rating. However, this wasn't a measured test by any means; there was a lot of idling, including with the windows rolled down in cold weather, and I used the Sport driving mode a fair amount. Even if the Bronco Sport had hit its EPA estimate, however, 21 mpg is still well below the 25-27 mpg estimates for high-level AWD trims of popular compact SUVs like the Honda CR-V, Nissan Rogue and Toyota RAV4. The Badlands' off-road abilities and more powerful engine come with a cost.
Utilitarian or Cheap Inside?
For all its roominess, the Bronco Sport's interior did not impress. The Badlands-specific use of rubber for the cargo area — including the backs of the rear seats — is useful and a great idea, but other materials and design choices had me debating whether they were for a utilitarian, easy-to-clean look or for cost savings.
One area that definitely felt like the former was the central touchscreen, which is small and uses Ford's older Sync 3 operating system instead of the new Sync 4. That means there's no wireless Apple CarPlay or Android Auto, just wired versions.
There's ample storage in the Bronco Sport, which is nice. Areas like the shelf below the touchscreen can fit a large phone … as long as it's not plugged into a USB cord. The end of the phone stuck out from the opening and seemed likely to fall if I hit some bumpy patches; I left it in the lower storage area or a cupholder rather than risk it.
The Bronco Sport also has a few interior tricks of varying levels of utility. The storage compartment under the right rear passenger seat is a nice touch, as are the movable lights in the liftgate that can be positioned to illuminate the area under the raised liftgate. The bottle opener mounted in the cargo area frame feels a bit silly, but hey, why not?
I'll be interested to see how the Bronco Sport's interior holds up after longer use and more wear and tear. A functional, easy-to-clean interior is likely a key selling point for many interested shoppers, but nicer-looking materials or more modern technology can be found in other compact SUVs, especially around our Bronco Sport Badlands test vehicle's $35,745 price tag (including destination fee).
More From Cars.com:
2021 Ford Bronco Sport: 6 Things We Like, 3 We Don't

Ford Already Recalling 2021 Bronco Sport — for Suspension Issue

What's New With SUVs for 2021?

2021 Ford Bronco Sport: When You Want a Bronco but an Escape Makes More Sense

What's New for Ford in 2021?
How Does It City?
Overall, the Bronco Sport Badlands handles the city moderately well. We've already established that pretty much any vehicle can be a city car if you really want it to be and are willing to live with inconveniences, and the Bronco Sport certainly has a few.
If you're looking for a compact SUV solely for getting around town and never leaving paved areas, the Bronco Sport Badlands is a poor choice. There are many vehicles of a similar size and price that offer much better on-road ride comfort and efficiency, along with more well-appointed materials and a technologically advanced interior. Consider any of the bevy of on-road compact SUVs available: the Honda CR-V, Nissan Rogue, Toyota RAV4, the Volkswagen Tiguan that's won our last two comparisons of the class or, if you insist on a Ford, the Escape. Or one of probably half a dozen more choices.
But if you need a vehicle to get you around a city and take you to far-flung, off-the-beaten path destinations, there are very few choices that even compete with the Bronco Sport Badlands. The Jeep Cherokee Trailhawk may be a match for the Badlands model off-road, but I give the Ford the nod for its more exciting on-road driving feel and much less aggravating transmission. The Jeep may also be pricier, depending on the deals available, and is less fuel-efficient. Other alternatives — the Jeep Wrangler or a mid-size off-road pickup — are significantly different in size, body style, price or some combination of the three.
At the end of my time with it, I can say that the Bronco Sport Badlands impresses in many ways, but if you're not going to use its off-road capabilities regularly, you might want to think twice before stabling your Bronco Sport in a city. 
When we get our hands on a less off-road-oriented Bronco Sport, we'll have to see if the smaller engine and more street-oriented tires and suspension perform more favorably on pavement. For now, however, we know for sure the Bronco Sport Badlands is a Bronco that needs to be able to run free.
Related Video:
Cars.com's Editorial department is your source for automotive news and reviews. In line with Cars.com's long-standing ethics policy, editors and reviewers don't accept gifts or free trips from automakers. The Editorial department is independent of Cars.com's advertising, sales and sponsored content departments.
Source: Read Full Article