A new set of GT Sport Daily Races gets underway today, with players heading to three of the game's real-world race tracks dotted around the edge of the Pacific Ocean.
Race A this week takes you to the Autopolis circuit in Japan. Once intended to host Formula One, the circuit these days is a stop on both the Super Formula and Super GT calendars. You'll be driving something a little slower this week though, albeit still a racing car.
Players have a free choice of any of the four front-wheel drive Gr.4 race cars: Audi TT, Peugeot RCZ, Renault Megane, and Volkswagen Scirocco. This class is roughly equivalent to the real-world GT4, featuring fairly standard road cars stripped back of anything non-essential and with race-grade suspension, braking, tires and aero. It's only a four-lap race, but the standing start might be tricky.
The Gr.4 cars also appear in Race B, although this time you can pick from any that appear in your garage. It's a three-lap race, taking place at Australia's Mount Panorama circuit — also known as Bathurst. Qualifying could be key here, as there's not a lot of time to make up places with a rolling start and the circuit being essentially single-file across the top of the mountain.
Faster machinery awaits in Race C, where you'll be racing Gr.3 cars — the GT Sport version of GT3, with 600hp+, rear-wheel drive vehicles commonly only related to road cars by a body shape and engine layout. This event takes you all the way across the Pacific to California's Laguna Seca, for a 13-lap race.
Mandatory tire requirements for this race means that players will need to use both the Racing Hard and the Racing Medium tire for at least one lap each during the race. Failure to do so will see a one-minute post-race penalty added to your time, and the 10x tire wear rate might make for an interesting crossover point between the two tire grades — and some unusual strategies at play.
These three races will run through to Monday, May 17, when another new set of three will replace them.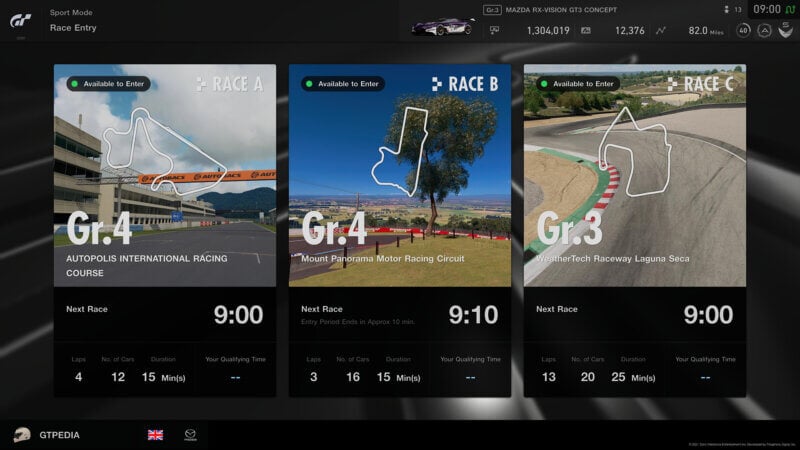 Race A
Track: Autopolis International Racing Course, 4 laps
Car: Gr.4 – Provided Car
Tires: Racing Hard
Start Type: Grid Start
Fuel use: Off
Tire use: Off
Race B
Track: Mount Panorama, 3 laps
Car: Gr.4 – Garage Car
Tires: Racing Medium
Start Type: Rolling Start
Fuel use: Off
Tire use: Off
Race C
Track: WeatherTech Raceway Laguna Seca, 13 laps
Car: Gr.3 – Garage Car
Tires: Racing Hard*, Racing Medium*
Start Type: Rolling Start
Fuel use: 2x
Tire use: 10x
* denotes mandatory tire
Source: Read Full Article