Department for Transport and Highways England to invest in the UK's electric car infrastructure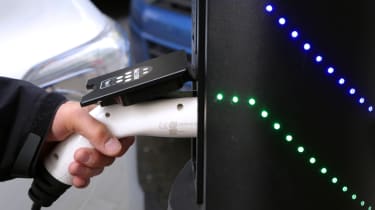 The Government has promised to invest in more electric car chargers and a number of other EV schemes in celebration of World EV Day: a new annual event promoting the shift towards electric cars.
The Department for Transport (DfT) has agreed to consider a number of recommendations made by the Office for Low Emission Vehicles (OLEV), including public charge points at popular destinations – such as supermarkets and tourist attractions – and offering local councils guidance on putting up EV-related signage and painting parking spaces green.
Electric car charging in the UK: prices, networks, charger types and top tips
In conjunction with Innovate UK – a Government-owned public body supporting innovation – the DfT has also pledged £12 million of research and development funding for promising new EV technologies. One project being supported is research into fully recharging an EV battery in six minutes.
Furthermore, Highways England is putting £9.3 million into a scheme that will allow businesses to try electric vehicles for two months for free before making a commitment to buy them. The scheme will see local councils encouraging businesses with large diesel van fleets to swap them for electric equivalents.
Edmund King, president of the AA, commented: "We support the idea of green parking spaces for EVs and previous AA research showed that drivers also supported 'green' EV charging signs. We are keen to see a raft of initiatives and incentives to speed up the EV revolution.
RAC spokesman Rod Dennis added: "More and faster charging points at places where people spend time, like at supermarkets and tourist destinations, makes a lot of sense and will help banish for good any drivers' worries over so-called 'range anxiety'.
"But there remains a way to go, and while the sight of green parking spaces for priority parking could be an alluring prospect for some to go electric, it's probably unlikely to be the strong trigger the Government wants to get more of us opting for an EV."
Thinking of going electric? These are the best electric cars on sale right now…
Source: Read Full Article