The Goodwood FoS is nearly here and there's loads to look forward to as usual, including some big new car reveals.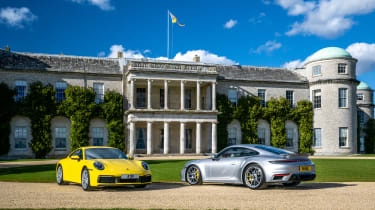 One of the most exciting motoring events of the year is nearly upon us, as the 2023 Goodwood Festival of Speed gets ready to open its gates this July.
Goodwood's motoring events have become must-visit experiences for petrolheads of all ages, with a mix of race and road cars, and motorcycles unmatched almost anywhere else in the world. And they're not just on static display either, as the Festival of Speed is where the Duke of Richmond opens up his driveway for these few days to become one of the world's most famous hill climb events.
MG Cyberster vs MGB: reimagining the roadster
What are the new car highlights?
Those interested in the world of new cars are in for a particular treat this year with several models making their public debut at the Festival. That includes not one but four new British electric sports cars, including the MG Cyberster and the road-legal McMurtry Spéirling Pure, but also a pair of Caterhams – an electric version of the venerable Seven, and an all-new curvy closed-roof model known at this stage as the Project V.
Porsche, celebrating its 75th anniversary this year, will debut the 718 Spyder RS, while at the more comfortable end of the spectrum, you can also expect to see the hot Hyundai Ioniq 5 N, and the next-generation BMW 5 Series that's going on sale in 2024.
When is the 2023 Goodwood Festival of Speed?
We're getting pretty close to this year's Festival, which opens its gates on Thursday, July 13 and runs until Sunday the 16th. Goodwood bills the opening day as 'Full Throttle Thursday', with a firework display in front of Goodwood House, and then there's a chance to walk the Hill Climb before the on-track action starts. Thursday is also the first opportunity to see all the new model launches at the event.
Friday sees the first timed runs on the hill climb course and more chances for road cars to go up the hill at more modest speeds, while Saturday is when all the motorsport stars – both people and vehicles – come out in force. The final day, 'Shootout Sunday', is when the weekend's timed runs will take place – and competitors will strive to beat last year's record-setting McMurtry Spéirling.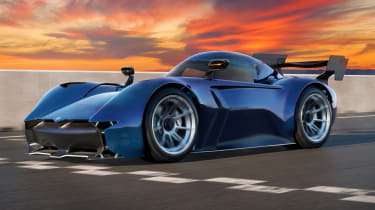 How do I buy tickets?
Goodwood Festival of Speed tickets can be purchased from the Goodwood ticketing website, but by the time you read this you'll need to be quick, as tickets are now limited. Basic admission starts from £60, while Goodwood also offers numerous other ways to enjoy and experience the Festival, from grandstand access at £25 or a two-person picnic hamper (£75, and collected on the day), to £85 per-person helicopter flights and £244 'Startline Club' hospitality access. Children under 12 go free.
What is 2023's theme?
Porsche takes pride of place at the 2023 Festival of Speed, with the famous central feature dedicated to 75 years of the Stuttgart brand plus 60 years of the 911 sports car. As well as a sculpture paying homage to Porsche, we'll get to see daily Porsche-themed displays in front of the house, road and race car parades up the hill, and the public debut of the recently-revealed 718 Spyder RS, open-topped counterpart to the Cayman GT4 RS.
Porsche's anniversary coincides with the venue's own Goodwood 75 birthday bash, celebrating 75 years since the first motorsport event took place at the Goodwood Motor Circuit, in 1948. A series of cars will race up the hill based on the venue's different eras, including 'The Racing Years' from 1948 to 1966, 'The Testing Years' post-1966, '30 Years of the Festival of Speed', from 1993-2023, 'Racing Returns' (1998-2023), and a forward-looking batch under the banner of 'The Next 75 Years'.
Any famous faces?
Very much so, particularly if you're a fan of F1 drivers. Four-time F1 champ turned social and environmental advocate for the sport, Sebastian Vettel, will be attending on Saturday and Sunday, driving several cars from his own collection up the hill – including the ex-Mansell Williams FW14B he drove on synthetic fuels last year at Silverstone, and a 1993 ex-Senna McLaren MP4/8. We can expect other drivers old and new too, not least because McLaren, Mercedes-AMG, Ferrari, and Williams have all confirmed they'll be taking part this year.
Ten current MotoGP riders will be there too, including reigning champion Francesco Bagnaia and his teammate Enea Bastianini. As well as the new bikes, ridden by the series' current riders, there'll be other legendary racing motorcycles on display covering everything from Giacomo Agostini to Casey Stoner.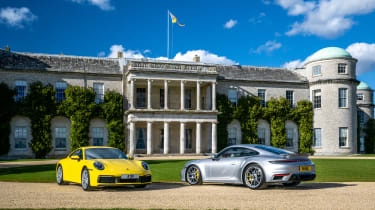 What else is there to do?
It's easier to list what you can't do. Fans of the cutting edge of automotive technology will have plenty of choice among the older metal on display – Goodwood's 'Electric Avenue' display returns this year, with EVs from several car manufacturers available for a poke around, while FOS TECH and Future Lab areas will showcase STEM subjects, flying cars, robotics and more.
In addition to the famous hill runs the Forest Rally Stage will deliver plenty of action once again, while there's also an action sports arena (think motocross and BMXing), an off-road arena with a dirt course, and air displays taking place over the site.
Those seeking a few moments of calm among the organised chaos will have the option of wandering around the race paddocks, the Cartier Style et Luxe concours lawn, and if you have the right tickets, numerous hospitality enclosures.
Want the latest car news in your inbox? Sign up to the free Auto Express email newsletter…
Source: Read Full Article