The Ford Puma ST provides the most fun it's possible to have in a crossover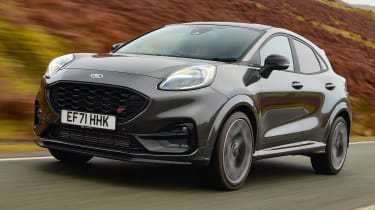 4.5 out of 5
Torquey engine
Lively chassis
Fun yet still practical

Fiesta ST is better to drive
Rivals are faster
Dull interior


Top 10 best hot hatchbacks to buy 2023
To some, creating the Puma ST will have been a step too far for the performance division, but it shouldn't be surprising when you consider the number of hot small SUVs on the market nowadays. The Hyundai Kona N is probably the Puma ST's most direct rival, but it must also compete with the Volkswagen T-Roc R, Audi SQ2 and Cupra Formentor VZ from the Volkswagen Group, plus the smattering of hot hatchbacks still around.
More reviews
Car group tests
Hyundai Kona N vs Ford Puma ST: 2022 twin test review
Renault Captur vs Ford Puma vs Peugeot 2008
In-depth reviews
Long-term tests
Ford Puma ST-Line: long-term test review
Road tests
New Ford Puma ST-Line X Gold Edition 2022 review
Icon Review: Ford Puma Mk1 (1997 – 2002)
New Ford Puma 1.0 EcoBoost ST-Line Vignale review
All Pumas share most of their underpinnings with the Ford Fiesta, and the hottest Puma borrows heavily from the brilliant Fiesta ST hot hatchback. That includes the 1.5-litre three-cylinder turbocharged petrol engine featured in the Puma ST from launch, which is paired with a six-speed manual gearbox that sends drive to the front wheels.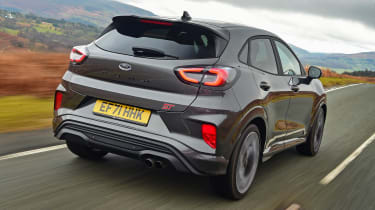 However, in early 2023 Ford expanded the Puma ST line-up by adding an electrified, mild-hybrid powertrain and a Powershift seven-speed automatic gearbox. The engine is the most powerful of Ford's MHEV-equipped 1.0-litre three-cylinder EcoBoost units at 168bhp, and features a 48-volt electrical system and a small, belt-driven starter/generator fed by a compact lithium-ion battery.
Prices for both the 1.5-litre petrol and 1.0-litre mild-hybrid Puma ST start from a whisper over £31,000. That puts in between the Fiesta ST and Focus ST which are priced at roughly £27,000 and £36,000 respectively, as well as undercutting the VW T-Roc R by a whopping £12,000. Yes, the Volkswagen has four-wheel drive and an extra 99bhp, but don't think for a second that it offers an extra 10 grand's worth of excitement.
Engines, performance and drive
Ford has decades of experience when it comes to producing fast cars, and the Puma ST is a riot to drive

We've yet to drive the mild-hybrid version of the Puma ST, but we've spent plenty of time testing the pure-petrol powered model. 

While the Puma ST uses the same 1.5-litre three-pot turbo petrol engine as the Fiesta ST, there is one subtle change to the two model's powertrains: the Puma's exhaust note is tuned to be slightly less lairy than its supermini relative's. That's a nod to the fact that the Puma is fundamentally designed to work as a more practical family car.

As with the engine and transmission layout, the suspension is largely similar to the Fiesta's, too. As such, the Puma is stiffened up all round, the front brake discs, at 325mm, have grown 17 per cent larger, and the steering rack is 25 per cent quicker than the standard car's. An optional mechanical limited-slip differential works in tandem with a torque-vectoring system to help the car tuck tightly into corners and haul itself out of them more aggressively. The mechanical LSD is part of the Performance Pack, which also adds launch control, a shift light and shift indicator for around £1,000 extra.
Hyundai Kona N vs Ford Puma ST: 2022 twin test review

The crucial difference between the supermini and SUV here is the rear torsion bar. In order to compensate for a higher centre of gravity, the Puma's arrangement is 40 per cent stiffer than the Fiesta's.

So do the ST upgrades work in the crossover bodystyle? In a word, yes. The Puma ST is an absolute hoot, and is easily the most fun it's possible to have in a crossover. In terms of agility, body control and adjustability, the hot Puma is miles ahead of anything else in this class, or indeed the previously mentioned alternatives from Volkswagen and Audi.

The low-speed ride is bumpy – the extra height seems to give the impression that the Puma ST bobbles around even more than its Fiesta sibling – but on a typical British B-road, this feeling fades into the background and the chassis really comes into its own. Whether you choose to make the most of the impressive grip from the standard-fit Michelin Pilot Sport 4S tyres, or flow along at six or seven tenths, the Puma remains a genuinely satisfying, exciting car to thread along a great road.

If there's one small flaw with the car's handling, it comes from the steering. It's wonderfully precise, but it feels very sharp – almost too sharp for a car such as this. While that quick rack is perfectly matched to the Fiesta, the Puma's extra height and mass mean that it borders on the nervous here. It's something that the driver eventually syncs with, but we think that a slightly slower response would work better here.

The snappy manual gearbox helps to make the most of the power available, and the pedals are well positioned for heel-and-toe downshifts. Those uprated brake discs feel reassuring under foot, and have enough bite to bring things back into check.

0-62mph acceleration and top speed

The Puma and Fiesta STs feature the same 1.5-litre turbocharged three-cylinder petrol engine, producing 197bhp and 320Nm of torque. Inevitably, with an extra 100kg or so to move around, the Puma ST's performance falls short of the Fiesta's. A 0-62mph time of 6.7 seconds is 0.2 seconds behind, but in reality, it's still a great amount of power for the road – plenty to perform overtakes when they're needed, but modest enough that you can make the most of every last rev without breaking the speed limit on a regular basis.

The 1.0-litre three-cylinder EcoBoost with mild-hybrid technology has 168bhp and 248Nm of torque. The result is a 0-62mph time of 7.4 seconds, or seven tenths of a second slower than the more powerful 1.5-litre model. We've been told that Ford added a mild-hybrid system to the Puma ST not just to improve efficiency, but also to enhance peak power and torque. However the proof will be in the pudding when we get a chance to test the electrified Puma ST.

MPG, CO2 and running costs

Despite its sporty nature, the Puma ST is reasonably economical

According to Ford, the 1.5-litre Puma ST will achieve up to 41.5mpg. That's an impressive figure considering this version isn't electrified in any way, nor is this a car aimed at maximising fuel economy. Perhaps more surprisingly, when we tested the Puma ST back to back against a Hyundai Kona N, the Ford returned 39.5mpg, only two MPG short of the official figure.

Ford Puma ST line-up expands with 1.0 mild-hybrid Powershift auto option

We've yet to test the mild-hybrid Puma ST, but Ford claims the electrified hot SUV will deliver efficiency of up to 44.8mpg and 144g/km of CO2 emissions, compared to 151g/km in the regular petrol version. Ford also says that the seven-speed dual-clutch Powershift automatic gearbox in the new variant has been optimised to work alongside the mild-hybrid system to ensure the engine remains in the optimum range for efficiency when cruising.

Insurance groups

While insurance ratings for the regular Puma range from group 11 to 15, the Puma ST sits in group 21 when equipped with the mild-hybrid set-up, or group 22 with the 1.5-litre petrol engine. For context, the Hyundai Kona N sits in group 27 and the VW T-Roc R lands itself in group 33, so premiums for the Ford should be reasonable by comparison.

You can get personalised car insurance quotes fast with our comparison tool powered by Quotezone…

Depreciation

Our experts predict the Ford Puma ST will retain around 63 per cent of its original value over three years and 36,000 miles.

To get an accurate valuation on a specific model check out our valuation tool…

Interior, design and technology

There's little to distinguish the regular and hot Puma models, and Ford's infotainment system lags behind rivals

To most people, the Puma ST will look almost indistinguishable from a regular Puma. It uses similar bumper designs to the existing ST-Line trim, but selective use of black paint and different mesh patterns for the grille give the ST a tougher look. A front splitter supposedly adds 80 per cent more downforce than the standard car, while Ford says that the big rear wing and diffuser also have a positive effect at the back.

Top 10 best small SUVs and crossover cars to buy 2023

Some of the other subtle visual tweaks include red ST badges, large 19-inch alloys, red brake calipers and a double-barrel exhaust poking out of the back bumper.

Inside, the ST adds some figure-hugging Ford Performance sports seats, a flat-bottomed steering wheel with ST badging, some new pedals and gearknob. Wireless charging for smartphone devices, parking sensors all round, and a 12.3-inch digital driver's display are all standard, too.

The options list of the Puma ST is pretty small, with buyers able to add the Performance Pack we mentioned earlier, a contrasting black finish for the roof, rear spoiler, door mirrors and window trim, or a panoramic sunroof if they so wish too, plus a smattering of other little bits.

Sat-nav, stereo and infotainment

The Puma ST features an eight-inch touchscreen – the same display you'll find in the regular Puma and Fiesta supermini. During our twin test between the Puma ST and Hyundai's Kona N we found that the Ford's system was tricker to use. Not only is the screen smaller, or as clear as the Kona N's, the shortcut buttons are on a pop-up menu on-screen, rather than being separate. This requires you to make at least two presses of the screen to make a selection where you'd simply hit one of the Kona's physical buttons to get to the option you want. 

Ford's older SYNC3 menu system is fitted here, but it's easy to work through, although the pale blue graphics aren't quite as sharp or defined as the Hyundai's high-contrast system. The digital dials aren't quite as clear, either. 

If you want to take a break from listening to the Puma ST's rorty three-cylinder soundtrack, Ford has fitted a 10-speaker B&O premium sound system that offers high-quality audio. Ford's Pass Connect online services are also complimentary for 10 years.

Practicality, comfort and boot space

For a car of its size, the Ford Puma delivers a surprising amount of boot space, and that hasn't been compromised for the ST. There's a decent amount of passenger room too, but the magnificent sports seats do limit legroom for rear passengers. 

Size

The Ford Puma is one of the smaller options in the supermini-sized SUV class, and the same goes for the Puma ST in the hot SUV segment. The Puma ST measures 4,226mm long, 1,805mm wide and 1,550mm tall. By comparison, the Cupra Formentor is 224mm longer and 34mm wider, respectively.

Leg room, head room and passenger space

During our testing, we found the Puma ST offered marginally more room in the back than its Kona N rival, however if you plan on carrying three passengers in the back on a regular basis, we recommend you look elsewhere. Potentially at Ford's larger hot hatch, the Focus ST.

Boot

Not only does the Puma ST feature a huge 456-litre boot – the same size as the regular Puma's – it comes complete with a hose-down 'Mega Box' underfloor cubby. It's a deep, square storage compartment under the false floor, which is lined with plastic and has a drain hole that means you can store wet items inside. The Mega Box is deep enough that you can fit a set of golf clubs upright in the boot without any problems. If you need extra space for longer items, folding the Puma ST's rear seats down opens up 1,216-litre a cargo bay.

Our only gripe when it comes to practicality is the Puma's flimsy fabric load cover. It's clipped to the tailgate, but it's a common complaint for Puma owners that the attachments break easily if you're not careful when closing the boot with a full load on board.

Reliability and Safety

The Puma was tested by Euro NCAP in 2019 and earned a full five-star crash safety rating for its performance. However a reassessment at the end of 2022 saw the small SUV lose a star due to some poor results for adult occupant safety, causing its score in this category to fall from 94 to 75 per cent.

Ford finished a rather disappointing 25th out of 29 manufacturers in our 2022 Driver Power owner satisfaction survey, while the Puma was ranked as the 21st best car to own out of 75 entries – down from 14th spot in 2021.

Warranty

Every new Ford car comes with a three-year/60,000 mile warranty. There's also the benefit of Ford Assistance for one year, providing roadside cover in the UK and throughout Europe.

Servicing

Ford offers the Ford Protect Service Plan, giving you the option of scheduled services and extended Ford Assistance. It covers scheduled servicing including associated parts and labour, and vehicle hire for up to seven days. The Ford Protect Service Plan can be purchased any time before the first service is due.

For an alternative review of the Ford Puma ST, visit our sister site carbuyer.co.uk…

Source: Read Full Article