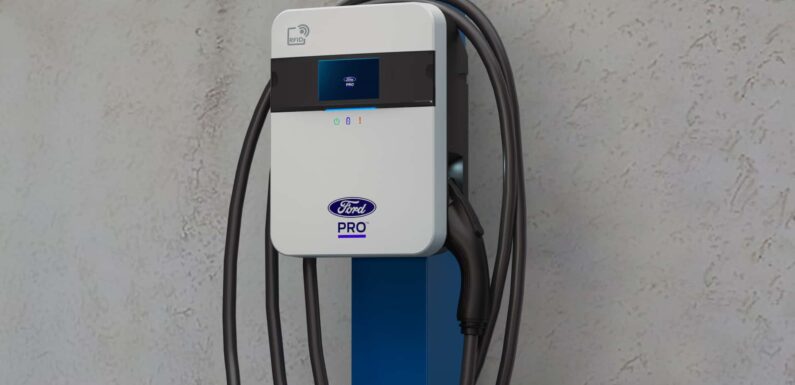 Ford Pro is a subdivision of Ford and focuses its resources primarily on the technology sector for commercial applications. The division centers on fleet management tools, telematics, and other tech services. With the relatively recent product launches of the Ford F-150 Lightning and E-Transit, Ford has a responsibility to provide reliable and accessible charging for its commercial clients. That's where Ford Pro comes into play.
Ford Pro recently introduced an updated lineup of EV chargers specifically for fleet uses. The units include an 80 amp (19.2 kilowatt) AC charger and two DC fast chargers.
Ford's 80-amp charger, dubbed the 'Series 2,' is ISO-15118 compatible, meaning it'll offer plug-and-charge capabilities. The charging unit comes with an RFID reader and an LCD screen, improving its ease of use and enhancing security measures.
But most importantly, the charger will feature detachable cables. By allowing for removable charging cables, worn ones can simply be replaced, rather than the entire unit. Furthermore, the station operates from -40 to 122 Fahrenheit, meaning it should function well across all seasons in North America.
There are two options on the direct current side of things: a 180 kW unit and a more powerful 240 kW one. Ford Pro hasn't released all the details yet, but it will feature "aluminum pedestals" and a "sleeker look."
Fascinatingly, the F-150 Lightning with the Extended Range Battery only has a max charge rate of 155 kW. The Mach-E tops out at around 150 kW as well. While Ford Pro did reference charge sharing, it could signify the charging hardware for a faster charging Ford EV down the road.
What are your thoughts?
Gallery: Ford Pro Launches New Chargers

Source: Read Full Article