Blow the budget with 20 lavish Christmas presents costing £50 or more that are ideal for petrolheads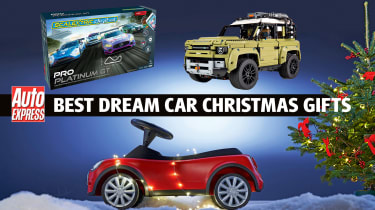 We've already rounded up a list of brilliant gifts for those watching the pennies this Christmas, but now we're pushing the boat out with our 20 top money-no-object ideas for the petrolhead in your life.
If that's you, a few heavy hints and your favourite car mag open at whatever has taken your fancy over these four pages should do the trick.
Cheap Christmas car gifts under £50 2020
So whether you love Formula One, get hands-on fixing cars or have a passion for a particular marque, there's something for you here. And while the sky's the limit as far as budget, there are a few ideas here that won't need a second mortgage in order to put them under the tree.
Ferrari Speedform SF1000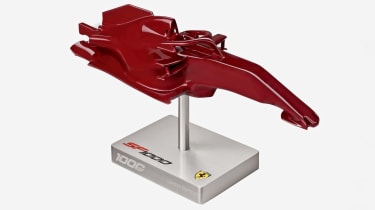 Price: £2,900
Contact: store.ferrari.com
No Ferrari fan will have missed the marque's unique achievement of competing in 1,000 grands prix, and this limited-edition speedform model celebrates the remarkable feat.
The 1:18-scale design mirrors the SF1000 race car that competed in the 1,000th race wearing the Historic Red 127 hue, used by the marque in its first GP in 1950. It comes on a personalised base, and with a signed certificate of authenticity.
Mercedes-AMG Desk Tidy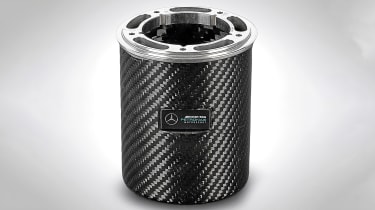 Price: £249.99
Contact: f1authentics.com
Add the finishing touch to a car nut's home office with this carbon-fibre desk tidy. It's one for not just Mercedes fans but also supporters of seven-time champion Michael Schumacher, because the dog ring at the heart of the design came from the 2012 F1 W03 cars he drove alongside Nico Rosberg.
The rings were notable for being compact, so the team could run a shorter gearbox and vary the car's wheelbase.
Ultimate Driving Tours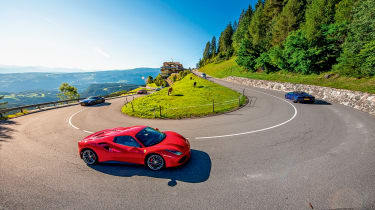 Price: From £3,500
Contact: ultimatedrivingtours.com
If you want to enjoy your gift with a loved one, then choose from the tempting range offered by Ultimate Driving Tours. The packages start with taking your own car to Europe, but many will opt for the supercar trips driving Lamborghinis, Ferraris and Porsches.
These can be driven on tours in Europe, the US and Australia and can be combined with track days. Contact Ultimate Driving Tours for gift vouchers or to book a trip.
Carbecue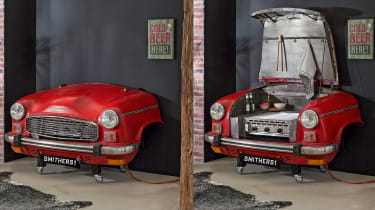 Price: £3,165
Contact: smithersofstamford.com
Perfect for the car-enthusiast chef when the weather improves. The Carbecue is created from a Hindustan Ambassador taxi, which has its roots in a fifties Morris Oxford and is repurposed as a barbecue.
It comes on casters and is fitted with a gas barbecue for fast, reliable cooking every time. There are hooks for implements on the bonnet, plus handy shelving around the grill for accessories. No car-lover's garden should be without one.
Citroen Ami Speaker Boom 3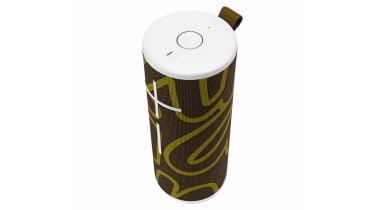 Price: 149 Euros (£134 approx)
Contact: www.lifestyle.citroen.com
If you can't wait for Citroen's diminutive new all-electric city car to make it to the UK, you can while away the days with this 360-degree surround-sound Ami speaker from Ultimate Ears.
It has a 15-hour battery life, is portable and waterproof, being able to survive for 30 minutes submerged. It's a Bluetooth unit, so is able to take music from a variety of sources, and has a powerful bass sound.
The Outlierman Silk Face Masks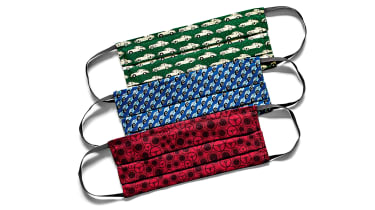 Price: £76.23
Contact: theoutlierman.com
It looks like we'll all be wearing face masks for a while yet, so the classic car lover in your life will appreciate finding these under the tree.
They are produced by high-end glove and luggage producer The Outlierman, and the mask set carries its Gentleman Driver, World Beater and Vintage Race designs. The inner and outer layers are pure silk, plus there are stretchy loops for the ears and an adjustable wire nose fitting.
Cabrio Race Car Bed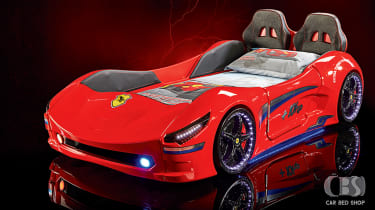 Price: From £750
Contact: carbedshop.co.uk
No young supercar fan's bedroom will be complete without this bed, which comes complete with leather 'rear seats' plus LEDs on the wheels, lights and sills. There are also foglights, sounds and Bluetooth connectivity, plus opening doors.
It's based on a standard single mattress size and there's a choice of styles, including this Ferrari-inspired design. There's also a choice of mattresses.
Porsche Office Chair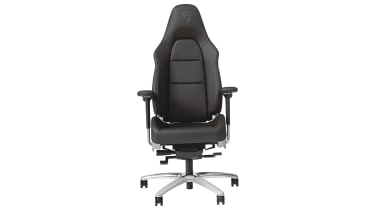 Price: £3,25
Contact: shop.porsche.com
The ultimate home-working chair for the Porsche lover has to be this version, which is based on the original sports seat from the Porsche 911.
Constructed in Germany, this starts as the four-way Plus design and retains the electric backrest adjuster powered by a rechargeable battery. There's also seat and armrest height adjustment, with a jacket hook on the rear for the real office feel.
Lego Technic Land Rover Defender 90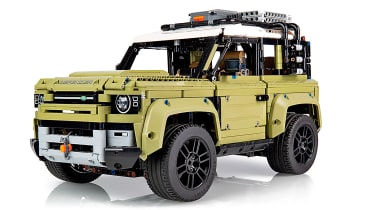 Price: £160
Contact: shop.landrover.com
While the Land Rover die-hards still have their doubts, the new Defender is fast winning approval for its looks and capabilities. If you're having to wait to buy the real thing, then why not spend a few hours creating you own from this 2,500-piece Lego Technic kit?
It comes complete with accessories, detailed moving six-cylinder engine, four-speed gearbox with high and low ratios and four-wheel drive.
Tamiya Vanessa's Lunch Box X-SA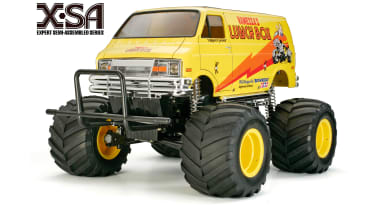 Price: £164.99
Contact: wonderlandmodels.com
For some, the construction of a remote-control car is part of the experience, but for those who just want to drive, Tamiya has launched the X-SA range.
The iconic Vanessa's Lunch Box monster truck comes pretty much ready to go, with running gear assembled and body stickered. If that's not to your taste there's a buggy available, too.
All you need to do is add radio gear, a battery and charger (packages start at about £65 on top of the price of the kit) and you could be driving before the turkey is on the table.
Portier F1 Tyre Bracelet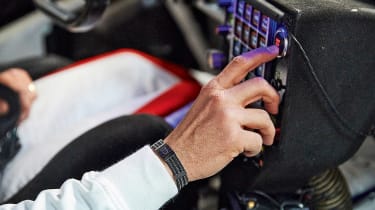 Price: £195
Contact: meandmycar.co.uk
Any F1 fan will be delighted to find this bracelet in their Christmas stocking. It's created from upcycled Formula One tyres combined with sterling silver and black rhodium into a slim 195mm band.
Designed in Monaco and made in Italy, two strips from the tyre are used, with the silver and rhodium forming the clasp. The stitching varies on each design and is made from the kevlar in the tyre's casing.
Aston Martin AMR-C01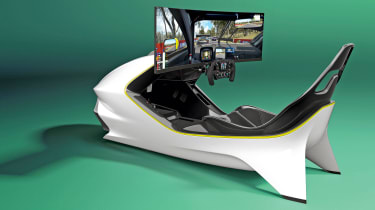 Price: From £69,000
Contact: www.curvrs.com
With physical motorsport limited during 2020, online racing has boomed, with amateurs and pros, including F1 drivers, signing up for e-sports. And this must be close to the ultimate home set up.
Created by simulator specialist and Aston Martin sportscar driver Darren Turner, the AMR-CO1 has a carbon-fibre monocoque and a seating position that mirrors the Valkyrie hypercar's. Whether you want online fun or to hone your driving skills, this is a great place to do it.
Bentley For Men Silverlake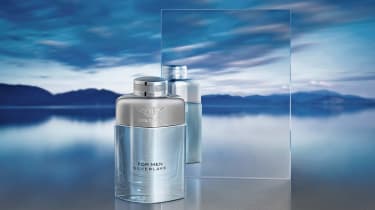 Price: £69.50
Contact: shop.bentleymotors.com
Silverlake is the latest addition to the Bentley fragrance range and promises to 'capture the energising air of the outdoors'.
With lemon and peppermint essences plus hints of violet leaf, pink pepper and lavender, you get 100ml of the fragrance in the lozenge-shaped flagon, which is lacquered in silver and features Bentley's 'signature knurling' and emblem.
Scalextric Digital Pro Platinum GT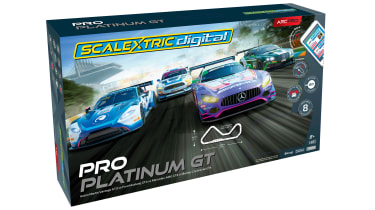 Price: £499.99
Contact: scalextric.com
Slot car racing is a bit old school when compared to the latest e-sports, but Scalextric has adapted the format to include refuelling, power boosts and tyre wear in its latest ARC Pro set.
The Pro Platinum GT set puts Aston Martin, Bentley, Ford and Mercedes together on a track with lane changing, while wireless rumble controllers are included and races are created via the ARC app on a smart device.
Brabus G Capsule Collection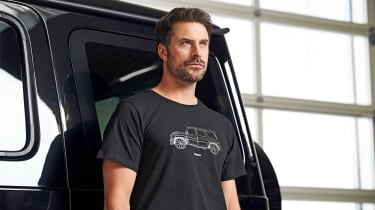 Price: From 126.72 Euros (£114 approx)
Contact: shop.brabus.com
The Mercedes G-Class has something of a cult following, and never more so than when it has been breathed on by tuning house Brabus. While the off-roader and Brabus accessories might be beyond you, the firm has just launched a G Capsule Collection, which is a bit more affordable.
Just over £110 gets you a T-shirt in a choice of colours and designs, plus there are jackets, track pants and sweatshirts in the range for fans of the big Mercedes 4×4.
UGears Dream Cabriolet VM-05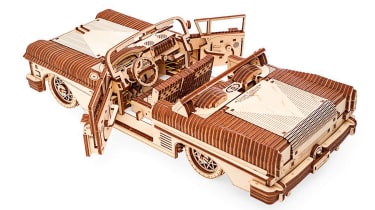 Price: £64.90
Contact: mechanicalmodels.co.uk/collections/ugears
Looking for a unique approach building model cars? Then try this offering from UGears, which refers to its creations as 3D puzzles for adults. There are 739 components in this tribute to open-top Americana, all made from wood apart from the rubber band power.
The detail is stunning and there are multiple moving parts including the V8 engine, steering and boot, complete with tool kit. And if it looks too complicated to solve it comes with instructions.
Clarke CTC1300B Steel Combination Tool Chest & Cabinet Set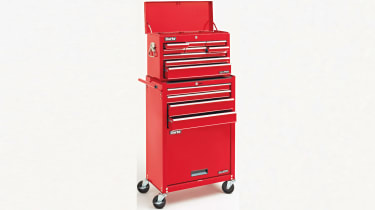 Price: £191.98
Contact: machinemart.co.uk
If the DIY mechanic in your life is always complaining about lost tools or has to search through piles of bags and boxes before each job, this will make their Christmas.
Roll cabs and chests packed with gleaming kit have their place, but if you already have a growing collection of tools, then this will allow them all to be kept in one place and organised. There are 13 drawers and a lower storage compartment for big kit.
Jaguar Hard Case Medium Suitcase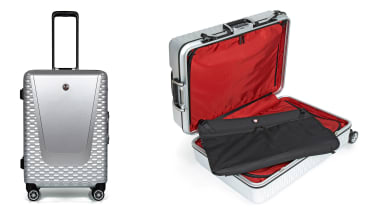 Price: £275
Contact: shop.jaguar.com
Make sure you're ready when travel restrictions ease with this rolling suitcase from Jaguar. It's made from polycarbonate with an aluminium frame, weighs five kilos, and has a 59kg capacity.
There are compartments to keep luggage organised, plus hangable storage for clothes prone to creasing. Car lovers will appreciate the alloy-lookalike wheels it rolls on. Large and small versions of the case are also available.
Vintage Automobilia Petrol Pump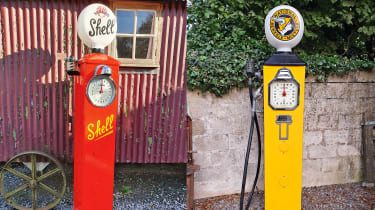 Price: £3,495
Contact: vintageautomobilia.co.uk
Put the finishing touch to that man cave with a retro petrol pump. The Avery Hardoll 888 (above left) dates from the 1930s and has been restored in period Shell livery. It costs £3,495 and comes with a reproduction globe.
There's a wide choice online, including the National Benzole version (above right) and – for smaller budgets – memorabilia such as a Castrol CW quart oil tin for £395.
Bugatti Baby II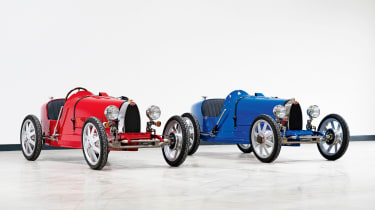 Price: From 30,000 Euros (£26,880 approx)
Contact: bugattibaby.com
We have a few smaller versions of full-sized cars in our gift guide, but this is the only one that you can drive. The Bugatti Baby II is a 75-per-cent-scale replica of the classic Type 35 pre-war grand prix car, and is powered by an electric motor fed by lithium-ion batteries.
There are three versions to choose from – Base, Vitesse and Pur Sang – with the top two featuring bigger batteries, longer range and higher performance.
Source: Read Full Article