Exclusive investigation highlights the importance keeping anti-corrosion warranties up to date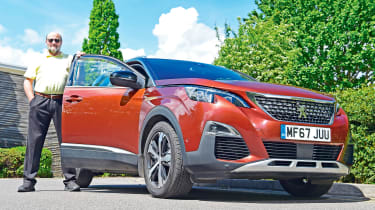 The importance of keeping anti-corrosion warranties up to date has been highlighted after Auto Express reader John Cousins got in touch over a rejected claim for a corroded door.
John bought a new Peugeot 3008 in 2018 and has since kept to the recommended service schedule, making appointments at his local dealer in Chelmsford, Robins & Day Stellantis. He was able to rely on the dealership's regular reminders to let him know when a service was due, and he also made sure the servicing record was kept up to date with the appropriate dealer stamps. "At times in the past the service book hasn't been stamped, and I've subsequently requested the book to be stamped up to date," he said, reflecting a scenario that will be familiar to many readers.
Extending a car lease? Beware of the warranty trap
While John was able to rely on the dealership for warranty-related servicing reminders, that wasn't the case for the anti-perforation warranty. Peugeot's 12-year cover specifies a bodywork inspection at the owner's cost at the four-year mark, a requirement that is stated in the handbook. Unfortunately, with no reminder from the dealership, that inspection was missed. Subsequently, when John wanted to make a warranty claim to have a rusty door panel repaired on his now five-year-old car, it was refused – which he deemed unfair.
"When owning cars over the last 50 years, any bodywork inspections have been completed at the same time as the mechanical service," John told us. "It is the case that a separate anti-perforation warranty inspection has not been completed," he said. "However, if the requirement had been brought to my attention, without question I would have had it done."
So why wasn't a reminder sent out as a matter of course? John was initially informed by one Robins & Day service staff member that because it doesn't have an on-site bodyshop, there is no employee at the dealership qualified to perform inspections. "If that's true," John asked us, "do any cars serviced by this dealer have a valid 12-year anti-perforation warranty?"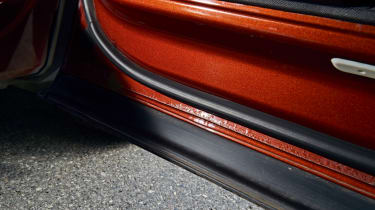 We asked Peugeot for its view, and were told: "Any experienced technician from a Peugeot-approved retailer or aftersales centre is empowered to carry out visual inspections in line with the anti-perforation warranty." This was subsequently confirmed to us by Robins & Day Chelmsford's general manager, who told us the required visual inspections are "not onerous" and should typically have been covered as part of a standard health check during servicing. He promised to contact John and revisit his complaint, while accepting there may be a need to communicate the record-keeping requirements more widely, promising to share that feedback with Peugeot's customer service team.
Car service intervals explained: how often should you service your car?
We agree, having subsequently mystery shopped the service department at Eden Peugeot Wokingham. The staff member taking telephone service bookings couldn't tell us anything about the corrosion inspection specified in the handbook, or whether there would be a charge to have it carried out, but did promise to call us back. A week later, we're still waiting.
What do the manufacturers say?
Peugeot head office didn't agree with our suggestion that dealers have a duty of care to provide corrosion warranty inspection reminders, even though it does issue reminders for warranty-critical servicing. "As with all maintenance and contractual warranties outlined in the customer's handbook, it is the responsibility of the customer to ensure these are carried out," the firm told us. However, Peugeot couldn't tell us the recommended cost of an inspection, saying, "There is no fixed pricing."
We asked Ford and Nissan for details of their anti-perforation warranties, and both said that customers should be able to rely on warranty inspections being part of routine servicing, and at no extra cost. "The Ford Pass App is the best way to track maintenance history and will also offer alerts and reminders," a spokesman said.
Nissan also confirmed it has a bi-annual inspection requirement linked to the service schedule, with inspections included in the price. Any Nissan-trained technician can carry them out, it said.
Others may not be so helpful when it comes to keeping your corrosion warranty valid. Our advice is to make sure you read and understand your manual, and liaise with your dealer's service department to make sure warranty requirements are met.
Have you ever had an corrosion warranty claim refused? Let us know in the comments section…
Source: Read Full Article