The cheapest hybrid and plug-in hybrid cars offer improved fuel efficiency and a low price for better overall running costs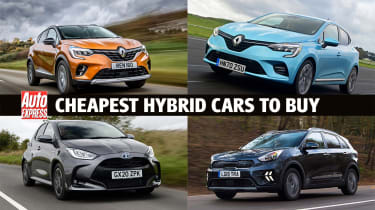 Hybrid technology is becoming more and more prevalent in new cars. Its emergence is driven partly by a need for manufacturers to cut CO2 emissions, although strides made with electrification are also leading to big improvements in fuel efficiency which is great for consumers.
This should mean lower running costs for hybrid car owners as the fuel you put into the tank of a hybrid car will go further but with hybrid prices often out-stripping those for conventional cars, buyers really wanting to keep costs down will be on the hunt for one of the cheapest hybrid cars on sale. A cheap hybrid can help you save in the showroom and at the pumps.  
Different types of hybrid
Confusingly, there are different types of hybrid car, and working out the difference can feel daunting if you're unaccustomed to the latest developments in car technology. We won't go into great detail about the differences between each type of hybrid here, although there are three main ones you should be aware of.
The first are 'mild hybrids'. These typically use an electric motor to give an engine (usually petrol, diesel hybrids are rarer) a boost under acceleration. Crucially, mild hybrids cannot move under the power of their electric motor alone.
Electric cars vs petrol cars vs hybrid cars : which engine choice is right for you?
The second are 'full hybrids'. Unlike mild hybrids, these can use their electric motors to drive the wheels, although usually this is only for very short distances; no more than a mile or two. Their limited electric range is caused by their typically small batteries, which collect energy lost while braking or directly from the engine itself.
The third are 'plug-in hybrids', or 'PHEVs'. Their batteries are much larger than those of full hybrids, so much so that they need to be charged via a cable when parked. The very latest PHEVs can offer 30-40 miles of electric-only range, so it's realistic to complete short journeys without needing to use the engine (or any fuel in the tank) at all.
Naturally this advanced tech comes at a premium, and some drivers struggle to justify the extra purchase price against the lower fuel bills. So, we've dug out the top three cheapest hybrid cars to help you figure out if they make financial sense for you as an individual.
To make things easy, we've discounted mild hybrids from these top threes, as the technology is almost universally included on new models these days. Below you'll find the three cheapest full hybrids and the three cheapest plug-in hybrids on sale now…
Top three cheapest hybrid cars
Toyota Yaris Hybrid – £19,910
Renault Clio E-Tech Hybrid – £20,995
Hyundai Kona Hybrid – £23,160
Toyota Yaris Hybrid – £19,910
The latest Toyota Yaris supermini is only available as a hybrid, as opposed to a number of rivals that have hybrid options in their engine line-up. The technology suits the Yaris perfectly in the city, where the car spends an surprising amount of time in electric-only mode. We saw 65mpg when we tested it on 17-inch wheels, which suggests there's even more efficiency to be found on the 16-inch alloys that come with the entry-level car.
This base-spec Icon model starts from £19,910, and comes with a seven-inch infotainment system that boasts Apple CarPlay and Android Auto Connectivity. There's a reversing camera too, plus automatic headlights and wipers, air-con and more.
While the Yaris struggles a little more on the motorway with its 114bhp, the steering is a joy around town: anyone in the market for a supermini should strongly consider it.
Renault Clio E-Tech Hybrid – £20,995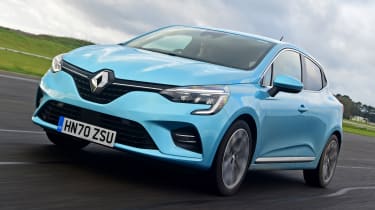 There's a new Renault Clio on the block, and the latest model comes with the option of an 'E-Tech' hybrid powertrain. Prices start from £20,995 and it comes with almost every bit of kit you could possibly need, including LED headlights, cruise control, a seven-inch infotainment touchscreen with Apple CarPlay and Android Auto, a seven-inch digital instrument cluster behind the steering wheel and plenty of safety tech too.
Combining two electric motors with Renault's 1.6-litre, four-cylinder petrol engine results in fuel economy of 64.2mpg on paper, while 138bhp is enough for 0-62mph in under 10 seconds. So while performance isn't earth-shattering, the steering is sharp and a comfortable ride makes the Clio one of the more capable cars in its class.
Hyundai Kona Hybrid – £23,160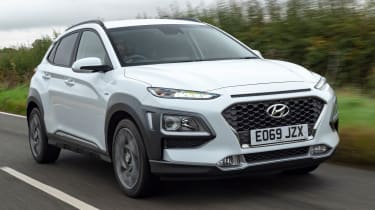 If a hybrid supermini won't cut it in terms of size, how about a hybrid SUV? The Hyundai Kona Hybrid is a compact crossover that harbours 361 litres of boot space, and enough rear legroom to make it suitable for families with young children.
Under the bonnet there's a 1.6-litre petrol engine that's mated to a 32kW motor and a 1.56kWh battery. Official tests claim a CO2 output between 90-99g/km, while fuel economy ranges from 52.3-56.5mpg. That's not bad for a car of this size and profile, so it's little wonder that the diesel version was dropped in 2019.
Engine noise is quite noticeable under acceleration, although the Kona Hybrid is exceedingly quiet when you reach a steady cruise. It corners well enough and SE models – which start from £23,160 – are very generously equipped. Hyundai offers a five-year, unlimited-mileage warranty as well.
Top three cheapest plug-in hybrid cars
Hyundai Ioniq Plug-in – £30,250
Kia Niro Plug-In Hybrid – £30,265
Renault Captur Plug-in Hybrid – £30,495
Hyundai Ioniq Plug-in – £30,250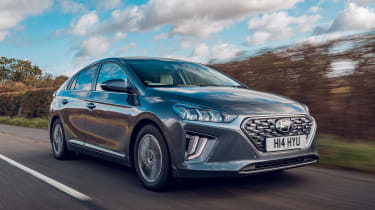 The Hyundai Ioniq Plug-in has held its title as the cheapest PHEV on sale for a while now, and the hatchback has proven very popular since it went on sale in 2017. The latest model contains an 8.9kWh battery, which you can charge up at home using a 7kW home charging unit in well under two hours. This allows up to 32 miles of zero-emissions range.
Officially the Ioniq PHEV will return 257mpg, although you're very unlikely to achieve this in the real world. With regular charging (which is what reduces the reliance on the engine), it's possible to achieve in excess of 80mpg in the long-term.
As for the rest of the car, it's a little on the dull side to drive, although there's nothing in particular to make you dislike it. Standard kit on the entry-level Premium trim is very good indeed, and there's plenty of space for a couple of suitcases in the 443-litre boot.
Kia Niro Plug-In Hybrid – £30,265
You may have heard of the brilliant, pure-electric Kia e-Niro, but if you're not ready to make the switch to an EV, the Niro Plug-In Hybrid is the next best thing. Like the Ioniq Plug-in, it uses an 8.9kWh battery that offers more than 30 miles of range. Charging this up at home should cost around £1, so if you're the kind of person that makes regular, short trims to and from home then the potential savings are enormous.
The 324-litre boot is a little smaller than you'll find in the full hybrid version of this car owing to the larger battery pack, but there's plenty of space for passengers and the ride is comfortable enough for everyday use.
Total power amounts to 139bhp, with 0-62mph taking 10.4 seconds. The 'official' fuel economy is rated at 202mpg, although as we've discussed above, what you get in the real world is really down to how much charging you can do.
Renault Captur Plug-in Hybrid – £30,495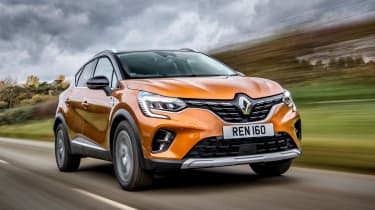 The Renault Captur is one of the best cars in the small SUV sector, so it stands to reason that the plug-in hybrid version should be one of the best PHEVs too. The battery measures 9.8kWh and delivers the same sort of range as the Ioniq Plug-in and the Niro Plug-In, while its 1.6-litre engine and electric motor combine for 158bhp.
Some PHEVs can only do a certain speed before the engine is forced to kick in to continue acceleration, although this isn't an issue in the Captur Plug-in Hybrid: the motor will climb up to 84mph without needing assistance, so if you're commute contains a stretch of motorway, it's feasible to cover this without dipping into the fuel tank.
Inside is where the Captur really shines: it's interior is one of the nicest in the class, with a 10-inch driver's display and a 9.3-inch infotainment touchscreen that has a very sharp image resolution. So while the overall package isn't groundbreaking, the in-car tech certainly feels that way.
In the market for a hybrid car? Check out the latest prices for hybrid and plug-in hybrid models at our sister site Buyacar.co.uk 
Source: Read Full Article