The legendary BMW M5 executive express is now available in Competition form only, featuring even more power and driver focus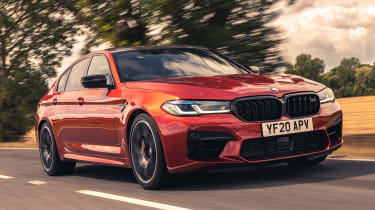 5.0 out of 5
Price£101,565 to £120,565SPECIFICATIONS
Performance and handling
Premium quality
Luxury and refinement

High price and running costs
Lacks steering feel
Niggly low-speed ride

Top 10 best performance cars to buy 2022
The latest version is known as the F90, and was revealed at the Frankfurt Motor Show in Autumn 2017. UK dealers began offering the new M5 for sale in early 2018, with deliveries starting in the Summer, while you can now only order the M5 in Competition trim. Drivers considering buying one will find an enticing array of M5 rivals vying for their cash – the line-up includes the Audi RS7, Mercedes-AMG E63 and Porsche Panamera.
More reviews
Car group tests
BMW 5 Series Touring vs Jaguar XF Sportbrake
In-depth reviews
BMW 5 Series review
BMW 5 Series Touring review
Road tests
New BMW 530e Touring 2022 review
New BMW M5 CS 2021 review
New BMW 530d Touring 2021 review
Used car tests
Used BMW 5 Series (Mk7, 2017-date) review
Of its many stand-out features, it's the new M5 xDrive four-wheel drive powertrain that really sets the 2018 M5 apart from its predecessors. For many BMW owners, the brand's trademark rear-wheel drive handling has been venerated with an almost religious fervor, but the M5 had so much power (initially 592bhp) that four driven wheels are the only way to get it onto the tarmac. The M5 also features an automatic transmission that's said to be more robust than its predecessor's dual-clutch set-up, but shift times are comparable.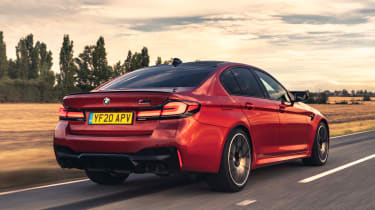 BMW introduced a facelift for the M5 in 2020, with minor exterior cosmetic changes echoing the updates applied to the rest of the 5 Series family, while other revisions included new metallic paint finishes, 20-inch twin-spoke alloy wheels and a new 12.3-inch digital instrument cluster and a larger infotainment screen.
The latest car's engine is a development of the twin-turbo V8 in the last model, with the current M5 Competition (the only UK model currently available) producing a heady 616bhp. But, underneath all the go-faster gear, the M5 has all the attributes of a highly-specified 5 Series saloon. Standard spec includes a 20GB hard drive, Digital Cockpit dashboard, four-zone climate control, adaptive LED headlamps, adaptive cruise control, full leather interior and an M Sport steering wheel on the comprehensive list of goodies.
Engines, performance and drive
Incredible performance and handling means this two tonne saloon is a genuine driver's car

Let's get one thing out of the way first. Perhaps in the expectation of outrage from its legions of rear-wheel drive enthusiasts, BMW added a pure 'two-wheel drive' setting to the original 2018 M5 xDrive system. Use it, and the M5 behaves pretty much as you'd expect from any car that sends 592bhp to the rear wheels, producing lurid on-demand drifts and lots of expensive tyre smoke. BMW suggests the setting is for track use only, which seems sensible.
Top 10 best rear-wheel-drive cars 2022

As well as control of the xDrive settings, drivers get three increasingly sporty settings each for the steering, suspension and engine response, as well as three settings for the gearbox in both auto and sequential manual modes. In spite of all the performance, when you leave things in comfort mode there's enough compliance in the suspension to let the M5 ride supremely comfortably over challenging British road surfaces – the only niggle being a slightly jiggly low speed ride thanks to the huge 20-inch alloy wheels.

Use the engine hard and the M5 rewards with a screaming exhaust note that sounds more highly-strung than the rival AMG E Class's throaty rumble, and is even more prominent in the M5 Competition which adds a sportier exhaust.

We recommend the Competition version in spite of its cost, as it also adds a worthwhile additional edge to the suspension, resulting in more precise handling and body control that's startlingly impressive. Coupled to the awesome accelerative power of the mighty V8, and helped out by the Active M differential that keeps cornering lines tight, the M5 can dispatch a twisting road at speeds that are other-worldly. Ceramic brakes come as part of the pricey M Pro pack (around £8,000), but they provide all the reassurance you could need in a car this big and this fast.

Engines, 0-60 acceleration and top speed

The 616bhp BMW M5 Competition increases power by 24bhp over the 'standard' model, with torque unchanged at 750Nm. With the help of its rapid-fire eight-speed automatic gearbox and four-wheel drive traction the M5 screams to 62mph in the mind-blowingly quick time of 3.3 seconds.

Top speed is 155mph, but choose the M Pro package and BMW will override the engine limiter giving you a top speed of 190mph.

MPG, CO2 and Running Costs

Expensive to buy and run, the BMW M5 is definitely a luxury option

The M5 price-tag is almost as eye-watering as its performance. The Competition model costs around £108,000, although you'll need to be careful with the options list as the price can quickly shoot up with just a few added extras.

Best used performance cars

Of course it's unlikely anyone will want to run an M5 as a company perk car, as the Benefit-in-Kind rating is predictably high at 37 per cent. That's down to the CO2 emissions starting from 254g/km.

Although the M5's V8 is relatively compact at 4.4-litres, it's not especially efficient. Officially, you can get around 25 mpg out of the Competition, but clearly any temptation to access the available performance will skewer you at the petrol pumps.

Anyone thinking of spending six figures on a car is unlikely to be too concerned about the cost of road tax, but as the M5 incurs the luxury car surcharge, you'll be paying more than £500 annually for years two to six of ownership. And don't forget, using the performance will also accelerate wear of consumable items like tyres and brakes, which for a car as exotic as the BMW M5 will be costly items.

Insurance groups

Your BMW M5 insurance isn't going to be cheap either, as the model's high price and vast performance make the model a shoe-in for the most expensive Group 50 insurance rating.

Depreciation

Used prices for German super saloons are often a talking point on enthusiast forums. They inevitably look tempting value as they drop in price like a stone the moment the original owner drives out of the showroom. You can expect to lose around 57 per cent of your purchase price over a typical three-year/36,000-mile ownership period.

Interior, design and technology

M5 spec adds a layer of eye-candy to the technology-laden 5 Series saloon

The M5 saloon is a variant of the 5 Series model range, and as such shares a platform with the larger 7 Series making it bigger and more spacious than its predecessor. Thanks to a lot of aluminium in the body, the 5 Series as a whole is 100kgs lighter than the previous generation car, although the M5 version is only 50kgs lighter thanks to its new 4×4 drivetrain.

The styling has taken an evolutionary step forward, and while the new models look rather similar to the last ones, the latest headlamps and rear lamps are obviously inspired by the 7 Series.

Upgrading to M5 spec brings some obvious visual enhancements to the car's exterior, most notably a carbon fibre roof which is part of a weight saving package. Other eye-catching features include the big 20-inch alloy wheels, a BMW M 'kidney' grille with high gloss double slats, black door mirrors with aerodynamic winglets and twin tailpipes at the rear.

18

Owners will also enjoy the M upgrades over the standard 5 Series inside, starting with the luxurious multi-adjustable sports seats and the double-spoke M design steering wheel. There's also a black Alcantara headlining, while stainless steel pedals add to the sporty feel. You also get an M setting on the head-up display, and the instrument pack is configured especially for the M5 too.

Top 10 best luxury cars to buy 2022

A facelift in 2020 brought in a new front bumper, a reprofiled bonnet and a revised front splitter, along with adaptive LED headlamps, new daytime running lights and redesigned kidney grilles with more sharply angled vanes.

Sat-nav, stereo and infotainment

BMW added a 12.3-inch digital instrument cluster and a larger infotainment screen to the M5 in 2020. The head-up display has an M setting which includes gear indicator, RPM range curve and shift point indicator. BWM's Professional Navigation set-up is standard, and you also get a 12-month subscription to BMW Connected services including BMW apps, Emergency Call and Concierge Services. There's Bluetooth connectivity and wireless charging too, and you can use your M5 as a WiFi hot spot.

Practicality, comfort and boot space

The latest 5 Series offers luxury and space for five and their luggage

The 5 Series is bigger all round than its predecessor, and this translates into more room for passengers and a small increase in boot volume. As you would expect from a sizable executive model there's plenty of space to keep things in the cabin, with decently sized glovebox, door pockets and cubby in the centre console. There's also somewhere to put your phone while it charges wirelessly.

The multi-adjustable seats and steering wheel make it easy to find the perfect position, and the sporty bolstering makes them exceptionally comfortable – you can sit low, too, which suits the M5's sporty character.

Size

The M5 is 4,966mm long, 2,126mm wide and 1,473mm tall which makes it a pretty big machine. BMW has only stretched the 5 Series body shell by 36mm for this generation, however, so in terms of size it doesn't feel any different to the last version from the driver's seat.

18

Leg room, head room & passenger space

Wide-opening doors reveal a very spacious 5 Series interior, with that extra body length put to good use for rear seat passengers, who have plenty of space to lounge and lots of headroom too. There's easily room for three-abreast in the back, but unfortunately the transmission tunnel eats up foot room for the middle passenger making life just a little awkward. There are no such issues for the two up front, where the accommodation feels extremely generous.

Boot

Now 10 litres bigger than before, the 5 Series boot can swallow a decent 530 litres of your luggage. That makes it just about as big as the Mercedes E-Class or Jaguar XF, and the BMW also has a wide boot opening plus the versatility of split/fold rear seats.

The M5 also has a decent towing capacity of 2,000kgs for a braked trailer, but we can't see many people wanting to use the car that way.

Reliability and Safety

The latest 5 Series platform provides class-leading safety, and well-proven mechanicals

Most of the mechanical kit in the M5 has been developed from existing technology – that includes the engine which is an upgraded version of the previous M5 power unit, while BMW has also gained lots of experience with xDrive 4×4 tech in various models.

The standard 5 Series finished in 47th place on a 75-car list in our Driver Power customer satisfaction survey. BMW itself finished a disappointing 21st out of 29 manufacturers in our 2021 Driver Power survey, although did show some improvement in 2022's poll – achieving 16th spot, ahead of Audi and Mercedes.

Main dealer car servicing – a complete guide

Safety is taken very seriously too, with the standard 5 Series scoring highly for adult and child occupants on the way to a five-star Euro NCAP crash rating. The standard autonomous braking system was commended, and the M5 also comes fitted with the BMW Driving Assistant that's optional on other models. This gives you lane departure warning, rear cross traffic alert and traffic sign recognition, on top of the adaptive cruise control. With the added security of four-wheel drive traction, a rigidly engineered structure and an array of safety tech, there's never been a safer BMW M5.

Warranty

The M5 gets BMW's standard three-year unlimited mileage warranty, that naturally includes breakdown cover.

Servicing

BMW offers its Service Inclusive package on the M5, taking care of all servicing costs for the first four years, but your dealer is likely to charge around £2,000 for the privilege. The servicing schedule itself depends on mileage and how you use the car, but annual inspections are recommended even for low mileage cars.

Next Steps

Which Is Best

Cheapest

Cheapest vehicles

Our 'cheapest' pick is the model with the lowest on the road retail price.Close

NameM5 Competition 4dr DCT
Gearbox typeSemi-auto
Price£101,565

Most Economical

Most economical vehicles

Our 'most economical' pick is the model with the best fuel economy on the WLTP combined cycle.Close

NameM5 Competition 4dr DCT
Gearbox typeSemi-auto
Price£101,565

Fastest

Fastest vehicles

Our 'fastest' pick is the model with the fastest time for the 0-62mph or 0-60mph sprint.Close

NameM5 Competition 4dr DCT
Gearbox typeSemi-auto
Price£101,565

Source: Read Full Article