Which workshop hand cleaner shifts muck from your skin best after DIY work on your car?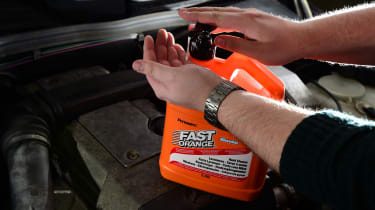 It's fair to say we've all become quite good at washing our hands during the last year. However, if you're accustomed to working on your car yourself, you'll be well used to scrubbing oil, dirt and grease off your hands and arms regularly.
And a home hand soap just won't cut it here. To shift ground-in dirt or stinky engine oil requires both a tough chemical formula and an added abrasive.
To find out which specialist workshop hand cleaner is the best for the job, we put eight products to the test.
How we tested them 
Key for DIY mechanics is how well cleaners deal with engine oil and all-purpose grease. We also tested them on garden soil and fireplace ash. The latter is particularly good for seeing how well a product shifts grime from crevices in the skin.
We liked hand cleaners with convenient, no-mess dispensers and, although a tough abrasive is good, the best products agitated dirt without leaving our hands feeling rubbed raw. A pleasant scent was also a plus point. Finally, we assessed value for money, with pricing taken from manufacturers' websites at the time of writing.
None of these hand cleaners claims to be antiviral or deal with Covid-19, so an alcohol-based hand sanitiser is the best option if you're looking for something to quickly clean up with.
However, all soap-based solutions are effective at killing viruses by dissolving their fat layer, so if used properly, any of these products should do the job. Government advice is to scrub your hands with soap and hot water for at least 20 seconds, and to ensure you cover areas that are often missed, such as between your fingers.
Verdict
Once again our winner is Rozalex's Zalpon Zorange, which retains top spot thanks to its exceptional cleaning power – and how moisturised and nice-smelling our hands felt afterwards. Loctite's SF 7850 is just as effective and is only let down by its awkward squeeze bottle and runny formula, while Bonnymans Red Gritted offers unbeatable value for money, with excellent results.
Rozalex Zalpon Zorange
Loctite SF 7850
Bonnymans Red Gritted Handsoap
Reviews
Rozalex Zalpon Zorange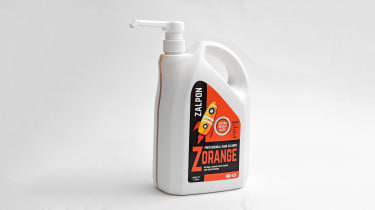 Price: £19.99 
Size: 4l 
Rating: 5/5
Contact: www.rozalex.co.uk
BEST BUY Zalpon Zorange takes home its fourth consecutive win in this test for the simple reason that none of its test rivals have yet to improve on it. It smells great, the large pump dispenser is very handy and, most importantly, it cleaned everything off our hands with very little effort. Thanks to a gritty pumice abrasive, it easily deals with really ground-in dirt – it feels as though it's really scrubbing your hands, but our skin still felt moisturised afterwards. It's still the one to beat, and well deserving of another victory here.
Buy now from Amazon
Loctite SF 7850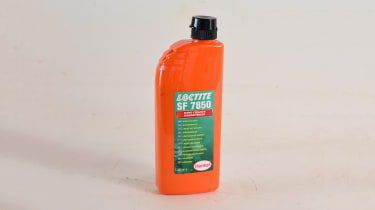 Price: £10 
Size: 400ml   
Rating: 4.5/5
Contact: www.eurocarparts.co.uk
RECOMMENDED Loctite's formula uses an effective pumice abrasive that made short work of all our test stains. It smells good and left our hands feeling great afterwards, despite how well it scrubbed stubborn dirt from cracks and crevices. It's a major improvement on the last Loctite formula we tested. The bottle dispenser wasn't the most practical, though. It could easily get slippery if constantly grabbed with greasy hands. We'd prefer a pump dispenser on a bottle this size. And it's rather thin and runny, so easier to spill and make a mess.
Buy now from Amazon
Bonnymans Red Gritted Handsoap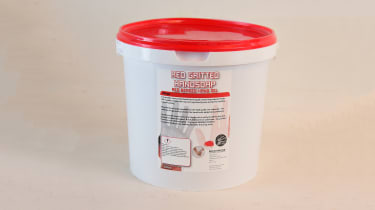 Price: £22 
Size: 15kg 
Rating: 4.5/5
Contact: www.bonnymans.co.uk
RECOMMENDED This is the best value for money in this line-up, only costing a few pounds more than our winner for a vast 15kg tub. A smaller option is available, too, and you can fit your own pump dispenser if you wish. It's also highly effective thanks to a gritty walnut shell abrasive and tough formula. It dealt effectively with oil and grease, and got into the cracks and crevices to clear dirt and muck. Our hands even felt great afterwards, which is not always a given with cheaper formulas. It has a slightly unpleasant smell, however, and scooping it out of a tub isn't very user-friendly.
Buy now from Amazon
Rozalex Zalpon Zing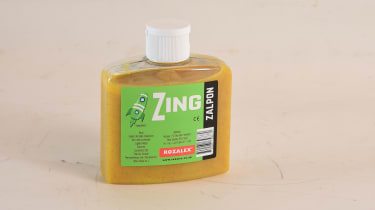 Price: £17.99 
Size: 4l 
Rating: 4/5
Contact: www.rozalex.co.uk
Zalpon Zing is similar to our test winner, but uses a walnut-shell abrasive that's more sparsely dispersed and less aggressive on tough dirt than the pumice of Zorange. It therefore requires significantly more scrubbing to get hands totally clean. The triple-citrus scent doesn't smell too great, either. Still, it's a very good cleaner, particularly for oily stains, but for the sake of spending a few pounds more, we'd opt for its tougher brother – our award-winning Zalpon Zorange. Zing is available in the same assortment of sizes.
Buy now from Demon Tweeks
Rozalex Gauntlet Extra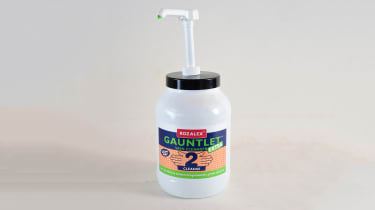 Price: £13.49 
Size: 3l 
Rating: 3.5/5
Contact: www.rozalex.co.uk
Rozalex's value-for-money option is Gauntlet, which can be ordered in sizes up to 15l or as a refill for existing pump dispensers. This bright green gel is runnier than we like – a stiffer paste is less likely to spill – and its abrasive is sparser and less aggressive, so it won't clean ground-in dirt as well. It's very kind to the hands, though – ours felt moisturised and soft afterwards. Gauntlet is also effective on oil and grease, dispersing them quickly. It's very good value in its larger sizes, too, but not as cheap as Bonnymans.
Buy now from Amazon
Swarfega Power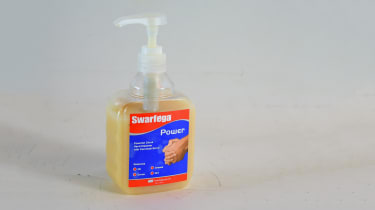 Price: £6.55 
Size: 450ml
Rating: 3/5
Contact: www.debgroup.com
The best-known name in the business has struggled in our previous tests, and still fails to totally impress here in its 'Power' guise. A pleasant citrus scent is a great start, and it's clearly a very powerful formula, because it was the best product here at removing oil and grease. But its soft cornmeal abrasive meant we had to scrub for ages to get out ingrained dirt. While it's a pleasant product to use, we wish Swarfega would experiment with a tougher way to agitate stubborn dirt.
Buy now from Amazon
The Safety Supply Company Professional Lime Pumice Hand Cleaner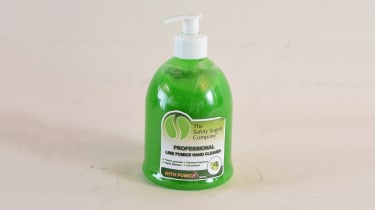 Price: £2.38 
Size: 500ml 
Rating: 2/5
Contact: www.thesafetysupplycompany.co.uk
This cleaner isn't particularly heavy duty thanks to a sparse abrasive, which meant we had to spend ages scrubbing before the soil and ash stains disappeared. Its dispenser only releases a tiny amount of product at a time, so you need several pumps to get a decent amount, and it's rather fiddly to use, too. While it does smell nice, our hands felt a bit dry afterwards. However, it's good value for money if you don't want to spend too much, because 500ml will last quite a while for the few pounds it costs.
Buy now from The Safety Supple Company
Rapide Tough Stuff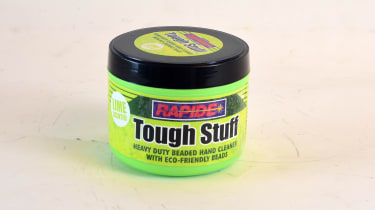 Price: £6.49 
Size: 450ml
Rating: 1/5
Contact: www.rapideproducts.co.uk
We struggled to get Tough Stuff to work in this test. On the basic level, it has a chemical smell that's not too pleasant, and glooping product out of a tub is messy compared with a pump dispenser, not to mention wasteful. But the worst part was that it left a weird, greasy film on our hands that we had to take off with another product. It's unpleasant and not that effective at cleaning, so Rapide needs to take another look at this hand cleaner.
Buy now from Amazon
Source: Read Full Article