If you've got a growing family to ferry around, the best used MPVs and people carriers will do just that for a bargain price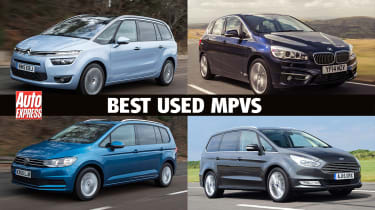 Multi-purpose vehicles – or 'people carriers' as they are also known – were all the rage a couple of decades ago. The recipe was very simple: as much space and as many seats as possible in order to make these vehicles as practical as possible for large families.
Today far fewer MPVs are still in production, with the bodystyle slowly losing its popularity as customer demands changed. In many ways the SUV has replaced the MPV, with their high driving position and chunkier looks proving more appealing to the modern driver.
Best people carriers and MPVs 2020
Not everyone is taken with the SUV though, and for those people MPVs are a very tempting prospect on the used market. Prices have come down far enough to make many of them proper bargains, and their added versatility can make them much more useful to live with in the long run.
Interior space tends to be greater in an MPV than in an SUV, and the larger windows make them lighter, more pleasant places to sit and take in the miles on the road.
But where should you start looking? We've drawn up a list of the best used MPVs to give you a flavour of what's out there…
The best used MPVs
Citroen Grand C4 Picasso
Renault Grand Scenic
SEAT Alhambra
Ford Galaxy
Ford S-MAX
Volkswagen Touran
BMW 2 Series Active Tourer
Ford B-MAX
1. Citroen Grand C4 Picasso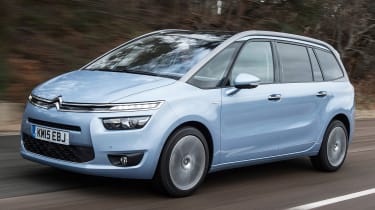 If maximum space, practicality and economical motoring are your priorities, then you'll find it difficult to look beyond the Citroen Grand C4 Picasso (renamed the Grand C4 SpaceTourer from 2018 onwards). The big Citroen has been a repeat winner in the MPV class of our New Car Awards, and on the used market it's every bit the champion, too.
Performance isn't crucial in this segment, though. Space for passengers trumps all, and the Grand C4 Picasso can seat seven adults in good comfort. All three seats in the second row can slide and fold independently, and middle-row legroom is superb.
The two rearmost seats are tighter and better suited to children on longer trips, but getting back there is easy thanks to the numerous ways the Citroen's seats slide and stow. You'll find plenty of storage spaces around the cabin, and even 12V sockets in the front and middle rows for charging gadgets.
At the back, the Citroen's vast boot measures 793 litres with the middle row of seats pushed as far forward as possible. Fold all the seats down – which leaves you with a perfectly flat floor – and you get a van-rivalling 2,181 litre volume.
Allied to the comfortable and stylish interior is the Citroen's ride quality. The suspension is soft and there's plenty of body roll in bends, but elsewhere it rides smoothly, while the 1.6-litre diesel unit is a refined performer. The Grand C4 Picasso is a relaxing car to drive – and that's important for family motoring.
See the latest Citroen Grand C4 Picasso prices on our sister site BuyaCar…
2. Renault Grand Scenic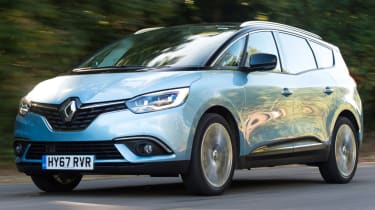 The fourth-generation Renault Grand Scenic MPV arrived in 2016, and it followed the same formula that brought its predecessors so much success: seven seats are offered, although the body is no wider than the standard five-seat Scenic.
A plentiful engine line-up with both petrols and diesels to choose from ensures that you can get the engine that strikes the right balance between performance and fuel economy for your needs. Five- and six-speed manual gearboxes were standard, while a twin-clutch auto was an option on the 1.5-litre diesel and standard on the more powerful 1.6-litre diesel. These diesels are the more capable options in the line-up thanks to the torque on offer, which should cope better when the car is at capacity with passengers.
You won't be left wanting in terms of kit either: all examples of the Grand Scenic get a portrait touchscreen infotainment system that comes with DAB radio and Bluetooth connectivity. Higher-spec cars get a larger screen and Renault's R-Link system, which adds a certain amount of smartphone integration. Apple CarPlay and Android Auto were late additions to the Grand Scenic's tech offering, so it's worth checking if these are available on and used models your search turns up.
See the latest Renault Grand Scenic prices on our sister site BuyaCar…
3. SEAT Alhambra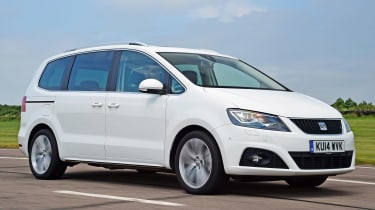 The SEAT Alhambra is another MPV that maxes out on interior space and functionality, and while it lacks the design flair of the Citroen Grand C4 Picasso it benefits hugely from solid Volkswagen Group underpinnings and engines, with the 2.0 diesel versions the pick of the line-up.
Production of the second-generation Alhambra began in 2010 and ended in 2020, with SEAT now offering the Tarraco SUV to fulfil the needs of those looking for a seven-seater. The length of the Alhambra's production run means there should be lots to choose from on the used market, meaning you'll be able to find one at the right price and with the right amount of tech for your needs.
The Alhambra isn't the best in its class to drive, but it tackles a motorway cruise with ease and the accurate steering helps to make the car feel easier to manoeuvre than other models of this size. You can get 267 litres of stuff into the boot with all seven seats up, increasing to 1,167 litres in five-seat mode. Drop the middle row too and you'll be looking at 2,297 litres.
See the latest SEAT Alhambra prices on our sister site BuyaCar…
4. Ford Galaxy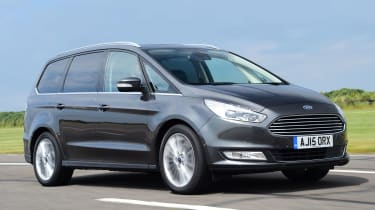 The fact that the Ford Galaxy is one of the most popular MPVs shouldn't come as a surprise given that the US carmaker has such a well established reputation when it comes to family transport. The third-generation model on sale today has been around since 2015, with early examples now available for less than £9,000 in some cases. Previous-gen cars are even cheaper.
The Mk3 Galaxy is (typically for Ford) available with a wide choice of engines: 1.5- and 2.0-litre petrols sit alongside a 2.0-litre diesel that came with either 119, 148 or 177bhp. A 237bhp version of the diesel was added in 2018. Most used examples you'll find will be diesels, with their better torque and higher fuel economy making them more popular than the petrol alternatives. Manual or automatic gearboxes are available too and both perform well.
Inside Ford has used plenty of high-quality materials in the construction of the cabin, and there's tonnes of space for passengers throughout. The middle row of seats can slide back and forth as well, giving added flexibility.
See the latest Ford Galaxy prices on our sister site BuyaCar…
5. Ford S-MAX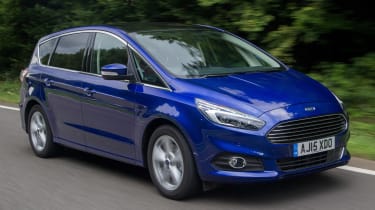 Is the Ford S-Max a true MPV? Not everyone agrees as its lower roofline and reduced capacity make it more of a seven-seat estate in some ways. Having said that, the S-MAX represents brilliant value for money as a used car, and Ford's impressive engines make it both enjoyable to drive and easy on your wallet.
A sportier driving experience is what makes the S-MAX stand out over the seven-seat Galaxy. The second-generation car reached showrooms in 2015, with petrol and diesel models combined with front- or four-wheel drive. Early editions of the current car have been around long enough to benefit from plenty of depreciation, but you'll struggle to find many examples of the entry-level car as most buyers went for Titanium trim. This added sat-nav, automatic lights and wipers and various other features to the standard inclusions like 17-inch alloys, an eight-inch touchscreen and parking sensors front and rear.
The inside of the S-MAX is very spacious, although the rearmost seats are only really suitable for kids. The 285-litre boot isn't ideal with all seven seats in place, but there's more than enough to get by with when they're not in use.
See the latest Ford S-MAX prices on our sister site BuyaCar…
6. Volkswagen Touran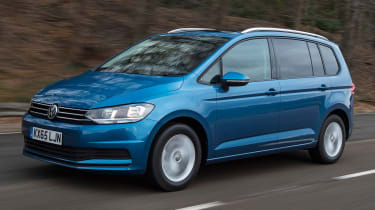 The Mk2 Volkswagen Touran has been on sale since 2015. Back then prices started from just over £22,000, however today you can pick up an early model for under £8,000 depending on spec and mileage. This means it's difficult to top in terms of value, the Touran having proved to be a practical vehicle over the years that remains good to drive and well-built compared to the alternatives.
All cars come with a six-speed manual gearbox as standard, with an automatic transmission an option on all but the entry-level 1.2-litre petrol. Both types of gearbox worked well, but the best engine choice for you really depends on how often you're likely to fill all seven seats: if you're regularly at capacity, one of the more powerful engines will be more economical in the long run.
Standard features include an eight-inch touchscreen with DAB radio and Bluetooth connectivity, as well as all-round electric windows and heated door mirrors. SE models get 16-inch alloy wheels, and extra touches like automatic lights and wipers, plus adaptive cruise control. As a compact MPV, the rear seats should be reserved for children as adults won't fit comfortably.
See the latest Volkswagen Touran prices on our sister site BuyaCar…
7. BMW 2 Series Active Tourer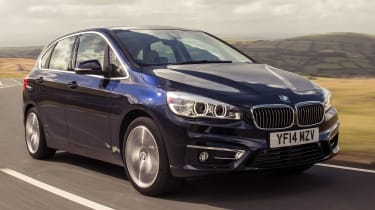 As the BMW 2 Series Active Tourer is only a couple of centimetres longer than the 1 Series hatchback, it relies on its taller roofline for its added practicality. This also gives it the advantage of being more comfortable for passengers in the rear, with the additional headroom making it more suitable for tall adults.
Along with the spacious interior (made possible in part by the decision to only offer front-wheel drive, making it the first BMW not to feature some drive from the rear wheels), the inside is the 2 Series Active Tourer's main strength: the cabin is beautifully designed and finished, giving the car a more upmarket feel than most rivals. The iDrive infotainment system is one of the best too, avoiding one of the main frustrations that so many other manufacturers run into.
2014 examples of the 2 Series Active Tourer are usefully cheaper now than when they first went on sale, with the best performance coming from the four-cylinder engines in the line-up. 16-inch alloy wheels, dual-zone climate control and rear parking sensors are all standard, but if you want seven seats you'll need to step up to the 2 Series Gran Tourer instead.
See the latest BMW 2 Series Active Tourer prices on our sister site BuyaCar…
8. Ford B-MAX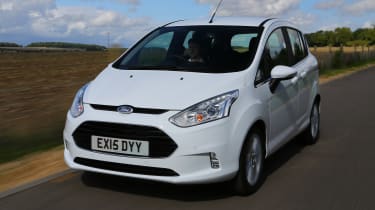 The B-MAX is one of the smaller MPVs you can buy on the used market, having enjoyed a five-year production run between 2012 and 2017. The thing that makes it stand out are its sliding rear doors and lack of B-pillars, making access to the cabin incredibly easy. Once you're inside there's enough space for five, with the car's smooth ride only adding to the comfort over a long journey. The interior is built to last and finished well, too.
Based on the Fiesta supermini, the B-MAX was suitably good to drive thanks to its direct handling characteristics. The engine line-up was excellent too, although somewhat unusually it was the turbocharged 1.0-litre EcoBoost petrol that suited the car best rather than a diesel with lots of power low in the rev range. 
Low-mileage 15- and 16-plate cars in mid-spec Zetec trim are available from £7,000. Zetec added alloy wheels, air-conditioning and a heated windscreen into the mix over the standard model, as well as a few other features besides.
See the latest Ford B-MAX prices on our sister site BuyaCar…
Source: Read Full Article