Small electric cars are gaining ground. Here we pick our affordable favourites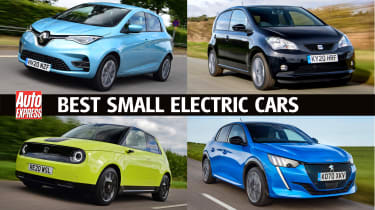 We love small cars in the UK; they perfectly suit the confines of our tight country roads, as well as our ever-more-congested streets in towns and cities. Now small electric cars are also growing in popularity, as the automotive industry and policymakers look towards electrification to meet stricter laws on air quality.
Below we've line-up the 10 best small electric cars you can buy right now. All are strong examples of electric cars at the more affordable end of the EV spectrum, whether you're buying with cash or on finance.
Electric car charging in the UK: prices, networks, charger types and top tips
Of course, what you pay up front or every month for your car doesn't tell the whole story – especially with a small electric car, because you'll save a significant amount when it comes to running costs. Charging up is also much cheaper than refuelling with petrol or diesel, even when using a public charge point, so we'll show you what you can expect to pay to charge each car, based on the average UK home electricity tariff of 14.4p per kWh.
Our first-time buying advice below offers info on key electric car terms, as well as any incentives that might be on offer, such as home wallbox chargers and government grants.
Going electric for the first time?
If you're looking at buying a small electric car, the chances are it could be your first EV, so you'll be plunged head-first into a world of unknowns. What is a kWh? How much range do I need? What is rapid charging? Thankfully, we're here to help.
On those subjects, kWh (kilowatt-hour) is a measure of energy. The more a car's battery offers, the more energy it can store and the greater the range should be. When it comes to range, the answer really depends on how you might use an electric car. Will it mostly be for short journeys, or will you regularly travel further afield? The answers to these questions could determine what kind of EV you're in the market for.
Best electric cars to buy 2021
When it comes to charging, there are three main types. A 2.3 kilowatt (kW) feed usually means a standard three-pin plug, which will take a while to charge even the smallest battery-electric vehicle. If you're buying an EV, then you should think about getting a home wallbox installed instead. Many manufacturers are offering free installations with their electric cars as an incentive; these usually supply a feed in the region of 7kW, which will be fine for overnight charging. Most home electricity supplies can support this, but not much more.
Rapid charging uses DC current, unlike the systems we've mentioned above that use AC. Rapid chargers use feeds between 40 and 150kW. Think of the kW number as the bore of the hose filling a petrol or diesel car's tank; the bigger the number, the bigger the hose and the faster the tank (in this case the battery) will be replenished.
If you're new to EVs, then be sure to check out our sister title DrivingElectric.co.uk, which is a useful resource for EV newcomers.
Read on below for our list of the top 10 best small electric cars on sale right now…
Best small electric cars 2021
Fiat 500
Renault Zoe
Peugeot e-208
Volkswagen ID.3
Vauxhall Corsa-e
Honda e
Volkswagen e-up!
SEAT Mii electric
BMW i3
MINI Electric
Best small electric cars
1. Fiat 500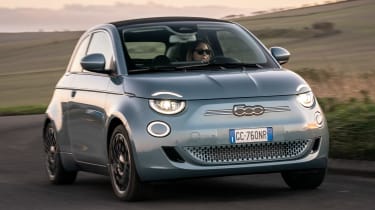 | | |
| --- | --- |
| Prices: | £19,995-£29,995  |
| Battery:  | 24kWh, 42kWh |
| Power:  | 92-116bhp   |
| Cost to charge  | £3.46 (24kWh), £6.05 (42kWh)   |
| Range:  | 115-199 miles   |
| Charging capability:  | 12hrs 15min (2.3kW)–27 min (85kW) |
Our choice: Fiat 500 Icon 42kWh
Italian brand Fiat has recently re-imagined its iconic 500 as an all-electric city car, and it's a brilliant example of the breed.
With prices starting from £19,995, including the Government's £3,000 Plug-in Car Grant, the 500 is affordable, and with a claimed range of up to 199 miles from a full charge, it's genuinely usable, too.
That's from the biggest 42kWh battery, which also boasts 85kW rapid-charge capability, giving the Fiat an 80 per cent top-up in a relatively quick 27 minutes.
With 116bhp on tap from its electric motor, the 0-62mph sprint takes nine seconds; that's only half a second faster than the 92bhp 500 with the smaller, lighter 24kWh battery, although range drops to a predicted 115 miles if you go for this more affordable model.
If you'll use this EV more as an urban runaround, the 24kWh car could be a more cost-effective option. It still has 50kW rapid charging, so if you need to use a public socket, you shouldn't have to wait there long.
There are four trim levels to choose from: Action, Passion, Icon and La Prima. The first only comes with the smaller battery. No matter which you choose, key to the 500's charm are its retro-inspired looks mixed with thoroughly modern tech, including Level 2 autonomous driving features and a 10.25-inch touchscreen infotainment set-up.
Sharp low-speed performance blends with easy regenerative braking and relatively strong comfort here. Sometimes small cars simply bounce from pothole to pothole and, given the state of the roads where many 500s will be used, the more soothing ride is definitely welcome.
As is the fresh interior, because the car's retro charm is still present. Better still, the stylish 500C convertible is still available, too.
2. Renault Zoe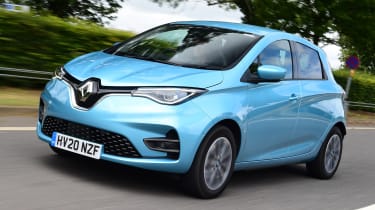 | | |
| --- | --- |
| Prices: | £26,995-£31,495 |
| Battery:  | 55kWh |
| Power:  | 107-133bhp |
| Cost to charge  | £7.92 |
| Range:  | 238-245 miles |
| Charging capability:  | 34hrs 20 min (2.3kW)–1hr 10 min (50kW) |
Our choice: Renault Zoe R110 Iconic Rapid Charge
The second-generation Zoe saw Renault's electric supermini come of age, combining superb real-world range with excellent refinement and driving manners.
It's easy to tap into this flow, because the ride comfort is great, and with 245 miles of range, it's genuinely usable. There's just one 55kWh battery available. However, you can choose the R110 (107bhp) or R135 (133bhp) motor with an option to add 50kW rapid charging to each for an extra £1,000.
If you'll mostly be using your car locally (you can recharge it in nine hours and 25 minutes from a 7.4kW home wallbox) then it might not be worth it. But if you plan to venture further afield in the Zoe – and you'll be able to, given the range on offer – rapid charging could be a good idea. It drops recharge times to an hour and 10 minutes for a top-up to 80 per cent.
Otherwise, Iconic trim is all you'll need in the practical, five-door Zoe, because it features lots of strong safety tech, good connectivity and luxuries such as LED headlights and parking sensors.
3. Peugeot e-208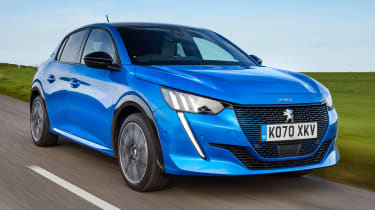 | | |
| --- | --- |
| Prices: | £26,725-£30,975 |
| Battery:  | 50kWh |
| Power:  | 134bhp  |
| Cost to charge  | £7.20 |
| Range:  | 217 miles (WLTP)  |
| Charging capability:  | 24hrs (3kW) – 30 mins (100kW) |
Our choice: Peugeot e-208 Allure
Peugeot's electric revolution started with the e-208, which is based on the same versatile CMP architecture as the 208 supermini, but is called e-CMP here.
There's no drawback in practicality, because the e-208 offers the same 311 litres of boot space as the 208, while the 134bhp motor means the e-208 offers near-silent running and a smooth surge of performance.
With 260Nm of torque it means 0-62mph takes 8.1 seconds, while the small steering wheel and well set-up chassis means it's relatively engaging for an EV. Regenerative braking even means you can drive around most of the time just lifting off the throttle.
That 50kWh battery can be topped up in half an hour, because the e-208 accepts 100kW charging – not every small EV offers this tech – and 217 miles of range is on offer.
The e-208 really stands out for its styling. The sharp exterior look is good, while the interior takes cues from the 3008 and 5008 SUVs and by and large effectively downscales them into a supermini, backing this up with decent tech and connectivity.
It's punchy, practical, refined and fun to drive, which means the e-208 should be on any shortlist of potential compact EV buyers.
4. Volkswagen ID.3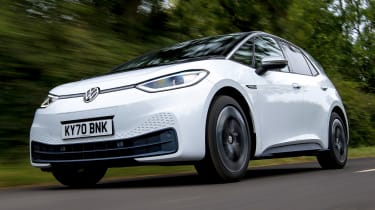 | | |
| --- | --- |
| Prices: | £29,990-£39,290 |
| Battery:  | 58kWh, 77kWh |
| Power:  | 201bhp |
| Cost to charge  | £8.25-£11.09 |
| Range:  | 263-336 miles |
| Charging capability:  | 9hrs 20 min (7.2kW)–35 min (100kW) |
Our choice: Volkswagen ID.3 Pro Performance Life
The ID.3 electric hatchback was a long time coming. It's bigger than many of the cars in our list, but it's here on merit, because while it isn't a game changer, it's a great family EV.
The range isn't the easiest to navigate, but prices start from £29,990 for the 58kWh Pro Performance model. This offers up to 263 miles of range and with 201bhp on tap, a 0-62mph time of 7.3 seconds.
The larger 77kWh Pro S battery has a range of 336 miles, but prices start from £39,290 because it also only comes in Tour trim. We'd stick with Life spec, because you still get all the tech you'd want, including LED lights, adaptive cruise and advanced safety kit.
Charging times for the Pro Performance battery range from nine and a half hours using a 7.2kW wallbox feed, to 35 minutes using a 100kW DC rapid charge supply.
One of the best things about the ID.3 is that it's the first VW Group model to use the latest MEB architecture. This is designed exclusively for use with electric drive, so there's no compromise when it comes to practicality, while the refinement and ride are as you'd expect from a VW.
5. Vauxhall Corsa-e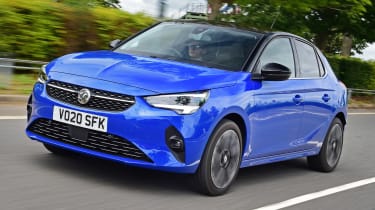 | | |
| --- | --- |
| Prices: | £26,985-£28,630 |
| Battery:  | 50kWh  |
| Power:  | 134bhp |
| Cost to charge  | £7.20 |
| Range:  | 209 miles |
| Charging capability:  | 19hrs 29 min (2.3kW)–30 min (100kW) |
Our choice: Vauxhall Corsa-e SE Nav
When the PSA Group took over Vauxhall in 2017 it meant the British brand gained access to the French giant's tech, so the Corsa-e uses the same underpinnings as another car in our list, the Peugeot e-208.
The Vauxhall has the same 50kWh battery and 134bhp electric motor, and a claimed range of 209 miles, while recharge times as low as 30 minutes are possible, thanks to 100kW DC charging capability.
All Corsas are five-door only, so Vauxhall's first full EV is practical, with enough space in the back for two (even if it'll only really be for short journeys) and a fair 267-litre boot.
The Corsa isn't the most exciting car to drive, but equipping it with electric power boosts its appeal, thanks to the smooth propulsion and refinement it brings.
The ride and handling are fine, but the real appeal here is how easy the car is to drive, with an extra B mode for the regenerative braking meaning it's relaxing on the move and makes perfect sense around town.
Running costs should be incredibly low, with home charging coming in at around £7.20, which even with a real-world range of around 175 miles means it'll still make for affordable motoring.
We'd recommend sticking with the standard 7.4kW on-board charger because the 11kW upgrade adds to the price, but the regular car's six-hour recharge with a wallbox is fine. Of course, if your home electricity supply can handle an 11kW feed, then this might be beneficial, but few houses can, so it's not worth it.
Vauxhall is also pushing offers such as first year's insurance free, up to 30,000 miles of electricity and a free home wallbox installation, so these incentives make the prospect of owning a Corsa-e even sweeter.
6. Honda e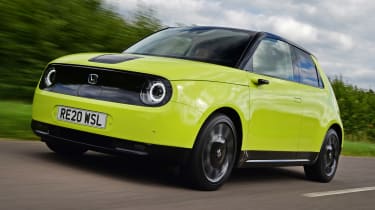 | | |
| --- | --- |
| Prices: | £27,160-£29,660 |
| Battery:  | 35.5kWh |
| Power:  | 134-152bhp |
| Cost to charge  | £5.11 |
| Range:  | 137 miles |
| Charging capability:  | 18hrs 48 min (2.3kW)–30 min (100kW) |
Our choice: Honda e
When Honda revealed the concept for its first EV in Europe, the public really took note, and thankfully the e emerged as a production car without too many changes to the concept's retro-inspired design.
While the looks are cool and crisp, the tech is thoroughly modern, with 100kW DC charging capability on board. One of the Honda's party pieces is that its 152bhp electric motor is mounted on the rear axle. This helps packaging but doesn't compromise room inside the five-door body, so it's relatively spacious, given its compact dimensions.
It also means that with no motor up front the wheels can turn further; this little EV has a superbly tight turning circle of just 8.6 metres, so it feels right at home on city streets. The infotainment is great, too, with a total of five screens – including one at each side of the dash for the digital wing mirrors.
With a 35.5kWh battery, range is on the more limited side, at 137 miles for both the standard car and the more powerful but £2,500 more expensive Advance model, which does admittedly get more kit, including extra safety tech.
However, we'd probably save the cash because the extra power isn't necessary and the regular car really offers the essence of the e at a more affordable price.
7. Volkswagen e-up!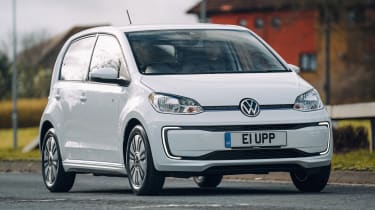 | | |
| --- | --- |
| Prices: | £20,555 |
| Battery:  | 36.8kWh |
| Power:  | 82bhp |
| Cost to charge  | £5.30 |
| Range:  | 159 miles |
| Charging capability:  | 16hrs (2.3kW)–1hr (50kW) |
Our choice: Volkswagen e-up!
The e-up! shares its underpinnings with the Mii Electric (below), although you can still get the up! with petrol power. However, that actually serves to show how good a small electric car the e-up! is.
That's because there are no drawbacks when it comes to space, because the 251-litre boot is exactly the same as the petrol-powered car's. Packaging in the compact five-door body is equally good, so the e-up! is still a triumph of engineering design.
The vital specs are identical to the SEAT's, with a 36.8kWh battery feeding an 82bhp electric motor that drives the front wheels. However, VW's official range claim stands at 159 miles; it's just one mile less than the Mii, but to all intents and purposes it's the same. That includes the £5.30 charge cost using a home wallbox, too.
Strong brake regeneration in 'B' mode means you can drive around town just modulating the throttle to trim your speed, and combined with the car's refinement and the maturity of the package, it's good to drive.
The smart but simple cabin design uses your phone for the infotainment as well, which is no bad thing. It comes well equipped, with dual-zone climate control, heated seats, parking sensors and rear camera, plus cruise control is fitted as standard.
8. SEAT Mii electric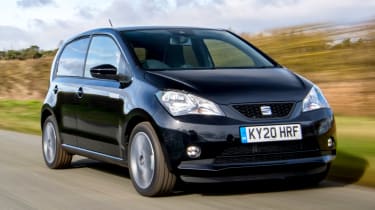 | | |
| --- | --- |
| Prices: | £19,800 |
| Battery:  | 36.8kWh |
| Power:  | 82bhp |
| Cost to charge  | £5.30 |
| Range:  | 160 miles |
| Charging capability:  | 16hrs (2.3kW)–1hr (50kW) |
Our choice: SEAT Mii electric
City cars make perfect sense when it comes to electrification. In petrol form, these small machines often have limited power, but an electric motor means they're quicker and more refined, and because they're generally light, range can be fairly respectable, too.
It certainly is with the SEAT Mii electric. With the petrol-powered Mii no longer available, this is your only choice if you want the smallest SEAT on sale. We've been running one on our fleet and can confirm it's a great urban EV, thanks to a number of factors.
One is that CCS rapid charging is standard, which isn't always the case with small EVs. A 40kW DC feed means the car's 38.6kWh battery can be topped up to 80 per cent in less than an hour. With a full battery you'll have around 160 miles of range.
The tech is good because the Mii makes use of your phone, mounted in a cradle on the dash, and this keeps the price under 20 grand. It's still more than a petrol city car, but you'll save hundreds in running costs.
All the weight is kept low in the SEAT's chassis and the battery doesn't compromise packaging, so the Mii electric handles really sweetly and there's still enough room in the rear for two passengers. Yet relatively good power and a lack of noise mean it's refined on the motorway, and you'll have enough real-world range for longer trips, too.
9. BMW i3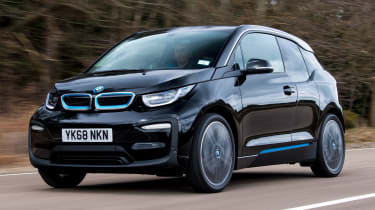 | | |
| --- | --- |
| Prices: | £33,025-£35,555 |
| Battery:  | 42.2kWh |
| Power:  | 168-181bhp |
| Cost to charge  | £6.09  |
| Range:  | 175-188 miles |
| Charging capability:  | 9hrs 42 min (3.7kW)–42 min (50kW) |
Our choice: BMW i3
The i3 was an EV pioneer. BMW was the first premium car maker to push electrification, and with a carbon-fibre passenger cell for lightness – vital for efficiency in an EV – the i3 offered an innovative approach that's still at the cutting edge today.
The standard i3 is all you need, with up to 188 miles of range and an 80 per cent recharge in just over 40 minutes, although the firm ride will be disappointing for some.
Rear-hinged back doors help access to the compact cabin, and once you're inside there are plenty of reclaimed materials that are in keeping with the environmentally friendly approach of an EV. They also go some way to justifying the i3's relatively high price.
10. MINI Electric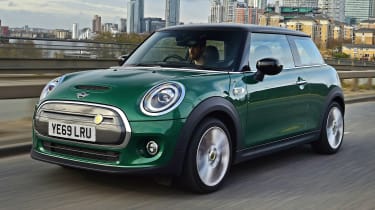 | | |
| --- | --- |
| Prices: | £25,100-£31,100 |
| Battery:  | 32.6kWh |
| Power:  | 181bhp |
| Cost to charge  | £4.69 |
| Range:  | 140-145 miles |
| Charging capability:  | 12hrs (2.3kW)–36 min (50kW) |
Our choice: MINI Electric Level 2
A decade ago, MINI trialled a limited run of electrified cars as proof of concept that a MINI powered by electricity rather than fossil fuels would work. But it didn't build a full production version until last year.
With a range of 145 miles (which is closer to 110 miles from our real-world experience) the MINI is more for short journeys, but it retains the brand's characteristic driving feel.
That means the handling is sharp, plus the motor's 270Nm hit of torque makes it quick. The two-mode regenerative braking set-up is strong in the top setting, too, which is great for one-pedal driving.
Subtle styling tweaks include optional 17-inch alloys that look like a plug socket, and the fared-in grille, but the MINI Electric only comes in a three-door body.
There are three trims to choose from, but all receive the same 32.6kWh battery, while 50kW charging capability means an 80 per cent top-up should take just over half an hour.
Want to know more about electric cars? Head over to our sister site DrivingElectric.co.uk now…
Source: Read Full Article