Which of these versatile hand rotary multitools is your car DIY must-have? We take a look at eight of the best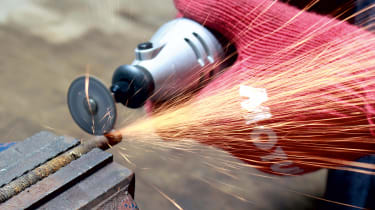 When you need a powered helping hand to take the grind out of cutting or shaping metal, then a rotary multitool has a big advantage over even a cordless drill. While the drill may have more grunt, the wide range of accessories for multitools means you can grind, clean, sand, engrave, deburr, polish, sharpen, and repair damaged tools with ease.
So which are the tools to take the strain? We looked at eight corded models, which may not have the convenience of cordless ones, but offer more power without the threat of a flat battery; all had attachments and accessories. Power outputs ranged from 130W to 180W, with the latter more powerful, but also weighing and costing more.
How we tested them
We used each multitool for a selection of typical car tasks, including polishing, using a disc to cut into aluminium sheet, and drilling. Then we timed their three attempts to slice through a 6mm steel bolt using a 38mm x 0.75mm disc.
Technical specifications were compared, especially the lowest and highest speeds that are needed to match the materials worked on. We assessed the number and type of consumables (brushes, discs, grinding wheels etc.) and attachments, such as a stand or flexible drive. Finally, we looked at prices from online sellers.
Verdict
When balancing price, performance and equipment, the Sealey kit remains the one to beat, but it was chased hard again by the Wolf. Draper's new high-power kit makes a convincing debut in third place. 
Sealey E5188 Multi-Purpose Rotary Tool Set
Wolf 170W Crafter Ultimate Rotary Multi Tool and 217-piece Accessories
Draper 180W Rotary Multi Tool Kit 58300
Reviews
Sealey E5188 Multi-Purpose Rotary Tool Set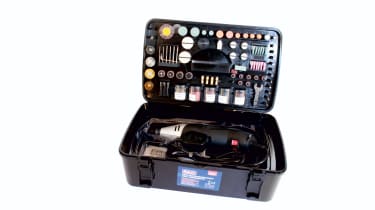 Price: Around £55.53 
Speeds (x1,000)/Watts: 8-35rpm/170W
Rating: 5/5
Contact: 01284 757500, www.sealey.co.uk
BEST BUY Despite a price hike of around £10 and some fierce competition from its Wolf doppelganger, the Sealey just about retains the top spot. As before, it featured a large, lidded box complete with a tote tray crammed with a huge range of more than 200 accessories. Underneath was enough space for a flexible drive and the tool itself, which offered a 27,000rpm range, good enough to cope with just about anything. The smooth motor whizzed quietly up to the maximum speed, and ripped through the bolt in a best-on-test-equalling 15 seconds.
Buy now from Amazon
Wolf 170W Crafter Ultimate Rotary Multi Tool and 217-piece Accessories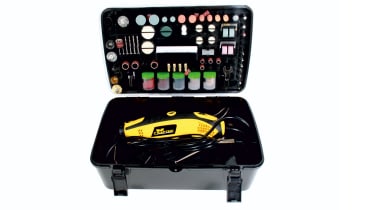 Price: Around £49.99 
Speeds (x1,000)/Watts: 10-35rpm/170
Rating: 4.5/5
Contact: 08448 092 592, www.ukhs.tv
RECOMMENDED Visually, it was hard to tell the difference between this and the Sealey, since the box, tote and most of the accessories looked identical. The tool, though, was different, with an all-plastic case (rather than metal and plastic) and 170W rather than the 135W in the Ultimate's previous incarnation. A flexible drive was included along with a bench stand, the only one of our eight to have one. The cutting performance of 23 seconds wasn't bad, but the motor was rather harsh and loud. Still, its price and two-year warranty keeps it attractive.
Buy now from UKHS
Draper 180W Rotary Multi Tool Kit 58300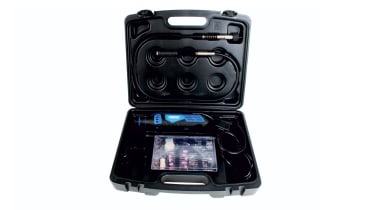 Price: Around £45.37 
Speeds (x1,000)/Watts: 10-35rpm/180
Rating: 4/5
Contact: 023 8049 4333, www.drapertools.com
RECOMMENDED We liked the Draper's hefty case, which was big and tough enough for a cordless drill. The bright blue tool was rated at a hefty 180W, with a top-mounted, sliding on/off switch and a rotary speed control that, unusually, listed the actual revs. The accessory collection was impressive, at 110 pieces, though it didn't match the 200-plus tally of the Sealey and Wolf. Our bolt-cutting time of 24 seconds was a bit disappointing, but the motor felt smooth enough. There's a two-year parts warranty, plus impressive instructions that have lots of useful information, tips and photos.
Buy now from Amazon
Dremel 3000-1/25 EZ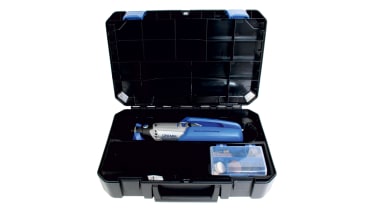 Price: Around £60.00 
Speeds (x1,000)/Watts: 10-33rpm/130
Rating: 4/5
Contact: 0344 736 0109, www.dremeleurope.com/gb/en
Despite being a mere 130W, the Dremel fairly raced to a bolt-cutting time of 16 seconds. It was shorter than its competitors and easier to use as a result. Unusually, there was no on/off switch, rather the top-mounted slider ran from 'off' to 10. Like its big brother, the instructions were comprehensive and it included the top-quality flexible drive. We liked the tote tray in the case, which included just 25 accessories (although these were genuine Dremel and included the excellent EZ Speed Clic mandrel/discs). A bit pricey, but a cracking piece of kit.
Buy now from Amazon
Dremel 4300 3/45
Price: Around £116.66 
Speeds (x1,000)/Watts: 5-35rpm/175W
Rating: 3/5
Contact: 0344 736 0109, www.dremeleurope.com/gb/en
In Dremel-speak, the model number denotes three tools and 45 accessories. The latter seemed quite mean, but we liked the circle cutter, multi-purpose cutting kit and flexible drive, which had a high-quality feel. We also rated the easy-to-use three-jaw chuck and the LED light directly over the nose of the device, which was very useful. The instructions were typically complete, with plenty of diagrams. The 175W motor was smooth and powerful, giving a great cutting time of just 14 seconds, but the price is high.
Buy now from Amazon
VonHaus Rotary Multitool & Accessory Set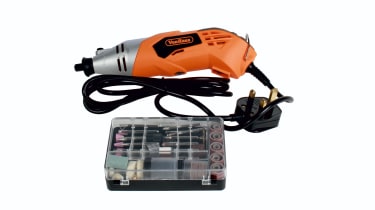 Price: Around £24.99 
Speeds (x1,000)/Watts: 8-30rpm/170
Rating: 3/5
Contact: www.vonhaus.com
The VonHaus was unique here in not having its own case. Priced the same as the kit we tried last time, the lack of storage was easily balanced by the boost to the tool's power, which upped the ante from 135W to 170W. Better still, it looks and feels very much like the Sealey, so was smooth, quiet and good to handle. Its cutting performance was exactly the same, at 15 seconds, and the spare set of carbon brushes for the motor was handy. A reasonable 120 accessories were included and the instructions and diagrams were decent. A good kit and well priced, but where's the case?
Buy now from Amazon
Tacklife RTD35ACL Rotary Tool Kit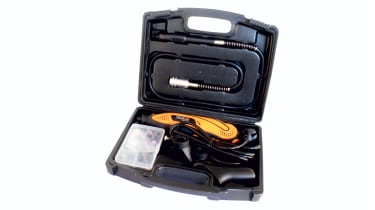 Price: Around £35.99 
Speeds (x1,000)/Watts: 10-32rpm/135
Rating: 3/5
Contact: www.tacklifetools.com
The Tacklife was another package that had seen a £10 rise since 2019. The instructions were reasonable, if somewhat limited, and the design similar to most all-plastic tools. It included a flexible drive and slotted neatly into the lid, while the base contained a box of 80 accessories. In addition, there was a very handy cutting guide, designed to keep the depth constant, and a useful handle for the front of the tool to aid accuracy. The 135W tool worked well, but we found it a little loud and vibratory, which was reflected in the cutting time of 24 seconds.
Buy now from Amazon
Silverline Multi-Function Rotary Tool 249765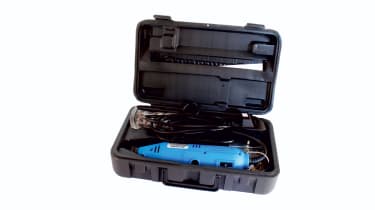 Price: Around £20.86  
Speeds (x1,000)/Watts: 10-32rpm/135
Rating: 2.5/5
Contact: 01935 382222, www.silverlinetools.com
You can't ignore Silverline's kit, which was easily the cheapest on test. Despite this, it came in a practical case with a small plastic box containing 45 accessories. We found the instructions very limited, with just a simple photo and no real information on offer. The motor spun up reasonably and didn't feel particularly stressed, although it made hard work of the cutting test, taking 28 seconds to finish. However, if you need a simple budget kit for occasional use that comes with an impressive three-year warranty, this might be the one for you.
Buy now from Amazon
Source: Read Full Article