'Stubbies' take a shot at claiming top spot…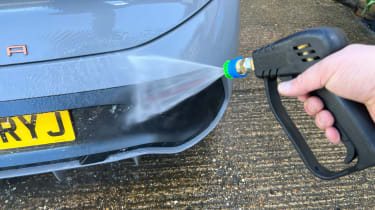 If you've watched a professional valeter at work recently, you may have noticed that their pressure-washer lance seems to have shrunk. A new type of 'gun', nicknamed a shorty or stubby, is the must- have gadget for car cleaners and detailers. 
Getting rid of the traditional lance lets you operate a pressure washer one-handed and also reach into areas such as wheelarches, door shuts and engine bays more easily. They can also make it easier to get a suitable angle to clean the roof on a taller vehicle or blast the grime away from sills close to the ground. 
While these stubbies are still rare as 'original kit' on a new pressure washer, there is a good selection available from car cleaning and valeting specialists. They connect to your standard machine, but you may need to buy a separate adapter or specify the fitment when ordering. 
We tried six to see what the fuss is about.
Best pressure washers 2023
How we tested them
We were looking for trigger guns that are light and easy to hold, so comfort was a crucial factor. All of the triggers we tested also included a safety lock-out to prevent accidental activation, but we checked to see how easy it was to engage and unlock this feature using only one hand.
Given that you'll be using the gun for an extended period, we also gave points for triggers which were light to operate, so you can avoid getting an aching hand.
All of the guns came with interchangeable heads to alter the spray pattern, so these were judged for ease of use. Finally, we took cost into account.
Verdict
We really liked the AVA Zero Force trigger. It was easy and comfortable to use with plenty of clever features. It's reasonable value too, and connects to your chosen washer's existing nozzles, which are usually adjustable with a simple twist. 
If you were looking for something a bit sturdier, the My Car Cleaning HP280 offers all you need. But if we didn't use our washer every day, we'd be tempted to save the cash and pick the Stone Banks. 
1. AVA Zero-Force Pressure Washer Gun
2. My Car Cleaning HP280
3. Stone Banks High Pressure Washer Gun
Reviews
AVA Zero-Force Pressure Washer Gun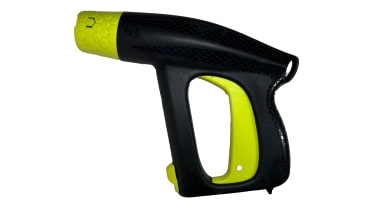 Price: Around £30  
Nozzles: None included
Rating: 5/5 stars 
Contact: avastore.co.uk
AVA is the first maker we know of which offers a 'stubby' gun  with all its washers. The lance's long section is removable and leaves just the trigger ready to accept the standard nozzles. 
The gun is available separately and works with most other makes of washer, too. Its star feature is a Zero-Force trigger that can be kept pulled with one finger, making washing less effort. We liked the neat trigger and nozzle locks. The only real downside is the AVA's size: it's the biggest here. 
Buy now from AVA Store UK
My Car Cleaning HP280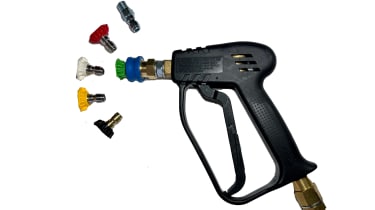 Price: Around £45 (including adapter)
Nozzles: 5, plus snow foam attachment
Rating: 4/5 stars
Contact: mycarcleaning.co.uk
Open the box and you might feel disappointed with the HP280. The plastic body and trigger feel and look a little cheap, and after just one use it was starting to look scruffy and scratched. 
But once in use, it was clear that all the parts that matter are made from solid brass, with sturdy connections for the five nozzles and a snow foam attachment included as part of the package. The hose connection rotates independently, too, making it less likely to cause kinks.
The price also includes an adapter for Kärcher K Series, Kranzle or Nilfisk washers, but it still looks a little pricey compared with its rivals here. 
Buy now from My Car Cleaning
Stone Banks High Pressure Washer Gun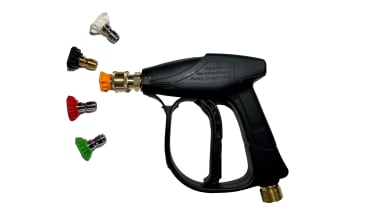 Price: Around £20 (plus £6.99 for adapter)
Nozzles: 5
Rating: 4/5 stars
Contact: amazon.co.uk
Stubbies don't get any cheaper than the Stone Banks, which cost us around £20, plus another £6.99 for the attachment to connect to our Kärcher K5 test machine. 
There's not much to betray the price, either, because it has the same style of brass fittings as the more expensive guns in this test. There are five colour-coded interchangeable nozzles with different jet fan angles, and it is easy to rotate them once they are fitted to get the right angle to clean safely in delicate areas such as door shuts. The bottom hose connection doesn't rotate, however.
The trigger is light, too, but the locking mechanism needs two hands to operate. 
Buy now from Amazon
Pressure Washer Parts Heavy Duty Quick Release Gun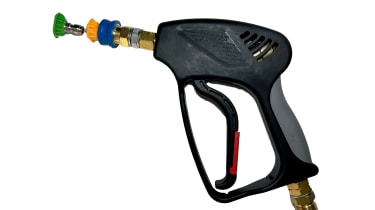 Price: Around £28 (including adapter)
Nozzles: 2, plus snow foam attachment
Rating: 3.5/5 stars 
Contact: ebay.co.uk
Besides being the second cheapest gun in this test, there is a lot to like about this stubby. Its rubberised handle means it is the most comfortable to hold and the safety lock is easy to operate with one hand, yet is still effective.
The gun also weighs a substantial amount, which gives it a high-quality feeling. The stubby tipped our scales at 890g, which was more than twice that of its Stone Banks rival, for example. But this soon becomes a disadvantage, because it quickly gets tiring to use with just one hand.
We are also surprised that this trigger gun is only supplied with two fan nozzles – a 15mm and 25mm – plus an adapter for a snow foam lance. 
Buy now from eBay
YUET High Pressure Washer Gun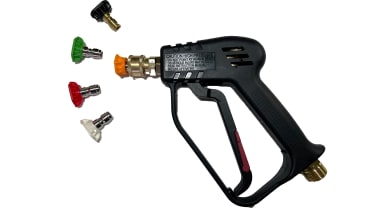 Price: Around £32 (including adaptor)
Nozzles: 5, plus snow foam attachment
Rating: 3/5 stars
Contact: amazon.co.uk
At first glance, the YUET looks identical to the My Car Cleaning HP280. Indeed, it seems as though the casing and five interchangeable nozzles are the same. But there must be differences to the internals, because the YUET has a stiffer trigger, which makes it tougher to use for longer periods, and has a jerky feel to the operation. It doesn't have the HP280's rotating hose connection, either, which means you must battle to avoid kinks in your hosepipe.
On the positive side, the YUET is light and compact with an easy-to-use trigger lock. It was also the only trigger gun in this test to arrive with operating instructions.
Buy now from Amazon
AVA Standard Go Washer Gun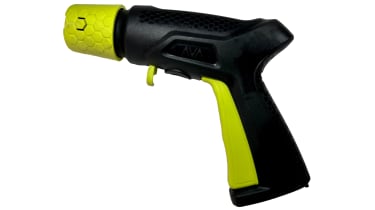 Price: Included with £144.90 Go washer
Nozzles: None included
Rating: N/A  
Contact: avastore.co.uk
If you haven't bought a pressure washer, but think you might like a stubby, it could be worth considering the AVA Go range of washers. These include a lance that can be converted into a stubby as standard. You simply untwist the long section of the lance and then connect the nozzle, snow foam bottle or other accessory as required. 
Unfortunately it's not the same as our winning Zero Force, though, and the trigger requires a hefty pulling force to use. This means you could get hand ache if using it for longer than a few minutes. It does, however, feature the same clever locking mechanisms as our champion. 
Buy now from AVA Store UK
Discover the kit which scrubbed up and won our 2023 Car Product Awards by clicking here…
Source: Read Full Article