We put six benches to the test to discover which is best for DIY mechanics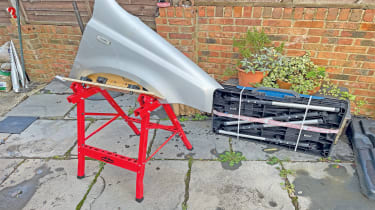 A workbench is an essential bit of kit for anyone who likes tinkering with their car or doing any other form of DIY. It allows you to hold, hammer, paint and polish parts away from the car, providing a means to keep you and the components safe and secure. You'll also find a workbench invaluable for clamping parts such as hoses and trim while they are being cut. Not all of us have the garage space for a full, fixed bench with a vice, but you can still find a decent compromise with a folding version. The original – the Workmate – was invented in the sixties by a Ford and Lotus car designer. 
Best tool bags 2021
Folding workbenches provide a safe platform to put parts on and clamp tight while you work on them. Once you're finished, the benches neatly fold away to maximise garage space. We put six designs to the test to see if the original Workmate has a vice-like grip on the Best Buy title, or a rival can set a new benchmark in our workshop
How we tested them
We tested the six top-selling folding workbenches from the biggest suppliers in Britain. We were looking for products that could fulfil a variety of DIY motoring tasks, such as holding a wheel for cleaning, grippin a pipe and providing a platform to hold a body panel.  
Stability is crucial, so we checked the benches for wobbles once they were erected, and also assessed how easy it was to operate the various functions, in addition to the folding and unfolding mechanisms.  Finally, we judged if they offered good value for money, using the best online prices we could find.
Verdict
All of the benches here had their unique qualities and will make life easier for the keen DIYer, so it comes down to value and versatility. If we didn't take price into account, we would have the clever Mac Allister. If the Black & Decker weren't on offer, the Mac Allister would be our winner, too, but we can't ignore the £20 price difference at the time of writing. We'd take the money and be happy with the Workmate. 
That saving is almost enough to buy the third-placed Minotaur. It's flawed in many ways, but we loved the ability to tilt the jaws to work on awkward items. 
Black & Decker Workmate WM536
Mac Allister Folding Workbench 850mm
Minotaur Tilt & Fold Workbench
Black & Decker Workmate WM536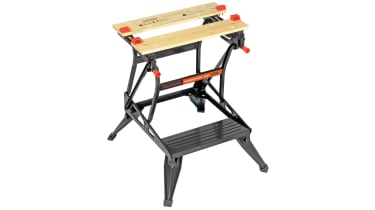 Price: Around £40
Max. weight: 250kg
Width: 610mm
Rating: 5 stars
Contact: homebase.co.uk
Black & Decker's Workmate has evolved and this version features dual working heights for different tasks and a whopping 250kg capacity, which is enough for a larger engine, axle or gearbox. We didn't try it with anything approaching that weight, but the bench felt perfectly stable with our wheel-and-tyre combination.  
The work surface boards are fixed horizontally, but the faces of the jaws are shaped to let them grip small, rounded items such as pipes and bolts. Folding is easy and the Workmate collapses down to a compact size. The price normally hovers around £59, but we found it on offer at Homebase for just £39. At this price it is great value and takes our win.  
Buy now from Homebase
Mac Allister Folding Workbench 850mm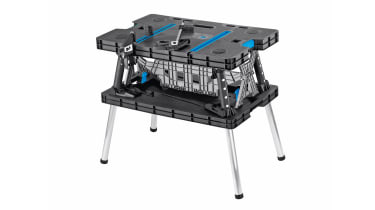 Price: Around £60
Max. weight: 180kg
Width: 850mm
Rating: 4.5 stars
Contact: screwfix.com
This bench is different from the rivals here because its main structure is made from plastic. This doesn't seem to hurt its capabilities, though, because the carrying capacity is 180kg – only beaten by the test-winning Workmate.  Its folding mechanism almost looks like a magic trick because it's so quick and easy. The workbench is neat and compact when it is stored, too. Once locked into the open position, there's a substantial work surface, which can be supplemented with two detachable clamps that are supplied. We loved the Mac Allister, but it can't quite justify the extra cost over the Black & Decker Workmate.
Buy now from Screwfix
Minotaur Tilt & Fold Workbench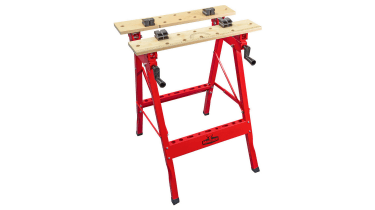 Price: Around £25
Max. weight: 100kg
Width: 605mm
Rating: 4 stars
Contact: toolstation.com
There's no arguing with the value for money of this Minotaur-branded bench from Toolstation. Despite the rock-bottom price, it has jaws that can tilt to 45 or 90 degrees, making it much easier to cradle and clamp awkward items such as wheels and large bits of trim. It's usefully wider than the other budget offering in this test from Silverline, too. 
The downside is a relatively low 100kg capacity and the half hour you need to invest on assembly. If your garage space is at a premium you might also need to consider storage, because the Minotaur is an awkward shape once folded. 
Buy now from Toolstation
Draper Fold Down Workbench 800mm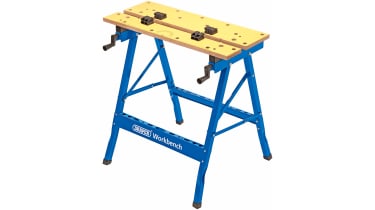 Price: Around £40
Max. weight: 120kg
Width: 800mm
Rating: 3.5 stars
Contact: drapertools.com
On the face of it there seems to be little reason why the Draper is worth twice the price of a bench like the Silverline. It has no special features such as dual heights or tilting work surfaces and looks pretty basic. But as reflected in its name, the Draper's main selling point is its 800mm width. 
Together with unequal-sized work boards, it makes dealing with large items much easier. It feels more stable, too, and its 120kg maximum capacity meant it was wobble-free even when loaded with our hefty wheel-and-tyre combination. A solid choice, but rivals offer more for less cash.
Buy now from Amazon
Silverline TB01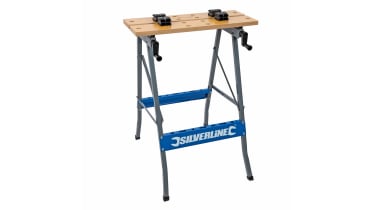 Price: Around £22
Max. weight: 100kg
Width: 560mm
Rating: 3.5 stars
Contact: silverlinetools.com
We couldn't find a workbench any cheaper than the TB01, so as you might expect, it's free of frills and requires about 30 minutes of assembly time. Yet once built, the Silverline does most jobs reasonably well, with horizontal-only clamping planks. These are less versatile, but the uncomplicated mechanism means it folds up smaller than the Minotaur for storage and weighs just 4.5kg, too. 
While the Silverline is fine for lighter tasks such as painting and cleaning, it did feel a little wobbly when loaded with our heavy wheel. We'd certainly be nervous about approaching the claimed 100kg maximum load capacity. 
Buy now from CEF
Clarke CFWB1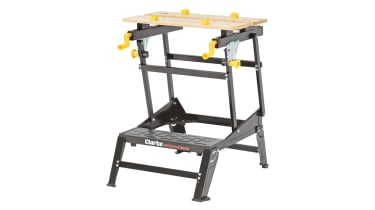 Price: Around £55
Max. weight: 150kg
Width: 715mm
Rating: 3 stars
Contact: machinemart.co.uk
Clarke's bench has some useful features, including a choice of two working heights for the work surface and a substantial 150kg load capacity, which is enough for an entire engine or gearbox from a smaller car. The plywood worktop is fixed in a horizontal position, though. 
The "step" is useful for steadying the bench while sawing and can be used to work on taller parts, such as the top of a body panel. The downside is that folding and unfolding the Clarke is a time-consuming business, with legs to be deployed and knobs to be tightened. But it is reasonably compact when folded. 
Buy now from Machine Mart
If you want to keep your workspace even tidier, click here to check out our list of the best tool bags.
Source: Read Full Article