With a legendary roster of fabulous performance cars in its illustrious history, here's our pick of the M power crop…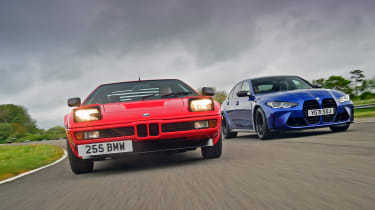 A short history of BMW M
BMW M was originally set up as the Bavarian brand's motorsport arm (M stands for Motorsport) in 1972 and quickly got down to business with its first car, the 3.0 CSL. The CSL's success on the track drove the decision to extend the M brand into the production car arena with the M1 supercar launched in 1978. That began the M series of production cars that's become a fixture at the top of BMW's model lines today.
Models like the BMW M3 and M5 have become synonymous with the cutting edge of road car performance over the years with the M division engineers taking conventional BMW saloons and working their magic to produce power-packed machines that are perfectly at home on road or track.
There's always been diversification from that core range too. M Roadster and M Coupe arrived in 1998 bringing M expertise to smaller sports cars and the M6 gave sharper teeth and a stonking V10 to BMW's 6 Series grand tourer in 2005. The Z4 M Roadster and Coupe models were introduced in 2006 for a short production run and the 1 Series hatch finally got a proper M car derivative in 2011 in the shape of the 1M Coupe.
In more recent years, BMW M has spread its wings further with the X5 M and X6 M, performance versions of BMW's large SUVs and the switch to even-numbered naming for BMW's smaller coupes has brought us the M4 and the M2. With the M-badged SUVs, BMW's M division has branched out into the realm of four-wheel drive after staying loyal to the usual rear-wheel drive layout and the technology has been used across the M car range.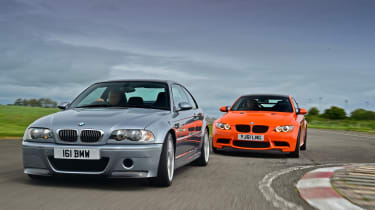 We've also seen a clutch of M Performance models that aren't quite the full BMW M car ticket but still offer a flavour of that uncompromising, driver-focused nature. The M135i and M235i did the job in the 1 Series and 2 Series ranges while the mighty X5 M50d and X6 M50d brought crushing diesel performance to the SUV sector. There was even an M760Li version of the 7 Series saloon for the ultimate blend of luxury and searing M car pace.
Five decades on, the M division has built more than half a million cars, at the same time underwriting BMW's reputation as a creator of some of the world's finest driver's machines. It's a reputation that many manufacturers have tried, and largely failed, to emulate.
Which is your favourite BMW M car? Join the debate in the comments section below…
Continue Reading
1

Introduction

– currently reading

With a legendary roster of fabulous performance cars in its illustrious history, here's our pick of the M power crop…

2

BMW M1

The M1 was a racing supercar for the road, and still sets pulses racing today

3

BMW M3 E30

Hailed as one of the best-handling cars ever, the original M3 is a nailed-on classic

4

BMW 3.0 CSL E9

Known as 'The Batmobile' the BMW 3.0 CSL was a proper homologation special for the road

5

BMW M3 E46

Great looks, great performance and a hardcore limited-run model to boot, the E46 BMW M3 had it all

6

BMW 1 Series M Coupe

M car fans had been crying out for a return to the ethos of the E30 M3, and the 1 Series M Coupe was it

7

BMW M635 CSi E24

The shark nose M635 CSi exudes retro charm today but still packs a mighty punch

8

BMW M5 E60/E61 Touring

M car estates are a rare breed but the E61 M5 Touring has an F1-inspired V10 engine to make it well worth seeking out and the E60 saloon wasn't bad either

9

BMW M5 F10

The F10 M5 moved from V10 to V8 power, proving that downsizing isn't all bad

10

BMW M3 GTS E92

Huge performance came at a huge cost but the M3 GTS remains one of the most focused M cars to be let out of the box

11

BMW Z3 M Coupe

The M Coupe is unlike any M car before or since and it still holds a place in the hearts of many fans, while others can't stand the sight of it.

12

BMW M3 G80

The G80 M3 offers huge performance and a massive technology count to go with its grille of epic proportions

13

BMW M5 E39

The E39 BMW M5 was the car that started the German saloon horsepower war

14

BMW M5 E28

The mighty BMW M5 E28 remains one of the finest performance saloons ever
Source: Read Full Article