The Assetto Corsa franchise has achieved a major milestone today, reaching €55 million in sales on Steam and topping €100 million of revenue in total.
The news comes from GTPlanet's exclusive interview with Marco Massarutto, co-founder and Executive Manager of Kunos Simulazioni, where we discussed the past, present, and future of the franchise.
https://youtube.com/watch?v=KnMbkLgA9xY%3Ffeature%3Doembed
It's a particularly satisfying achievement for Marco, who used to work multiple jobs with his co-founder just to get the company off the ground.
"When Stefano Casillo and I started to work together, we had two goals in mind: being able to stay in this business without having to do three jobs at the same time just to survive, and to share with other enthusiasts our vision of what a driving simulator could be," Marco said of Kunos' early days.
He cited the success of Gran Turismo on PlayStation was one of the motivating factors for originally bringing a game like Assetto Corsa to the PC.
"We always appreciated the efforts that Polyphony did for car enthusiasts for gamers, and something like that on PC was totally missing. Our goal was to create something for PC that could be familiar to the PC and console audience, […] with the better performance that a gaming PC can achieve compared to a console," he explained.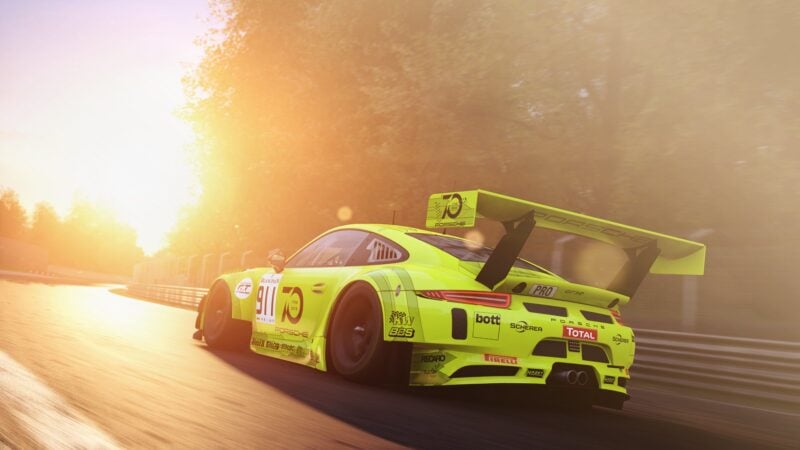 Assetto Corsa's Future
One lengthy area of discussion in our interview was the future of the Assetto Corsa franchise. Although a portion of Kunos' team is still working on Assetto Corsa Competizione, the company is already at work its next title.
"It's a bit too early to talk about it, but what I can say is that the next Assetto Corsa will keep its integrity and DNA as a genuine, 100% racing and driving simulation," Marco said.
Assetto Corsa Competizione brought a shift to the franchise as it made the jump from the original Assetto Corsa's custom-built engine to Unreal Engine 4. What game engine will power Kunos' next title has not yet been decided, but Marco's comments offer a fascinating look at both the pros and cons the small development team faces when determining the best path forward.
"At Kunos Simulazioni, we are not just a 'video game producer'; we are also a technology provider, and we like to be a technology provider. When we moved to Unreal Engine, we lost a part of our DNA in some way because we were totally focused on the product," Marco said.
"We are in the R&D phase at the moment to evaluate our possibilities, and Unreal Engine 5 is right around the corner. Our focus is providing [the best] gaming experience for the consumer; this is the first goal we have in mind."
Assetto Corsa Game Mods
User-generated content for Assetto Corsa remains an incredibly popular aspect of the game for PC players — the Assetto Corsa Mods thread in GTPlanet's forums, where users swap and share mods, remains one of the most popular on our site with over 66,000 posts and 10.5 million views.
Kunos has been shocked at what third-party developers have been able to achieve in its game. The company has even used the modding community as a recruiting tool, bringing some of the best and most skilled "modders" in-house to help develop official content.
"More than one time we saw what people did with Assetto Corsa and we said, 'How the hell did they do that?' Some of the content is just amazing," Marcos remarked. "We have at least four or five people working in the company today as full-time employees that come from the modding [community] because they have proven themselves to be very, very talented."
Of course, "modding" has a darker side as well, which Marco touched on. "The only thing I don't like at all is when I see content from other games refitted into Assetto Corsa. I think it is just unfair. It doesn't add anything to the experience, […] and they are not adding any additional value to themselves or the game."
Assetto Corsa Esports
Assetto Corsa Competizione has found itself at the forefront of one of the most ambitious (if not controversial) racing esports efforts of 2021: the Fanatec GT World Challenge.
Competing pro teams' drivers will take part in esports events at each race, and the points they score will contribute to the team's points for the overall championship.
Despite being part of such a high-profile series, Marco is keenly aware that for esports to be a success, it needs to be more inclusive of the larger player base.
"There are a lot of people that would like to join the competitions — not just for Assetto Corsa, but for any racing game or simulation — but they feel discouraged to do that because they know if they are just one or two seconds slower than the best, there is no way for them to fill that gap, and sometimes they just give up," Marco said. "We need to create different classes of gamers and racers, so that they can feel more comfortable to compete together."
https://youtube.com/watch?v=KnMbkLgA9xY%3Ffeature%3Doembed
Watch the Full Interview
Of course, this article just scratches the surface of everything we discussed with Marco during our 45-minute chat. We covered a wide range of topics, including:
Making the leap from PC to consoles
Why Assetto Corsa Competizione is a separate title
Stefano Casillo's current involvement with Assetto Corsa
PlayStation 5 and Xbox Series X development
Kunos' hiring of Ferrari's Valerio Piersanti
The story behind the cat in Kunos' logo
…and more!
Timestamps for each section are included in the YouTube video description.
Thank you to Marco and his team for arranging this interview, and keep an eye out for more Assetto Corsa coverage from in the future!
Source: Read Full Article