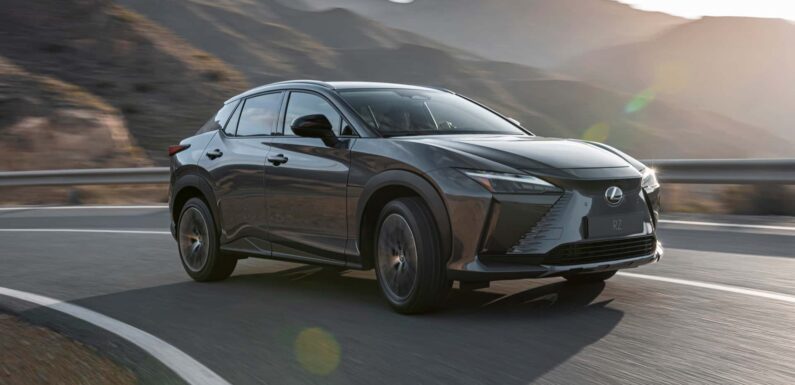 About half a year after its sales debut in the United States, the all-electric 2023 Lexus RZ 450e is available with a massive $15,000 lease cash discount. That's the most impressive deal so far on the electric crossover, superseding the previous $10,000 lease cash offer from July.
Lexus did not say if the $15,000 discount includes the $7,500 federal tax credit baked into leases for non-U.S.-made EVs, but we suspect it does. We asked the company for clarification and we'll update this story when we hear back.
According to dealer bulletins seen by CarsDirect, the $15,000 in lease cash offer runs for the entire month of November and is responsible for a significant drop in monthly lease payments – up to $140 per month.
For example, the 2023 Lexus RZ 450e Premium, which costs $59,650 to purchase outright, can be leased for $499 a month for 36 months with a down payment of $5,999 on the West Coast. The lease deal has a 10,000-mile per year limit. The effective cost is $666 per month, which makes the Lexus RZ $90 cheaper to lease than it was last month, according to CarsDirect.
The Lexus RZ is seeing a significant drop in monthly lease payments on the East Coast as well. The luxury electric crossover can be had for as little as $519 per month with $4,999 due at signing; that's a $140 price cut.
Interestingly, the new lease prices make the Lexus RZ 450e comparable to the popular Lexus RX, which also costs $499 a month to lease in California. The 2024 Lexus RX 350, which starts around $52,000, can be had for a $499 monthly lease payment with $5,999 at signing. Basically, you can lease a Lexus RZ for the same price of an RX, which is some $8,000 less expensive to buy.
The $15,000 lease discount for the RZ 450e is available in most parts of the U.S., but Lexus doesn't offer any rebates for customers who want to buy the electric crossover and not lease it. Does this mean Lexus is also cooking some generous discounts for purchases?
We'll just have to wait and see, but for now the starting MSRP for the 2023 Lexus RZ 450e stays the same at $59,650, including destination.
Since the RZ went on sale in the U.S. in the first quarter this year, sales exceeded 2,500 units through September. Sharing the platform with the Toyota bZ4X, the Lexus RZ 450e is powered by a 71.4-kilowatt-hour battery that offers a manufacturer-estimated range of up to 220 miles. A standard dual-motor AWD system offers a combined 308 horsepower and 320 pound-feet of torque. That's good enough for a 0-60 mph time of 5.0 seconds.
But while the RZ has received high marks for its performance and comfort, it has also been dinged by reviewers for its uncompetitive range, slower fast-charging speeds than many rivals and less-than-stellar tech features. Lexus, and parent company Toyota, say they have much better EVs on the way in the next few years. With any luck, those will put the Japanese brand in a much more competitive position. 

Source: Read Full Article