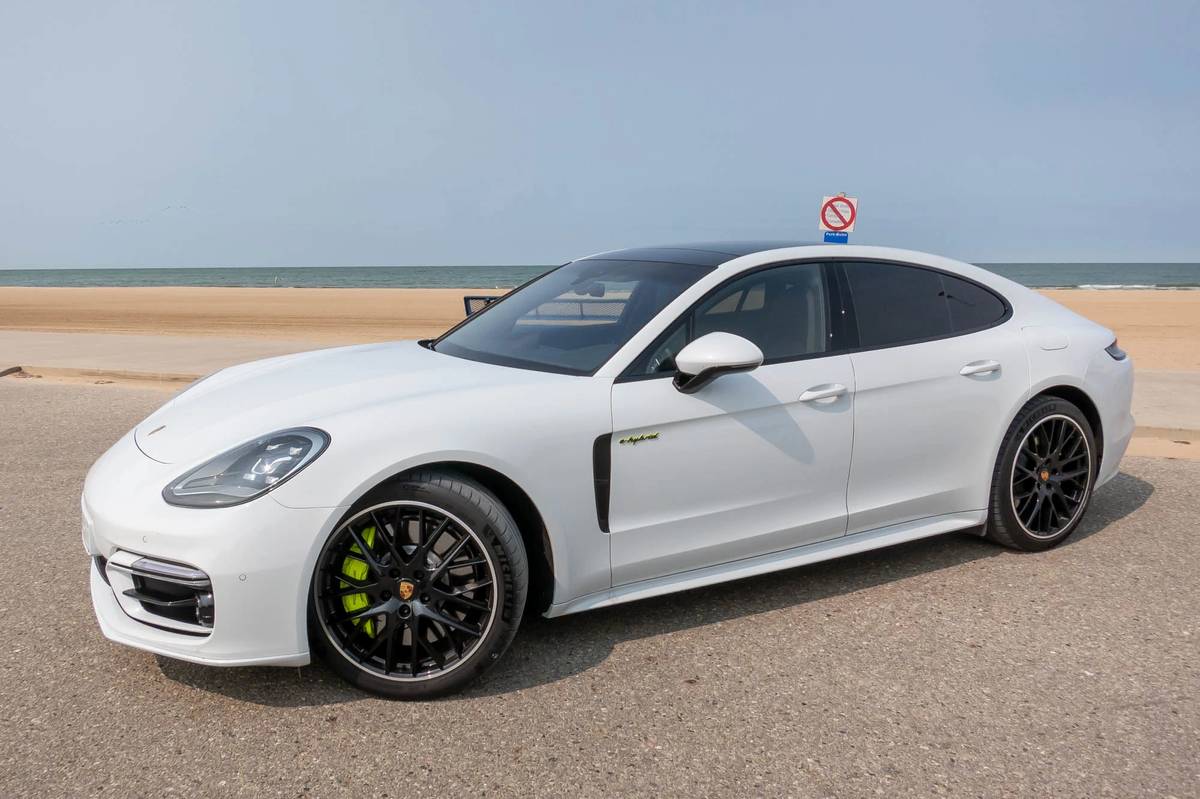 The 2021 Porsche Panamera 4S E-Hybrid is blisteringly quick proof of what the German make is famous for doing with all its high-performance machinery. Porsche takes a successful recipe — in this case a luxurious sedan — and keeps the strong power and razor-sharp handling that fans of the brand expect. Engineers then up the game with even higher levels of performance, agility and, in this case, electric driving range.
Related: 2021 Porsche Panamera 4S E-Hybrid Review: An Efficient, High-Performance Cruiser
The result is a luxury sedan with the refinement of a Mercedes-Benz S-Class or BMW 7 Series. Yet, this plug-in Panamera also delivers the driving thrills found in more extroverted rivals, such as the Mercedes-AMG GT and BMW 8 Series Gran Coupe. Our recent test drive of the Panamera 4S E-Hybrid proves this sedan delivers everything customers with six-digit buying power demand from a vehicle. Yes, the Panamera's price is high, but direct rivals are similarly expensive and lack the cutting-edge hybrid powertrain found beneath its sheet metal.
Be sure to read our Aaron Bragman's complete review of the 2021 Porsche Panamera 4S E-Hybrid above. For an accelerated take on this hybrid-powered Porsche that punches its way from 0-60 mph in as little as 3.5 seconds, keep reading below.
Things We Like
1. Style Statement 
The Porsche Panamera is not going to be everyone's cup of four-door luxury sedan tea. While the current generation has banished some of the awkward bumps and lumps that marred the original design, its looks remain polarizing.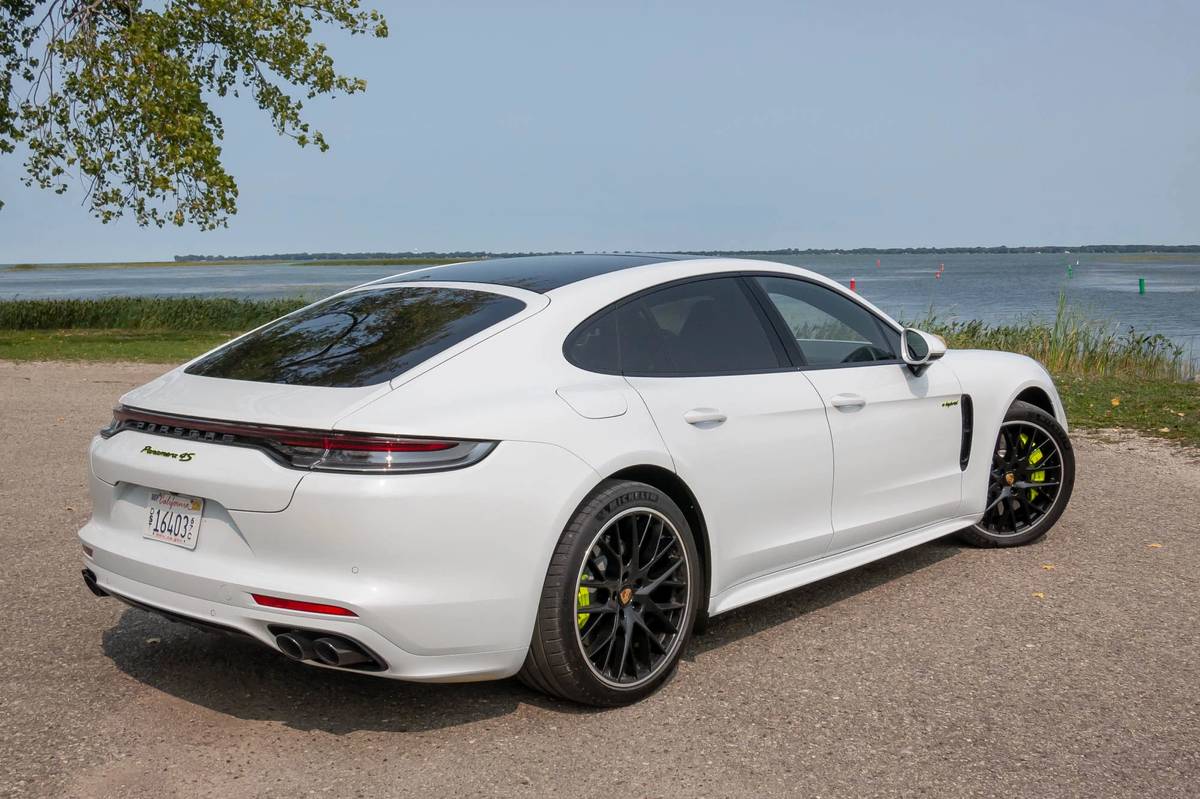 For the most part, we think the Panamera works nicely as an elongated version of the venerable 911 sports car. The handsome, new-for-2021 taillights now span the entire width of the car, while updated front and rear bumpers give it a sportier overall appearance. Sure, it's not for everyone. But a Panamera turns heads where many rivals fade into the background.
2. Power
As the (long) name indicates, the Panamera 4S E-Hybrid makes a nominal nod toward earth-saving alternative energy … except this wouldn't be a Porsche if it didn't streak down the road when you punch the gas pedal. Thanks to a twin-turbocharged 2.9-liter V-6 paired to an electric motor and 17.9-kilowatt-hour lithium-ion battery pack, the Panamera has a total output of 552 horsepower and 553 pounds-feet of torque. That's enough to rocket this sedan from 0-60 mph in only 3.5 seconds when you employ launch control.
3. Range
Sometimes you want to cruise lazily along and not burn rubber at every opportunity. A Panamera 4S E-Hybrid owner has the option to roll down the road using nothing but quiet electric power. Porsche estimates an electric-only driving range of around 20-25 miles. That won't keep Tesla Model S owners up at night, but it provides the Panamera with enough charge for short errands and quick commutes.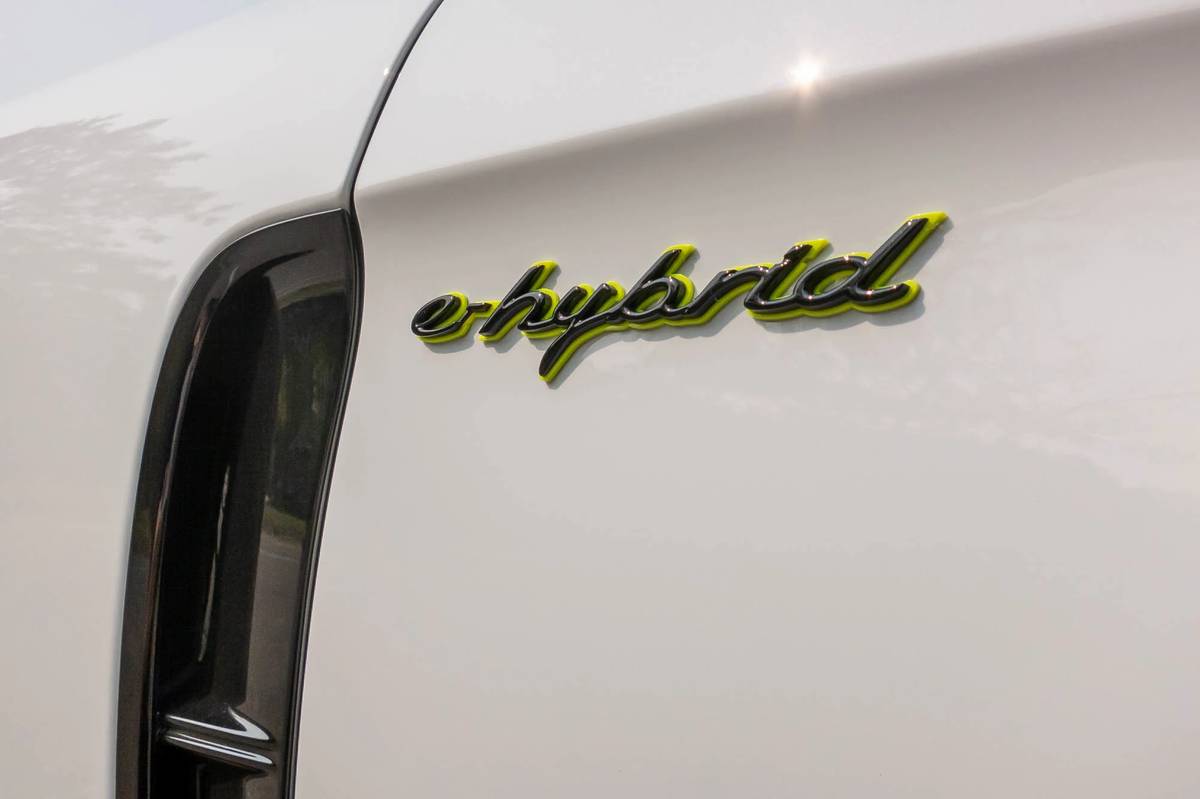 4. Self-Charging (to a Point)
Plugging the Panamera into a charging station is an obvious way to recoup battery power, but it's not your only option. In Sport and Sport Plus drive modes, the twin-turbo V-6 acts as an onboard generator and can boost the battery to 80% of a full charge. So, even if you forget to plug in, electric driving isn't a lost cause.
5. Elegant Interior
The Porsche Panamera impresses when you step inside. The cabin materials are high-quality and everything looks businesslike without being dour or too minimalistic. A BMW 7 Series or Mercedes-Benz S-Class are ultimately cushier, but the Panamera has a sportier flair.
6. Quiet, Composed and Crazy-Quick
You can cruise in near whisper-quiet comfort, or punch the gas and unleash this sedan. For a car with this level of performance, it's amazing how the Panamera is such a willing long-distance traveling companion. To coddle rear passengers with more space, the long wheelbase Executive model is available, which provides nearly 6 inches of added rear legroom.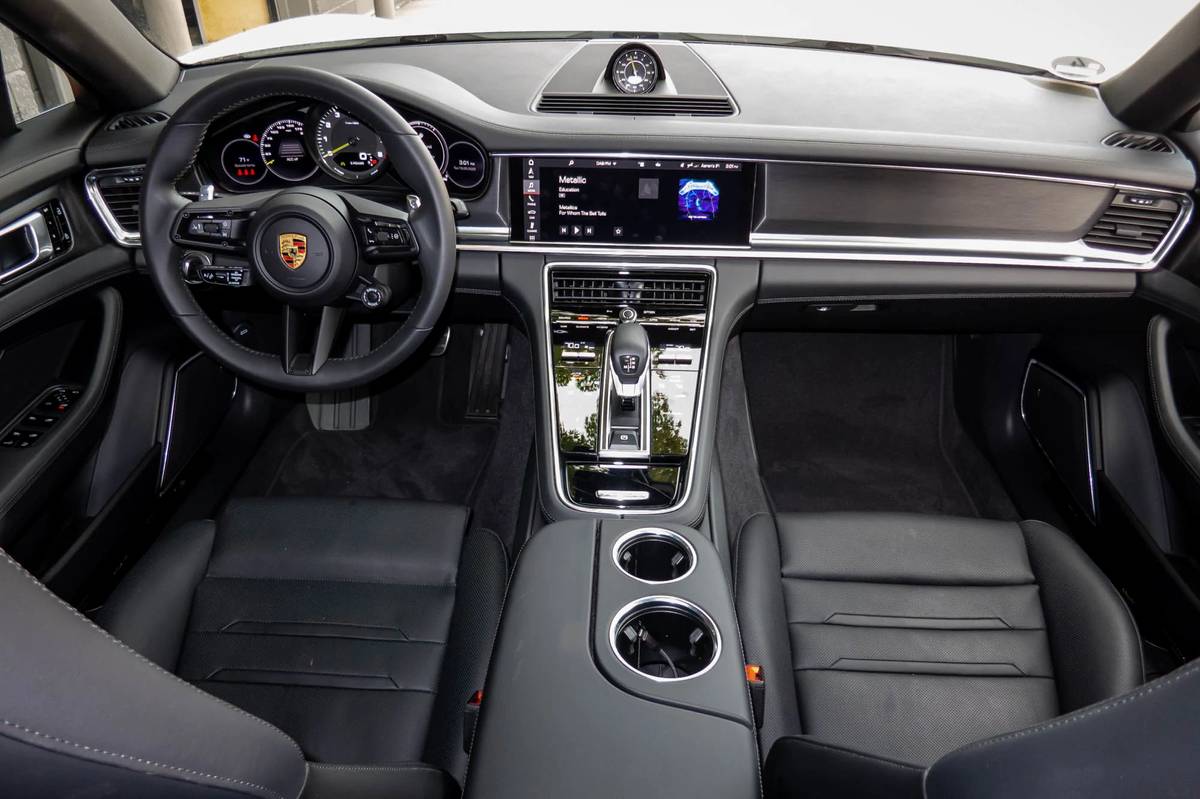 7. Price
With options and destination fee included, our Panamera 4S E-Hybrid test vehicle's price hovered around $130,000. That's a big chunk of money, though the competition isn't exactly bargain-priced; throw everything onto a Mercedes-Benz S-Class and you'll zoom past $200,000. Buyers in this class aren't looking for bargains — they're searching for style, power, technology and comfort. The Panamera 4S E-Hybrid delivers on all counts.
More From Cars.com:
2021 Porsche Panamera Hybrid Lineup Packs More Power, Range

2021 Porsche 911 Targa 4: 7 Pros and 3 Cons

2021 Porsche 911 Targa 4 Review: All the 911 Goodness, Just Breezier

More Porsche News

Research the Porsche Panamera
Things We Don't
1. Polarizing Design
The design of the Panamera works against it for many people. Yes, it stands out in a crowd; then again, so does wearing a sequined suit, clogs and beanie hat. For super-luxury sedan buyers who prefer incognito transportation, the Panamera remains a tough sell.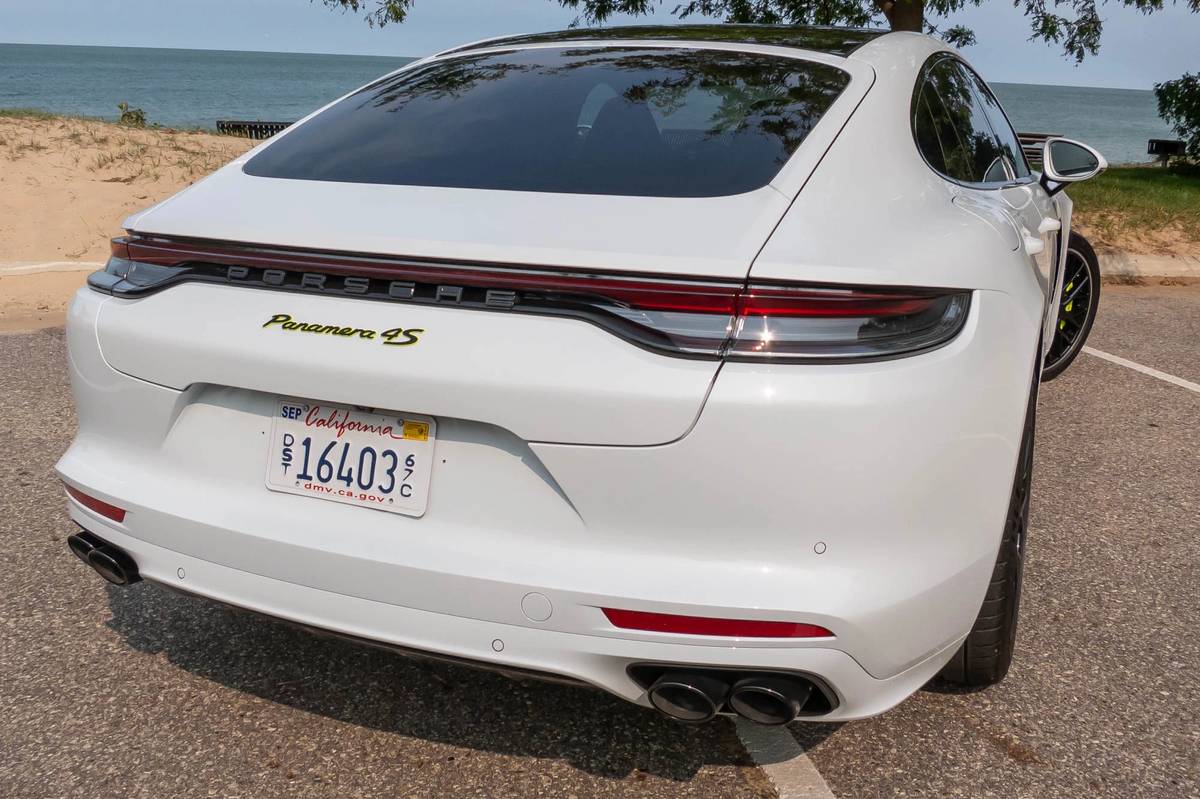 2. Rear Legroom 
Despite its size, rear legroom isn't anything more than acceptable in the Panamera. You can opt for the Executive version but, in our review, we noted this model adds "wonkiness" to the exterior design. (See above for comments related to "polarizing design.")
3. Quirky Controls
The cabin is cool and classy, though the climate controls appear an afterthought in the design. The haptic-touch surfaces make it difficult to know if you've pressed an actual function, especially when you're focused on driving. Not helping matters is a transmission shift lever that blocks some of the controls.
Related Video: 
Cars.com's Editorial department is your source for automotive news and reviews. In line with Cars.com's long-standing ethics policy, editors and reviewers don't accept gifts or free trips from automakers. The Editorial department is independent of Cars.com's advertising, sales and sponsored content departments.
Source: Read Full Article