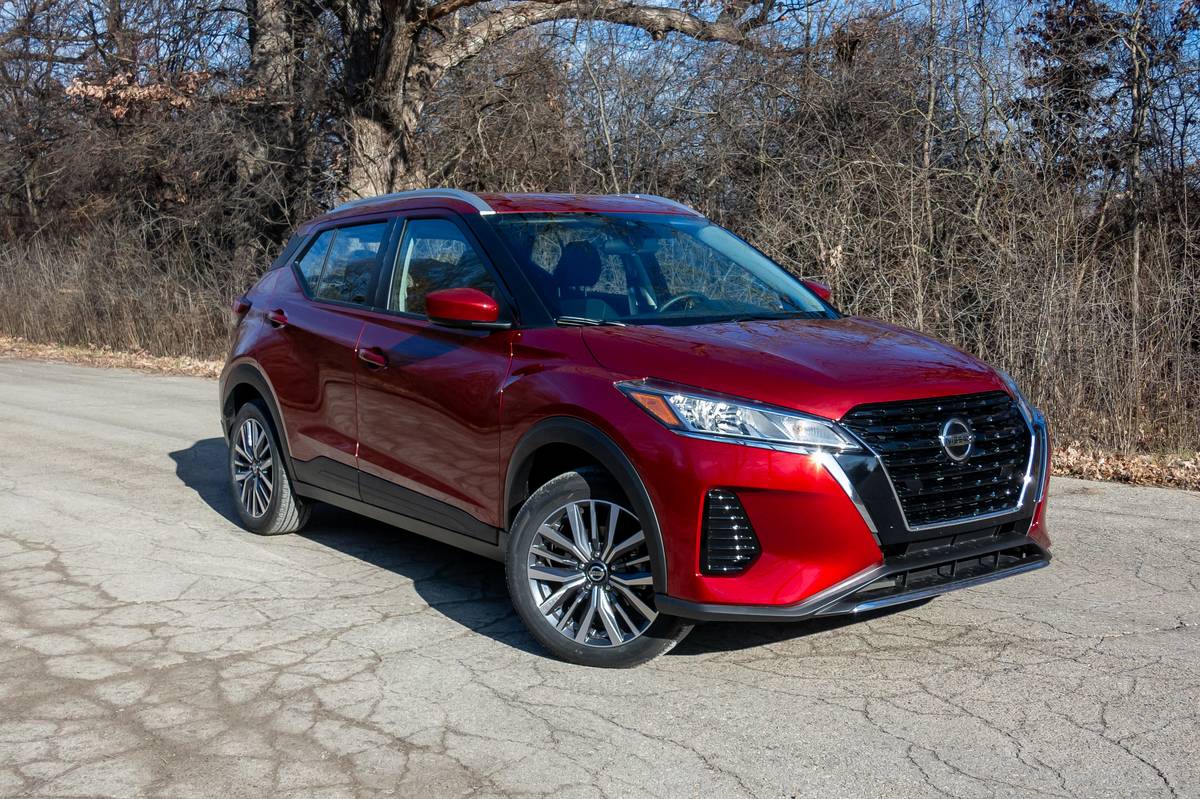 The verdict: Still cheap, still cheerful, the 2021 Nissan Kicks keeps its tech current while adding some customizable flair.
Versus the competition: With its solid combination of safety equipment, multimedia tech, versatile interior space and value pricing, the Kicks holds its own against competitors like the Hyundai Venue, Kia Soul and other front-wheel-drive-only tiny SUVs. That lack of all-wheel drive keeps it from being fully competitive against models like the Ford EcoSport, Hyundai Kona and Honda HR-V.
The cheap and cheerful end of the SUV showroom is getting a lot of attention from automakers as buyers continue to eschew subcompact hatchbacks and sedans in favor of the slightly larger, slightly taller SUV-style models. Tall crossovers like the Nissan Kicks, Hyundai Venue and Honda HR-V are replacing the Nissan Versa, Hyundai Accent and Honda Fit in the eyes of consumers as the more desirable entry-level models. They're more expensive than their sedan counterparts, but that hasn't stopped buyers from making them their choice. In order to keep the Nissan Kicks competitive in the wake of a growing field of competitors, the brand has released a slightly refreshed version for 2021 with some subtle changes inside and out that it hopes will keep the diminutive runabout fresh. 
Related: 2021 Nissan Kicks: Subtle but Welcome Improvements
Looks a Little Sharper
Nissan has done a good job updating the look of the Kicks to more closely fit in with the rest of the redone Nissan showroom, all of which is getting a redo as part of the global Nissan Next product update plan. There's a new grille, headlights, foglights, bumper and trim up front, and revised taillights and trim out back. The look is a very slight change, but it does modernize the Kicks a bit more, and it helps to draw the eye to a wider look even though the car's track measurements haven't changed at all. There are also some new wheels available, which are themselves customizable.
Nissan is introducing a new program that will allow Kicks buyers to personalize their rides through the Kicks Color Studio, which will offer more than a dozen colored elements — including wheel caps and inserts, mirrors, interior vents and more — that can be mixed and matched in ways to suit the buyer's tastes. We haven't yet seen what might be accomplished through use of the Color Studio, but the car itself does benefit from all of the styling changes that have been made. It sports the now-ubiquitous, optional, two-tone floating roof treatment that nearly all SUVs seem to have adopted, but its edgy styling does differentiate it from more generic boxes like the Hyundai Venue and Ford EcoSport. The difference between the 2020 and 2021 model Kicks is subtle, and you'd likely have to park one next to the other to spot the changes, but the new aesthetic is more attractive than the outgoing one. 
Hope You Aren't in a Hurry
Powering the Kicks is a dinky 1.6-liter four-cylinder engine making 122 horsepower and 114 pounds-feet of torque. If that doesn't sound like a whole lot of grunt, that's because it's not. It's mated to a continuously variable automatic transmission that actually does a decent job of keeping the engine in its limited power band, giving the Kicks the descriptor of "adequately powered, but only just." Let's put it this way: In a stoplight drag race between a new Kicks and new 121-hp Hyundai Venue, neither would win. If you want more power, you'll have to look to a Kia Soul, Honda HR-V or a turbocharged Jeep Renegade. But the lack of any sort of sportiness or alacrity to the drivetrain is OK, as the steering and handling aren't tuned for entertainment purposes, either. The Kicks rides quite nicely, absorbing bumps and road imperfections with impressive damping, but it's also a bit floaty, leaning more than you might expect in corners or on highway on-ramps. The steering is highly boosted and not blessed with a quick ratio, but again, this isn't a ding against the Kicks, as the SUV is basically designed to do one thing well: be cheap, reliable, useful urban transportation. 
The benefit of seemingly being powered by a band of lethargic gerbils is fuel economy that tops the list of competitors: 31/36/33 mpg city/highway/combined, unchanged from the 2020 model year. You won't achieve those levels if you drive it with a heavy foot, but if you're using the Kicks as it's intended to be used, these numbers should be achievable. Part of the reason they're achievable is that the Kicks is available only with front-wheel drive, similar to vehicles like the Hyundai Venue and Kia Soul, and unlike the Honda HR-V, Ford EcoSport and Jeep Renegade that offer optional all-wheel drive.
This really is intended as a city car, one you'd buy if you have limited parking space, fight narrow streets filled with delivery trucks all the time, or need a basic conveyance to get you and friends or cargo around town easily. In that role, the Kicks excels — lower-speed stop-and-go traffic is where it truly feels most at home, with excellent outward visibility, surprisingly good sound insulation and an upright, high-sitting driving position that makes you feel like you're piloting something other than a dinky little subcompact SUV. It's not that the Kicks can't handle the highway — it does so rather well, with a surprising amount of steady high-speed calmness for such a small vehicle. It's just that the compact dimensions, clever packaging and ease of use lends itself to tighter urban environments instead of America's wide interstates. 
New Tech, Nicer Inside
The interior gets a little love from Nissan in this refresh, as well, but just like the outside, changes are minimal and designed to further improve the experience, not dramatically change it. First and foremost is the new optional 8-inch touchscreen; a 7-inch screen (2020's only offering) is still standard. The new 8-inch model feels big in this compact interior, and all versions now feature standard Apple CarPlay and Android Auto, another thing that used to be optional. The rest of the interior looks largely the same, with Nissan insisting there are new materials, new vents, new trim and new covering material for the dash and doors. A new center console armrest replaces the previous driver-seat-mounted armrest, but it's still too small and too low to be of any use for actually resting your arm.
The interior isn't overly spacious, but it doesn't feel cramped. The seats sit high but are oddly firm and not terribly comfortable for longer missions. Backseat room is adequate, with decent room for two to sit without their knees pressed against the front seatbacks. It doesn't feel like it has the bountiful legroom of a Nissan Versa or Sentra, but it'll do for getting friends to dinner across town or younger kids to soccer practice. The cargo area is surprisingly large, with a deep well and a surprising reach from the liftgate to the rear seatbacks that make for more room back there for luggage or boxes than you might expect to find. Of course, those seatbacks fold to increase the cargo area, but they don't fold flat; they remain raised above the level of the cargo floor, so the surface isn't totally flat for larger items. 
More From Cars.com:
Nissan Teases

Future Lineup, Including Next-Gen Z Car, Amid Massive Shakeup

Nissan Launches Online Shopping Program

2021 Nissan Kicks: Subtle but Welcome Improvements

Research the Nissan Kicks
The cabin is competitive with others in the class thanks to the updated multimedia system, the option of up to four USB ports (two type A, two type C), and its acceptable level of space and utility. The Honda HR-V still feels like it has a more cavernous cargo area, especially with its trick folding backseat stowed, and the Hyundai Venue's interior feels a bit more upscale, with a multimedia system that simply seems better designed and a level of standard safety systems that hasn't yet been beaten. But the Kicks feels like an easily viable alternative to any of them, with its subtle improvements keeping it in the hunt for those first-time buyers seeking something new and relatively affordable with all the latest tech, a solid level of standard safety equipment and a value equation that definitely works in its favor. It's a decidedly competitive entry to the burgeoning field of entry-level vehicles and should be on anyone's consideration list when shopping for one.
Full pricing for the 2021 Kicks was not yet available at the time of publication, but overall pricing is not expected to be appreciably different from the outgoing 2020 model given its starting price of $20,595 (including destination), a modest $430 increase.
Related Video:
Cars.com's Editorial department is your source for automotive news and reviews. In line with Cars.com's long-standing ethics policy, editors and reviewers don't accept gifts or free trips from automakers. The Editorial department is independent of Cars.com's advertising, sales and sponsored content departments.
Source: Read Full Article