The verdict: A redesign has lowered the Chevrolet Suburban's cargo floor and finally made its rear seats accommodating for adults, among other improvements.
Versus the competition: It's struggled to compete with the Ford Expedition on the space front, but the new Suburban's more commodious seats put it in the game — and class-leading cargo volume and an exclusive diesel engine are new claims to fame.
The Chevrolet Suburban has been many things for many decades; it's one of the longest-running model names in the U.S. market. (Chevrolet says it's the longest-running, but we're not the arbiter of such matters.) What the Suburban hasn't been for nearly the past two decades is competitive against the Ford Expedition Max (previously known as the Expedition EL) in one important regard: backseat roominess.
For 2021, that's finally changed with the redesign of both the Suburban and the Chevrolet Tahoe. The Tahoe is essentially the same model as the Suburban, just shorter in length (by 15 inches as of 2021). The Tahoe is reviewed separately, but I'll refer to it frequently here, both because it allowed us to sample the second of the two gas engines these models offer, and because it has shared the Suburban's past shortcomings — and then some — compared with Ford's shorter competitor, the Expedition. (So you're aware, the GMC Yukon and Yukon XL are siblings of the Tahoe and Suburban. They were also redone for 2021, and the top trim level is reviewed here. The GMCs are priced slightly higher and have more features, but if you find it unclear why both pairs exist, that's understandable. See them compared side by side.) We tested the Suburban's highest trim level, a 2021 Suburban High Country 4×4. Other trims, in ascending order, are the LS, LT, RST, Z71 and Premier.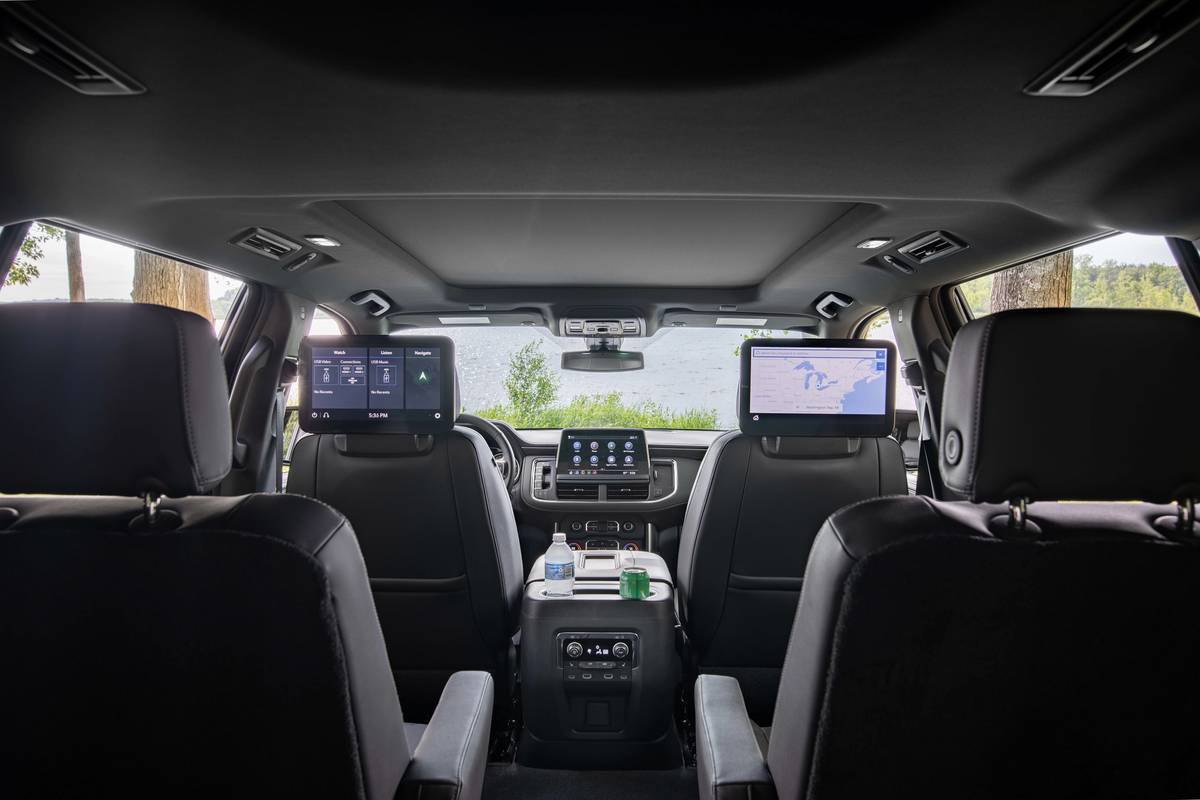 Adults Welcome
Is seating the most important aspect of a giant towing machine like this? Maybe not, but there is an assumption that something as large as a Suburban must also be the roomiest choice — enough so that some large families overlook minivans and large three-row crossovers, like Chevy's own Traverse, assuming they'll have to accept the bulk and lower gas mileage of a full-size, truck-based SUV in order to accommodate a large clan. Not necessarily.
Body-on-frame trucks just aren't space-efficient, but that didn't stop Ford engineers from finding a way to incorporate portals into the frames of the 2003 Expedition for axle shafts to pass through, which allowed for an independent rear suspension and the roomiest third row of all time. In the 18 model years since, the Expedition has accommodated adults in true comfort, even in the wayback, while Tahoe and Suburban third-row passengers have felt like they were sitting on the floor.
To be fair, Chevrolet (and its GMC sibling) wasn't alone in this. When we tested four full-size SUVs head-to-head, the Expedition stood out as the only model with high scores for both second- and third-row comfort, earning an average of 8.3 and 8.7 out of 10 points, respectively. The 2018 Tahoe averaged 6.7 and 3.7, the 2018 Nissan Armada 7.0 and 4.0, and the 2017 Toyota Sequoia 6.3 and 7.0.
Things might shake out differently today. The 2021 Tahoe has gained 10.1 inches of third-row legroom versus the previous generation, and the Suburban has an additional 2.2 inches. (This is a key difference of the Chevys: The Suburban always gave some of its added length and wheelbase to the third row, where the Expedition's seats have the same [good] dimensions in both the standard and Max version, and the latter just tacks on additional cargo space behind them.) The changes are best illustrated in the video:
I still don't think the Tahoe's or Suburban's third rows are as good as the Expeditions', because they could be higher, but they're no longer practically on the floor, and the seating is definitely much more competitive now overall.
The second rows have also gained legroom over the previous generation — 3 inches in the Tahoe and 2.3 inches in the Suburban — and both sit higher. They're narrower than I'd like, but we've said the same about the Expedition. The second-row seats now slide, which is a first for these models, offering about 5.5 inches of travel. The adjustment works pretty well when you're seated, but they require some muscle to move if you're standing outside the SUV. We were also a bit disappointed that Chevy didn't follow the lead of Ford and other automakers by providing a second-row slide-to-enter function to access the third row, which allows you to leave a child-safety seat installed. Chevy's design tumbles the seat forward, which complicates things if you have a car seat in place.
Powertrains and Suspensions
The Suburban comes with one primary gasoline-powered V-8: a 355-horsepower 5.3-liter. If you're willing to step up to the level of our test vehicle, the High Country trim level, you'll get a 420-hp, 6.2-liter V-8. A turbo-diesel 3-liter Duramax  should be available to order as early as this month, but we haven't tested it yet. It's rated 277 hp and 460 pounds-feet of torque and will be available more broadly than the 6.2-liter; it'll be optional on the LS, LT, RST, Premier and High Country.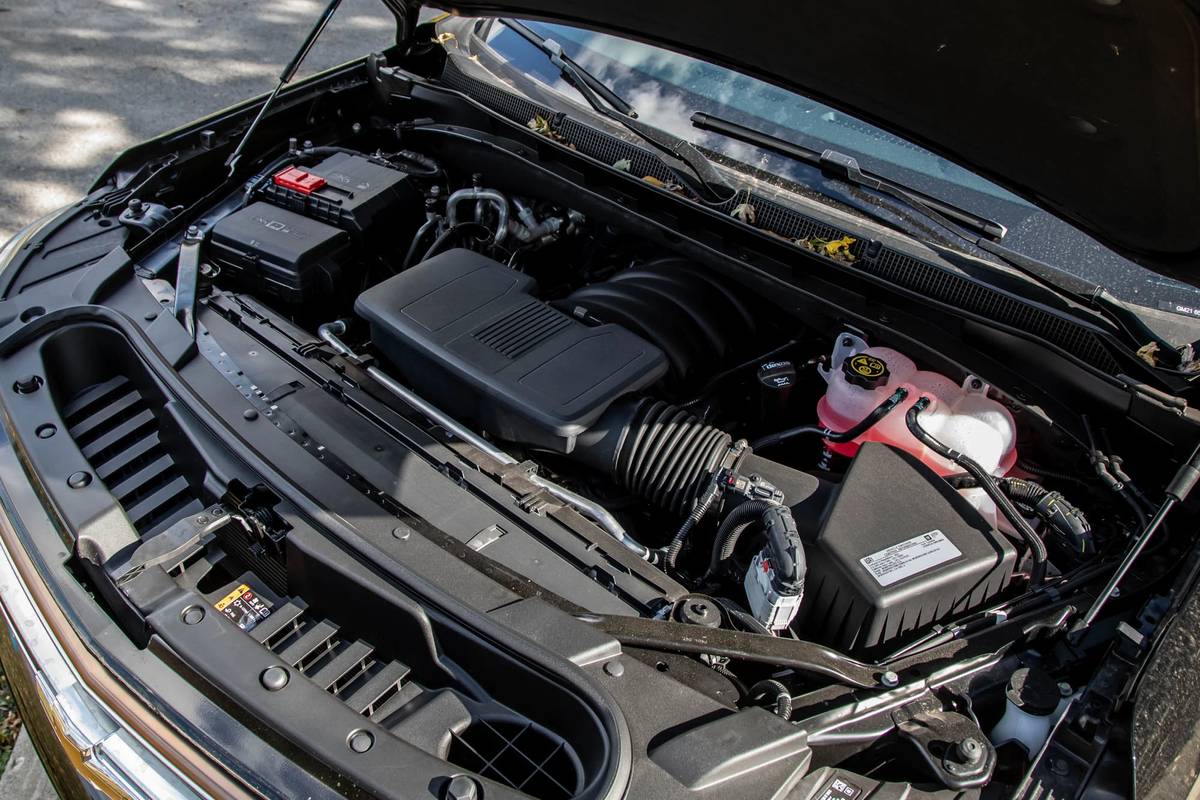 Not surprisingly, the 6.2-liter is the better of the Suburban's gas engines. It has gobs of power at any speed, and it sounds great, too. The 5.3-liter, which we experienced in a Tahoe Z71, is also quite good, but the 6.2-liter has 460 pounds-feet of torque, versus 383 pounds-feet in the 5.3-liter, making it a better choice of the two for towing (the diesel is sure to be popular for that duty, as well). The 10-speed automatic transmission is nicely behaved with either gas engine, though the 6.2-liter naturally requires less shifting to tap into the available power. That power comes at a cost, though. Apart from the lower gas mileage detailed below, the 6.2-liter prefers premium gasoline. It can run on regular, but the owner's manual recommends 93 octane for best performance and fuel economy.
New driving modes have also been added for 2021: Sport and Off-Road join the existing Tow/Haul mode. Once again, the Expedition has had modes like these for a few years. The Suburban's mode selector — a rotary knob on the dashboard to the left of the steering column — varies the usual characteristics, like accelerator sensitivity and transmission shift patterns. Only if you have one or more of the available adaptive suspension systems do the modes make more noticeable changes, such as firming up the ride in Sport mode (Magnetic Ride Control shock absorbers) or raising the vehicle for improved ground clearance in Off-Road mode (Air Ride Adaptive Suspension). Air Ride also can be adjusted manually, within limits, to vary the ride height up to 4 inches, or programmed to automatically lower it to an access height when you put the transmission in Park. The real value of these systems is what they do when you're not thinking about them, such as optimizing shock absorption in real time based on road conditions, or raising and lowering the body, both for aerodynamics and to keep the Suburban level when towing or hauling.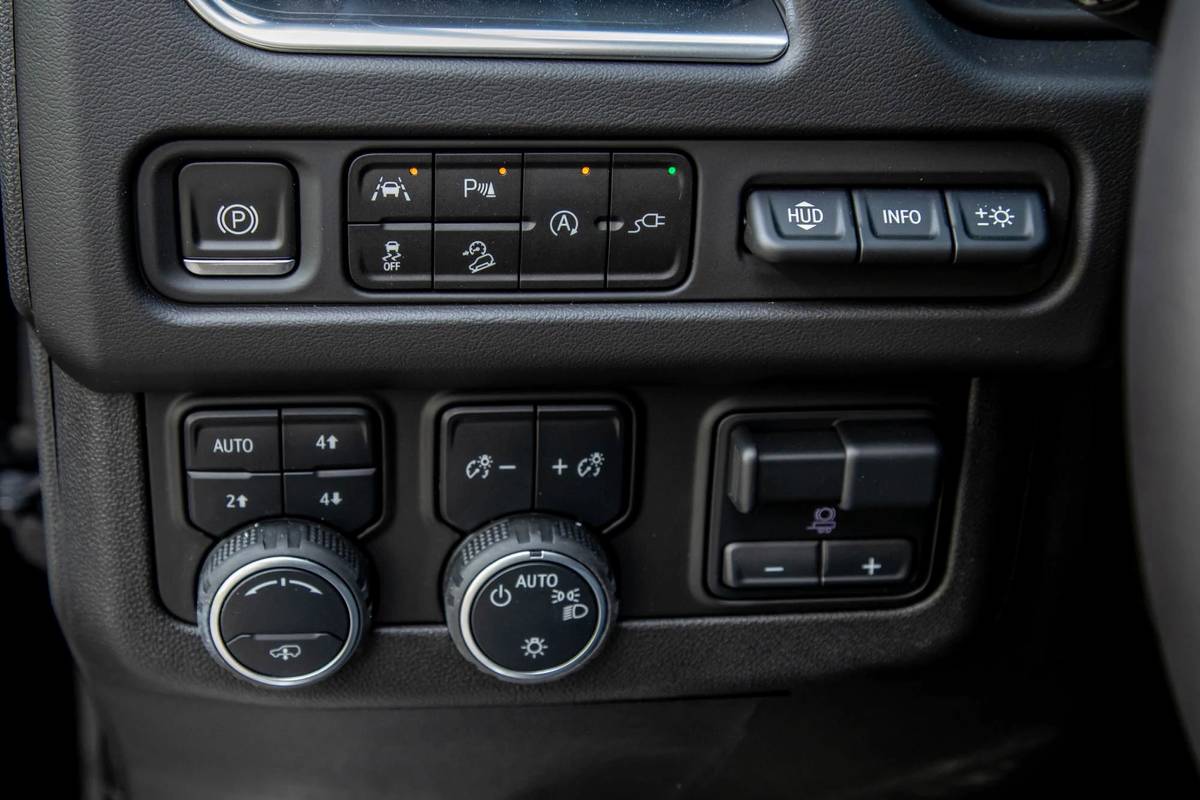 Both our test vehicles had the Air Ride Adaptive Suspension (it's available, standard, only on the Z71 and High Country) and Magnetic Ride Control (standard on the High Country and Premier, optional on the Z71), so we unfortunately can't comment on the Suburban's ride and handling without them (we'll update here when we can). All versions get a new independent rear suspension.
You still feel some shudder in the structure after larger bumps — a drawback of body-on-frame vehicles that seems insurmountable — but it's improved over the previous generation and typical of the class. The combination of the Suburban's air springs and Magnetic Ride shocks on our test vehicle did a great job smoothing out the ride overall, though most of our editors detected some impact harshness we suspect resulted from our High Country's giant, 22-inch wheels and less-compliant, short-sidewall tires. Even high-tech suspensions can do only so much, and I suspect smaller wheels would help. Yes, big wheels look good, but there are downsides, including replacement costs in most cases. According to Tirerack.com, an original-equipment replacement tire for the Suburban's 22-inch wheel is $322.72. For the 20-inch wheel, it's $188.56. (Cost does depend on brand, model and other factors; for example, the 18-inch tire on the base Suburban lists for $225.73 despite being smaller, but in general larger is more expensive.)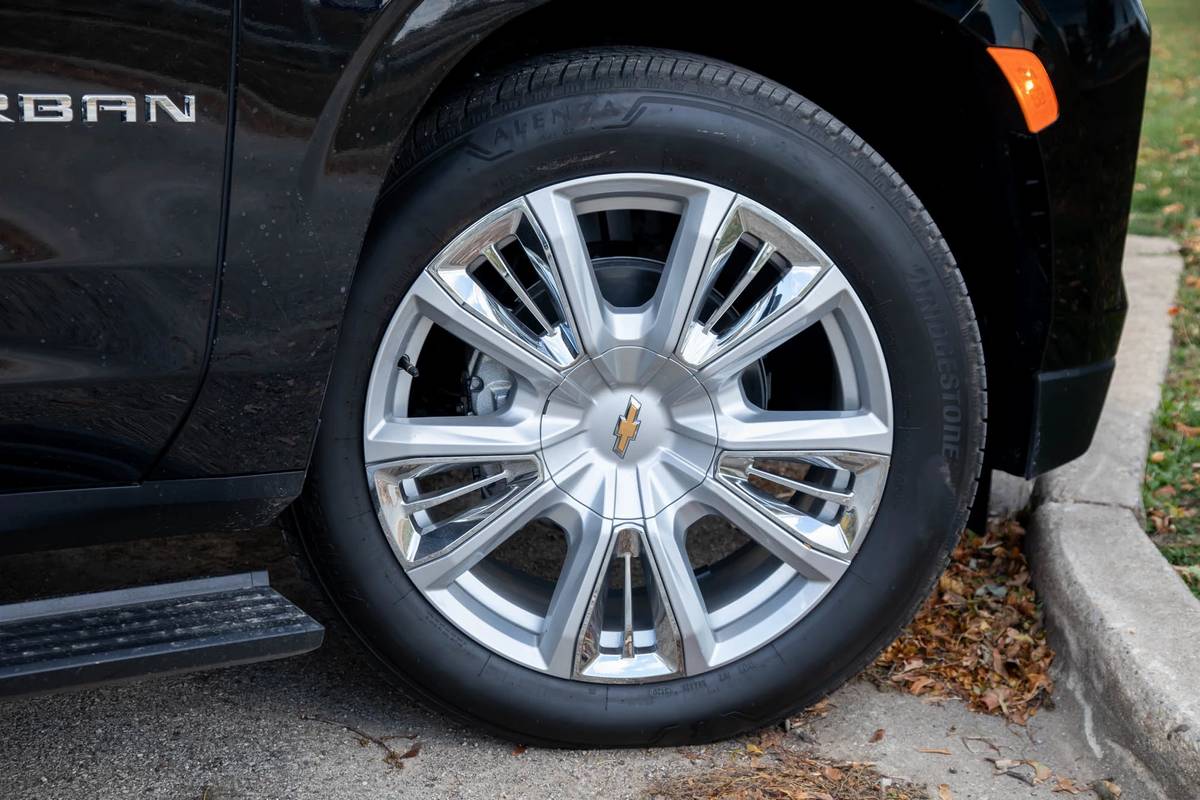 Gas Mileage
Both gas engines feature Dynamic Fuel Management, a sophisticated form of cylinder deactivation that can operate on individual cylinders. Even so, the 2021 Suburban's EPA-estimated gas mileage is essentially unchanged from 2020: The 5.3-liter V-8 is rated 16/20/18 mpg city/highway/combined with rear-wheel drive and 15/19/17 mpg with four-wheel drive. The 6.2-liter is rated 15/20/17 mpg (RWD) and 14/19/16 mpg (4WD) with recommended (but not required) premium gas, as detailed above. The Expedition Max, which comes only with a turbocharged 3.5-liter V-6, is rated 17/23/19 mpg (RWD) and 16/21/18 mpg (4WD). In our experience, Ford's EcoBoost engines suffer more dramatic efficiency drops when towing than do GM's naturally aspirated powertrains.
For those keeping score, 4WD versions of the 2020 Nissan Armada (whose 2021 ratings were unavailable as of publication) and 2021 Toyota Sequoia both rate lower than the Suburban despite being smaller overall, at 15 mpg and 14 mpg combined, respectively (see all four models).
By-Wire Braking
If you test-drive a Suburban, pay attention to the brake pedal. The brakes use a by-wire system — a design that's proliferating in the market. Rather than using engine vacuum to provide power assist, they employ an electric motor, and there's no direct connection between the pedal and the brake master cylinder during normal operation. To be clear, by-wire electro-hydraulic brakes are potentially superior to the conventional type in terms of consistency, power, overall efficiency and other important characteristics, especially as vehicles become more electrified and automated, but there are some growing pains. Some of these systems feel artificial, numb, grabby or objectionable in some other way. The Suburban's by-wire brake pedal isn't the worst I've experienced from GM (that would be the Cadillac XT4), but neither is it the best (the newly redesigned Chevrolet Corvette claims that honor). Check it out before you buy, because what you experience is what you get.
Interior Quality and Usability
Chevrolet has improved the 2021 Suburban's interior quality, especially in higher trim levels like the High Country we drove. Bear in mind, however, that our test vehicle, as equipped, was priced over $84,000. The previous generation's price could also reach pretty high, but its quality didn't compare. If you want even richer environs, the GMC Yukon Denali is incrementally better, and the also-redesigned 2021 Cadillac Escalade ESV is several steps above both — especially its display and control systems.
Overall, the Suburban's standard 10-inch touchscreen is well-executed and navigable, and it reacted quickly during our time with it. If anything, I'd like to see a permanent row of menu buttons, like Jeep and Ram provide in the Uconnect system — even when Android Auto and Apple CarPlay are displayed — to minimize the steps required to change functions. As it is, you have to go back to a home screen every time in the Suburban; fortunately there's a mechanical button for that. There's also a back button, but it's inconveniently located down with the audio controls.
The redesign also moves transmission control from a conventional column shifter to a set of push-buttons (and pull-buttons) to the right of the steering wheel. I don't mind how they work, but I was fine with the old way, and this arrangement takes up a lot of space, driving the trailer-brake controller and buttons for the available head-up display out of sight, behind the steering wheel on the left. The Escalade has a console shifter, but it still hides the trailer brake controller — and it doesn't offer one of the Suburban's new claim-to-fame options. …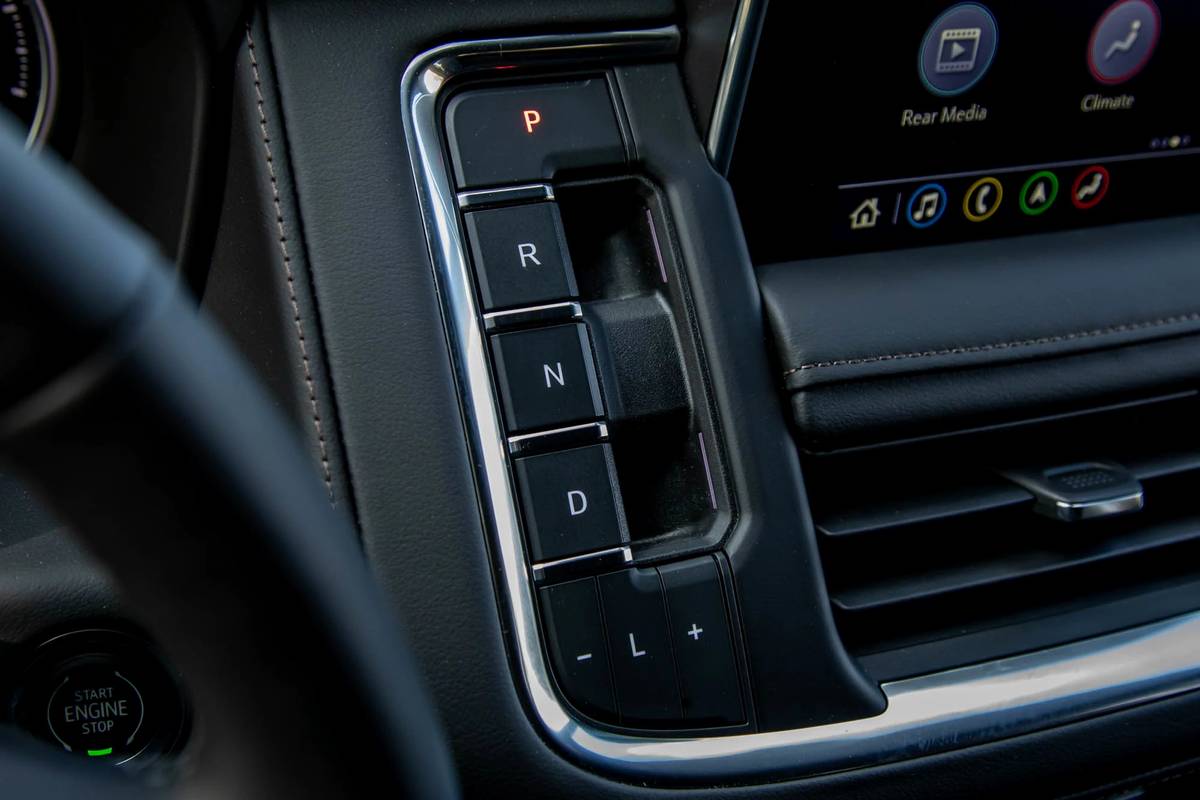 Advanced Safety: Waiting for Super Cruise
The 2021 Suburban is something of a paradox when it comes to advanced safety systems. Historically stingy in this regard, Chevy is finally beginning to expand its list of standard features and trim levels eligible for upgrades. The Suburban is also now capable of wireless updates, allowing virtually any code-based feature to update, upgrade and evolve over time. This also means new features can be added, provided they don't require additional hardware. Unfortunately, just such a lack of hardware leaves the 2021 model with one competitive disadvantage already. …
But first, what it does have: The Suburban's standard safety suite includes a backup camera, forward collision warning with automatic emergency braking and pedestrian detection, and rear parking sensors. Optional on lower trims and standard on the Premier and High Country is a Driver Alert Package, which adds lane departure warning with lane keep assist, blind spot warning, rear cross-traffic alert and front parking sensors.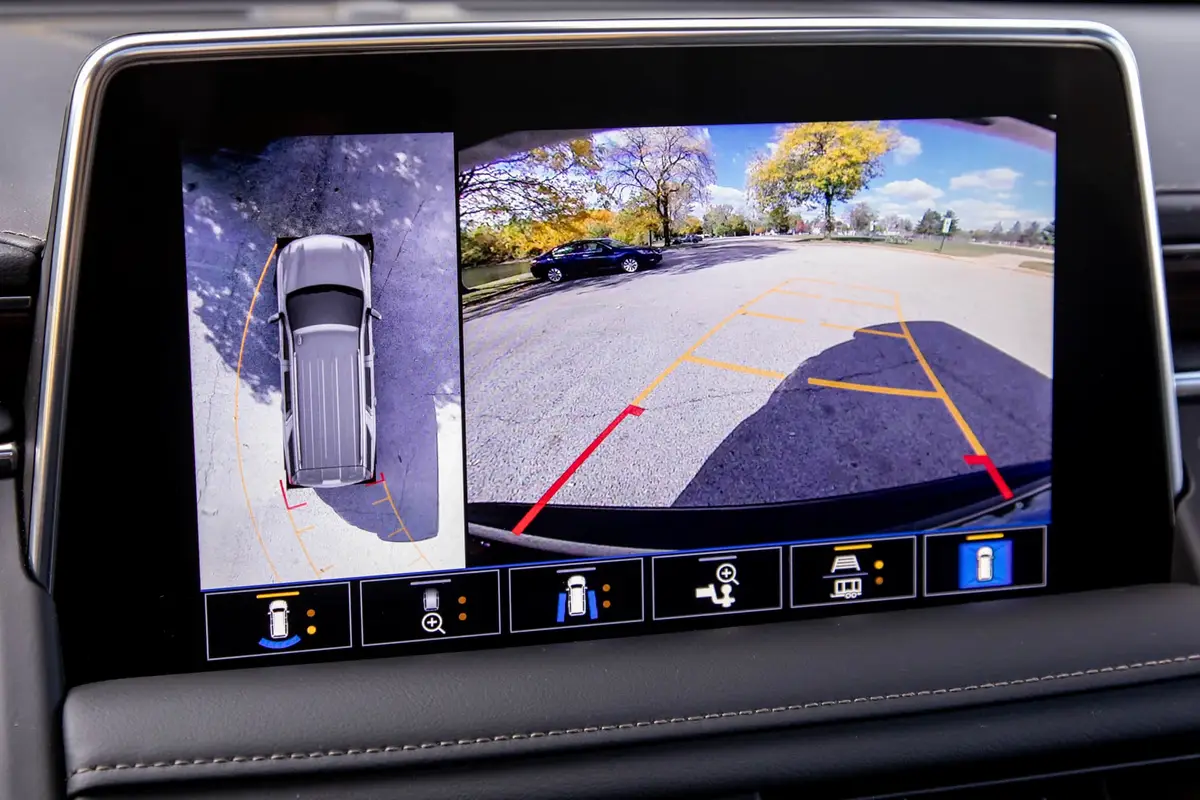 The Enhanced Display and Alert Package, which is standard on the High Country and available on the Premier, adds a 360-degree camera system, a full-time rearview camera mirror with its own camera washer, rear pedestrian alert and a giant, information-rich head-up display that I found terrific. We don't normally get to test such things, but as I was driving toward a sharp curve in the road, the pedestrian detection system picked up a couple walking at precisely the right place on the sidewalk to fill the whole 15-inch head-up display with a flashing pedestrian warning. It was damn impressive.
What 2021 Suburban buyers must do without is lane-centering, a feature available in models of all sizes and prices that helps keep a vehicle centered in its lane. The Suburban's lane keep assist mentioned above prevents it from straying too far out of its lane, but it allows pinballing from side to side; it's more reactive than proactive. GM is all-in on Super Cruise, an ambitious automated-steering system Cadillac debuted that's supposed to spread to other GM brands, but we're still waiting. As a result, 2021 Suburban buyers must do without any type of lane-centering, be it assist or full hands-free. Chevy has confirmed that Super Cruise requires additional sensors both outside and inside the vehicle, so it can't be added after vehicle purchase in spite of the vehicle's wireless updatability.
Cargo and Storage: New Claims to Fame
Chevrolet now counts cargo among the Suburban's claims to fame, with an additional 2.2 cubic feet of volume behind the redesigned SUV's third row and 23 additional cubic feet when all seats are folded, giving it a class-leading 144.7 cubic feet. Another major improvement: The cargo floor is more than 5 inches lower than in the previous generation, which was a common complaint about the old Chevy.
In the Premier and High Country trim levels, you can power-lower and raise the third row and remotely fold and tumble the second-row captain's chairs via buttons, both in the driver's overhead console and at the liftgate. These buttons don't, however, raise the seats again.
GM has had a thing for hidden storage compartments for years, but the Suburban delves into new territory. I'm not referring to the standard cubby to the right of the touchscreen, which has a sliding cover; that's nifty, but not exactly hidden. The optional power-sliding center console can be motored back as far as 10 inches by pressing a rocker switch in the overhead console, opening up a nice flat surface for larger items, like purses. It also exposes a truly hidden drawer, which explains why the traditional storage space under the armrest isn't as deep as you might expect. You can also slide the armrest forward to maintain comfort for front occupants. It's a great idea, but ours didn't stay put when pushed back, sliding forward under braking. It was a mild annoyance.
One neat aspect of this feature is that the switch can be locked out when the Suburban is in valet mode, preventing access to the hidden drawer. Also, moving the console backward puts the rear pair of cupholders closer to the second-row captain's chairs. On the downside, this feature is an affordable option only on the Premier and High Country trim levels, where it'll cost you only $350. That's the same price it is on the LT, RST and Z71, but adding it requires a big option package as a prerequisite, raising the price a whopping $3,540, all told. The feature is available on the Tahoe, Suburban and Yukon, but not on the Escalade.
Tow, Off-Road or Look Elsewhere
So why choose a full-size truck? The best reason is towing, which lighter vehicles simply can't do as well. Properly equipped, the 2021 Suburban's trailering capacity tops out at 8,300 pounds (with the 5.3-liter and RWD) versus 5,000 pounds for a Traverse. The Suburban's standard towing capacity, ranging from 7,800 to 8,000 pounds, is higher than the Expedition Max's standard 6,600 pounds, but Ford gives its model a higher maximum rating of 9,000 pounds with the Heavy-Duty Trailer Towing Package.
Each Suburban has a placard specific to its vehicle identification number showing its towing limit as-equipped, a GM exclusive. The new Suburban's towing experience is complemented by options we've appreciated in the Silverado pickup truck, like side blind zone alert for the trailer and many of the same camera views, some of which can be seen for a few seconds at full speed. It also has a helpful Trailering App in the touchscreen. What it doesn't offer is something like Ford's amazing Pro Trailer Backup Assist.
Another advantage real trucks like these have is their capacity to do real off-roading, because their four-wheel-drive systems are durable enough and offer a four-wheel-drive low range, which separates off-pavement posers from real off-roaders.
Having laid out the Suburban's claimed cargo superiority, it bears noting that this is still a lot of truck for the cargo volume you get — and that's the nature of truck-based full-size SUVs. By our measurements behind the vehicles' second rows, even the more roomy 2021 Tahoe is right on par with a much-smaller Volkswagen Atlas for cargo volume. The Suburban does provide more cargo volume than either of those models, but not more than a 2021 Toyota Sienna minivan (again, behind the second rows). Both the Atlas and the Sienna take up less exterior space than a Suburban and have combined gas mileage as high as the low 20s, rather than the high teens like the GM trucks and their direct competitors. It's something to consider, both for your expenses and for the environment.
More From Cars.com:
2021 Chevrolet Suburban and Tahoe: More Quantity, More Quality
2021 Chevrolet Suburban and Tahoe: The General Did Its Homework
2021 GMC Yukon, Yukon XL: Growing in the Right Ways
2021 GMC Yukon: A Denali as Nice as It Should Be
Research the Chevrolet Suburban
Cars.com's Editorial department is your source for automotive news and reviews. In line with Cars.com's long-standing ethics policy, editors and reviewers don't accept gifts or free trips from automakers. The Editorial department is independent of Cars.com's advertising, sales and sponsored content departments.
Source: Read Full Article