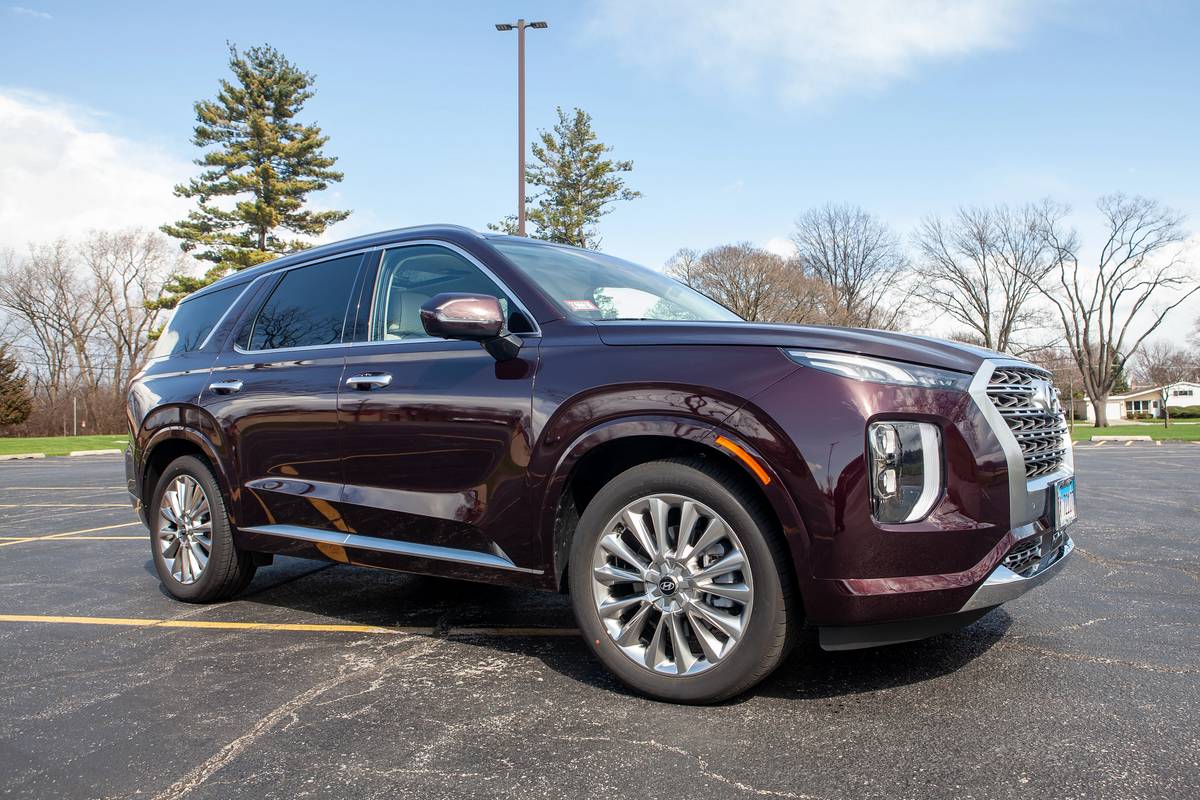 After more than six weeks in the hands of a dealership as part of Hyundai's investigation of offensive odor in some 2020 and 2021 Palisade SUVs, Cars.com's Best of 2020 Palisade is back in our hands, apparently cured. I say "apparently" only because it's early and, as we've reported, the initial problem appeared after a few months of ownership. Also, exposure to heat always exacerbated the problem for us, and temperatures here in Chicago dove just a couple of days after our Palisade returned. But the early results are promising indeed, because opening the door produces none of the noxious, knock-you-on-your-ass wall of odor most frequently likened to garlic, onions, body odor or some combination thereof by the many Palisade owners who have emailed Cars.com's editor's inbox with their complaints.
All Palisade Limited and Calligraphy owners are eligible for the solution we received. They don't have to give up their vehicle for six weeks, but multiple steps might be involved, depending on the vehicle and the owner's expectations.
Related: CSI: Car Smell Investigation, 2020 Hyundai Palisade Edition … No. 2
What Caused It?
Hyundai traced the odor to the imitation leather coverings of head restraints in Palisade Limited and Calligraphy trim levels equipped with Nappa leather on the seats. Specifically, a flaw in the manufacturing process resulted in some vehicles emitting the objectionable odor. The inconsistent nature of the problem — and the fact that people vary both in how much they detect it and how objectionable they find the odor when they do smell it — is partly responsible for how long it took to get a grasp on it. It also didn't help that new-car smells customarily fade, which, some owners told us, led their dealerships to advise them to wait it out. Stinky Palisades, by contrast, seem to worsen over time.
We expressed skepticism in our previous report that head restraints alone could cause the problem, but it does appear that the change is working so far. Though there are other instances of imitation leather in the Palisade mixed in with the real stuff (common practice in vehicles, for durability as well as cost savings), Hyundai said those parts, which the company declined to identify specifically, come from a different supplier that uses a different manufacturing process. To that end, and only amid our investigation, Hyundai modified the manufacturing process for new head restraints, as well, which should prevent the problem from occurring in all newly manufactured Palisade Limited and Calligraphy models. (You can typically find the month a car was built on a label in the driver's doorjamb.)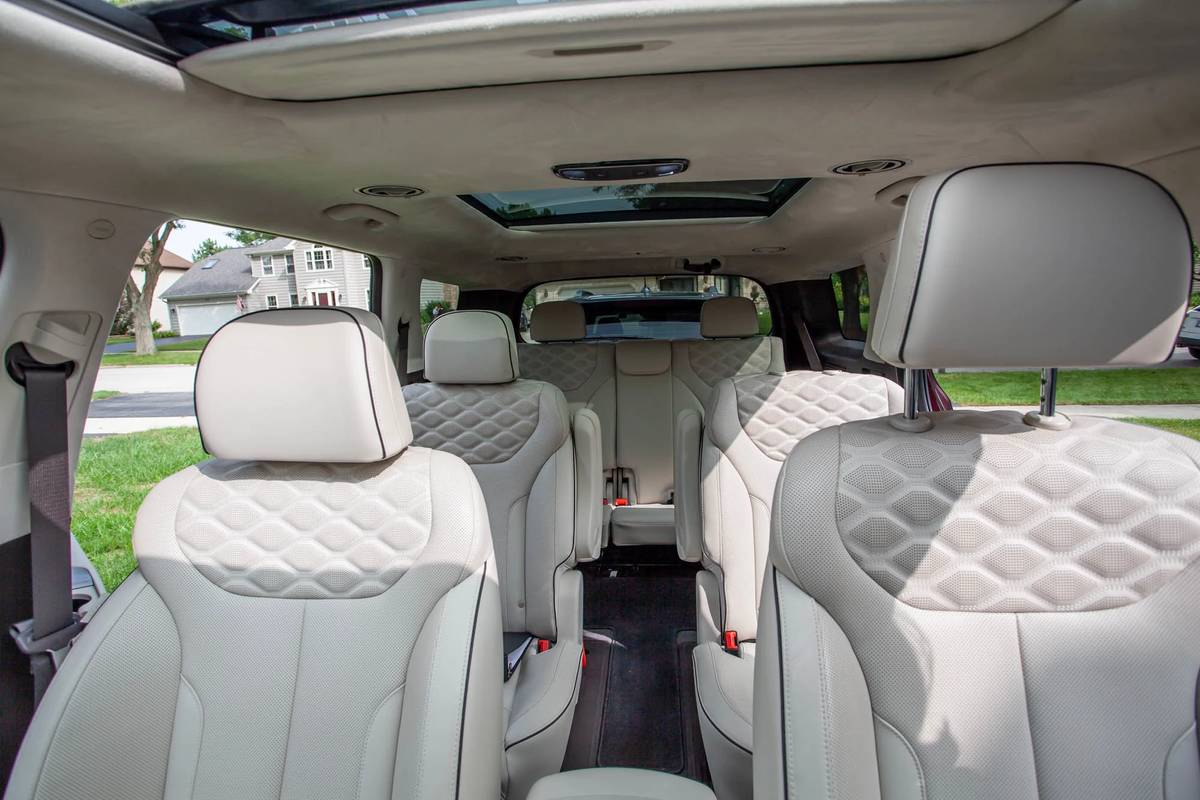 What's the Fix?
In our previous report, we shared that our dealership had been instructed to remove each head restraint's covering and apply an odor-neutralizing solution to the inside. This remains the first line of attack in Hyundai Technical Service Bulletin No. 20-BD-018H, which also directs technicians to spray the solution down the head restraint post holes in the seatbacks. Unfortunately, this treatment doesn't always work, and our Palisade was just such a case. If customers are unsatisfied with the results of the first attempt and return to the dealer, the TSB directs the service department to repeat the treatment with a different odor-eliminating product. 
If both attempts fail, the customer may be eligible, as we were, for a set of replacement head restraints manufactured the new way. This is what seemed to do the trick for our Palisade.
Hyundai spokesman Miles Johnson said the initial treatments often work. 
"It's a rare occurrence that they have to replace all seven headrests," Johnson said. "The engineering team is confident in the process."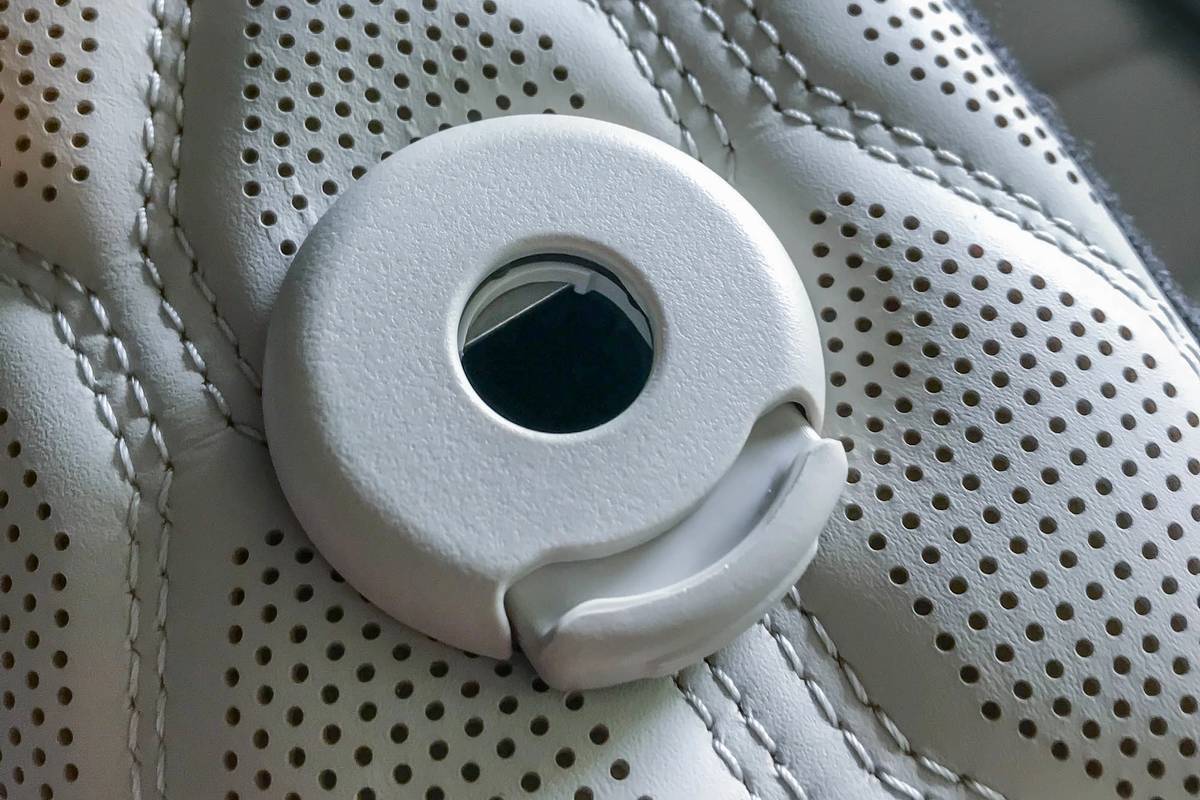 We did receive an email from a Palisade owner who said a treatment applied by their dealership in September solved the problem.The first treatment Cars.com's Palisade received was to replace head restraints manufactured the old way. As we reported in September, Managing Editor Joe Bruzek had first isolated one of those components in a plastic bin. The power of the stench in that small space after just a couple of days made it easier for us to believe these small parts could be the source of the problem. We repeated the test this week with one of the new head restraints, and after five days in the sealed tub, we only observed a faint new-car aroma — nothing disagreeable. If there's anything in the seats themselves that contributed to the smell (we noted in September that the odor was particularly strong by the mounting holes for the head restraints), it's either neutralized or sufficiently contained so far.
An email from an owner who said they also solved the problem by removing all of their head restraints and airing out their Palisade lends further evidence — but we warn against this step for any owner, as head restraints are safety devices that prevent neck injuries in the event of a collision. The owner who went to this extreme drove a different vehicle in the Palisade's place. Instead, any affected Palisade owners should contact their dealership immediately.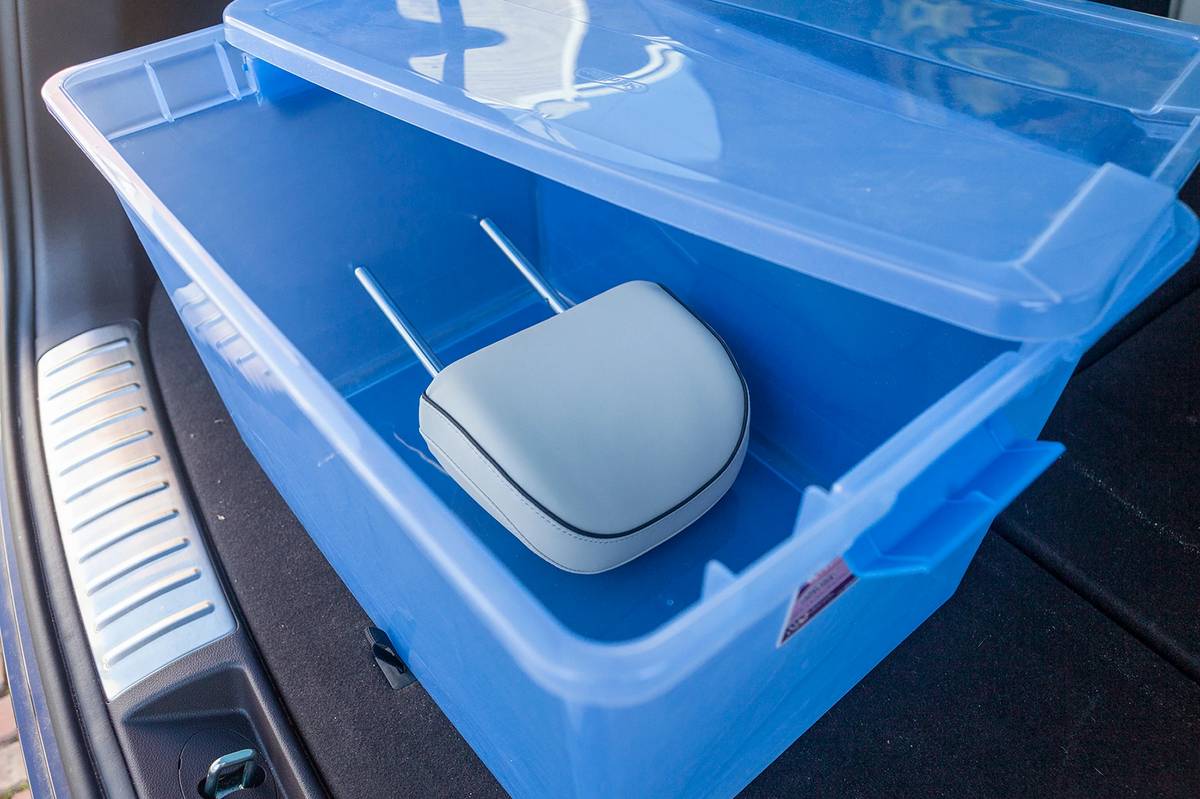 How Widespread, How Bad?
Hyundai said the number of complaints it's received has been relatively small versus the number of vehicles sold. It's tough to gauge how many consumers have been affected by this problem, but those who have posted to forums and emailed Cars.com directly number in the hundreds. Obviously, not all affected owners have made themselves heard, but for perspective, as of Nov. 1, Hyundai had sold 96,838 Palisades in the U.S. since the model's debut. According to the company, almost half have had the leather, and thus the head restraints in question (more than 45% of 2020 models were Limited trim levels and more than 55% of 2021 models have been Limited and Calligraphy trims).
Many of the owners who contacted Cars.com otherwise love their vehicles, but their reactions to this odor problem range from frustrated to furious. Some were the tip of the stinky spear at their local dealership, and they were dubious of service departments who knew nothing of the problem in the face of growing internet noise. If the fix works and holds, these owners might be pleased to keep their vehicles and get past this, and we'll rely on their updates over the coming months and years, given Cars.com doesn't hold onto its Best Of winners for long. But many folks have endured discomfort — some say embarrassment — plus definite inconvenience and, in some cases, expense in the form of pointless carpet shampooings and the like for what they frequently reminded us is a brand-new vehicle that "cost $50,000." 
There are fences to be mended, should Hyundai choose to do so. Decades covering this industry have taught me that it takes a generation for an automaker to build a reputation in a market, and trust with an individual consumer, and an instant to lose either one.
Related Video:
More From Cars.com:
CSI: Car Smell Investigation, 2020 Hyundai Palisade Edition

2020 Hyundai Palisade Vs. 2020 Toyota Highlander: Family SUVs Duke It Out

Cars.com's 2020 Hyundai Palisade: Here's What Our First Service Visit Cost

Coronavirus Car Care: We Had to Get Our Hyundai Palisade Fixed During Shelter-in-Place

Best of 2020 Winner: 2020 Hyundai Palisade
Cars.com's Editorial department is your source for automotive news and reviews. In line with Cars.com's long-standing ethics policy, editors and reviewers don't accept gifts or free trips from automakers. The Editorial department is independent of Cars.com's advertising, sales and sponsored content departments.
Source: Read Full Article